All you need to know about HIPS as a support material in 3D printing
Published on August 24, 2020 by
Aysha M.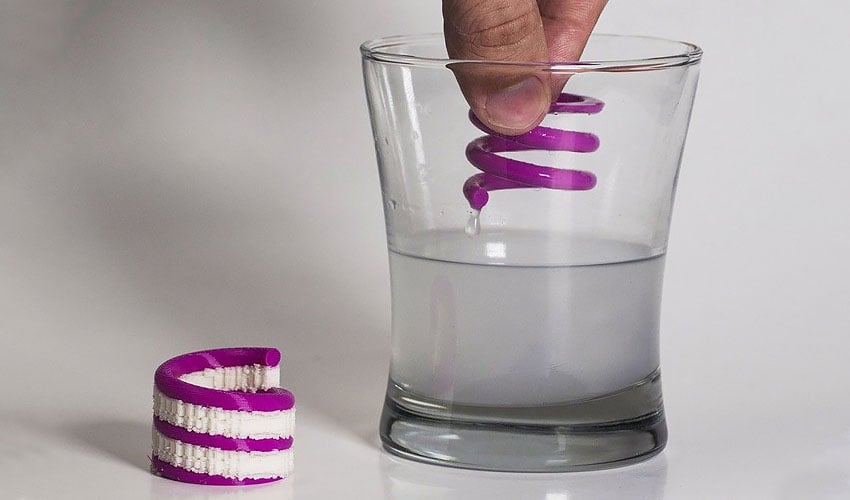 HIPS (High Impact Polystyrene) is a thermoplastic polymer based on a mixture of polystyrene and polybutadiene rubber. Many popular materials in 3D printing are particularly characterized by their resistance to chemical solvents. However, in the case of HIPS, the solubility is a great advantage because the material is mainly used in filament form as a support material in FDM 3D printing. Backing materials, or support structures, are used to print parts that have an angle of more than 45 degrees to prevent them from slipping or breaking during the printing process. After the printing process is completed, these structures are removed, which is easier with materials such as HIPS, which have high solubility. This article reviews the properties of HIPS as a filament and the advantages it offers as a support structure.
Key features of HIPS in 3D printing
HIPS has similar properties to ABS, but is harder and more impact resistant. As already mentioned, the material is particularly characterized by its comparatively high solubility in relation to certain chemicals, which allows for relatively smooth separation when used as a support structure. It is typically used in the area of ABS printing as support structure, and the temporary stability of the HIPS form plays a central role here. It also has a smooth and scratch-resistant surface, it is heat resistant, and its white translucent color simplifies coloring. In addition, it is a safe food-contact material.
Considerations when using HIPS
If you use HIPS as a support structure, you should have a 3D printer with two extruders, which can reach a temperature between 230 and 245 degrees. In addition, you should have a heating bed that can reach temperatures between 90 and 110 degrees because HIPS tends to deform. It is also recommended to use a 3D printer with a lockable installation space to counteract deformation. You should protect your respiratory tract and ensure good ventilation, as printing with HIPS can create toxic fumes such as styrene.
After the printing process, you should wait until the printed part has cooled down completely before starting to remove the supporting structures. Unlike PVA or BVOH support structures, HIPS needs to be removed with chemicals. Therefore, you should only use it as a support structure for materials such as ABS, because certain other materials can be sensitive to the chemical limonic acid, and as a result, the component might be damaged.
Before removing support structures with chemicals, it is recommended to first remove large parts by hand for cost reasons, as one liter of chemical costs approximately 30 euros. When dealing with liquids of this type, you should protect your eyes, respiratory tract and hands to avoid irritation.
In terms of price, a filament spool is relatively cheap compared to other materials and can be purchased for between 17 and 35 dollars. You can buy HIPS filaments from the manufacturers iGo3D, Zortrax, 3Dmensionals and MatterHackers. Before buying, it is also recommended to take a closer look at the ingredients: some of the filaments contain additives that make printing easier, but can also make it more difficult to remove them.
*Cover image credits: Simplify3D
What do you think about HIPS? Let us know in a comment below or on our Facebook and Twitter pages! Sign up for our free weekly Newsletter, all the latest news in 3D printing straight to your inbox!