HIIVE on Helping Bees Using 3D Printing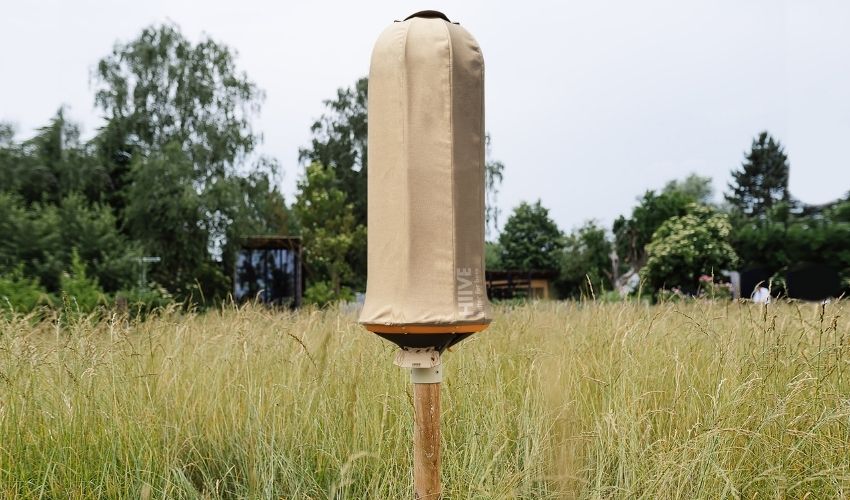 3D printing makes it possible to realize challenging design projects in a cost-effective and sustainable way. For architects and industrial designers in particular, this technology offers unimagined possibilities, with virtually no limits to creativity. And it doesn't stop at fashion or architecture: 3D technologies are all around us, even in the wilderness, as can be seen with 3D printing startup HIIVE. This German company is using the power of 3D printing to provide a better home for bees, while respecting the environment and their needs. This is especially important when you consider the prevalence of Colony Collapse Disorder which has lead to a global decrease in bee populations. Considering the importance of bees to our own ecosystems, it is perhaps unsurprising that start-ups like HIIVE are dedicating themsleves to the creation of better, more suitable hives for bees. We spoke to Philip Potthast, one of the co-founders of HIIVE, about the mission and ambitions of this young company and learned more about these 3D printed hives.
3DN: Could you briefly introduce yourself and your connection to 3D printing?
My name is Philip Potthast, I am the co-founder of HIIVE. My background is in industrial design. In my work, I focus on how to use sustainable materials and recycled raw materials. 3D printing is a love-hate relationship for me as an industrial designer: on the one hand, 3D printing offers an incredible amount of possibilities in product development and helps to iteratively develop products. On the other hand, it can be very time-consuming and nerve-wracking if you don't pay attention to all the details from the beginning.
3DN: What about HIIVE, what is it and how did it come about?
HIIVE provides a better home for honey bees. HIIVE allows beekeepers to keep their bees in a more natural way by supporting the natural behavior of Apis Mellifera. Our bee house is made exclusively from recycled and natural materials. Throughout the development, the focus has been on a Human-Animal-Centered design. The result is an interplay between the demands that honeybees place on their habitat and the usability and ergonomics for beekeepers. Our mission is to create a natural and species-appropriate habitat for honey bees.
3DN: Can you tell us a little more about the 3D technology(ies) you use?
When it comes to 3D printing, we cooperate with the filament manufacturer 3dk.berlin. Currently, we use several FDM printers to create our components, which serve as the basic framework of our HIIVES. We use 3dk's engineering PLA because it is dimensionally stable up to 130 degrees. Normal PLA would not withstand the extreme weather conditions our product is exposed to.
3DN: What inspired the design for the HIIVE bee hives? What is the advantage of using 3D printing in their production?
Honey bees originally live in tree cavities. They are the natural habitat of the Apis mellifera (western honey bee). Unfortunately, for various reasons, there are hardly any wild bee colonies left in our forests. Tree cavities have a special microclimate that is not only good for bees, but also for beneficial symbionts that co-inhabit the tree cavities with the bees. HIIVE is the first industrially manufacturable tree cavity that replicates the conditions of a tree cavity. With the help of 3D printing, it was possible for us to develop the optimal structure iteratively in many trials in the first place.
3DN: How do you see the future development of this project? What are the next milestones?
We are currently developing a sensor kit and a companion app that can optionally be used as an extension of HIIVE. This offers completely new possibilities. With the help of our low-energy sensor, important parameters can be tracked without disturbing the bees. We are also working on a swarm alarm that will notify HIIVE owners when to expect a swarm. Our next big milestone for 2022 is to move HIIVE into mass production.
3DN: Do you have any final words for our readers?
At the end of February, we will start our crowdfunding campaign to produce HIIVE serially. Anyone who wants to give honey bees a natural home or is interested in keeping bees themselves can support us there. More information about this and about HIIVE itself can be found HERE.
What do you think about the bee hives from HIIVE? Let us know in a comment below or on our Linkedin, Facebook, and Twitter pages! Don't forget to sign up for our free weekly Newsletter here, the latest 3D printing news straight to your inbox! You can also find all our videos on our YouTube channel.
*Cover Photo Credits: HIIVE