WYVE and its 3D printed eco-surfboards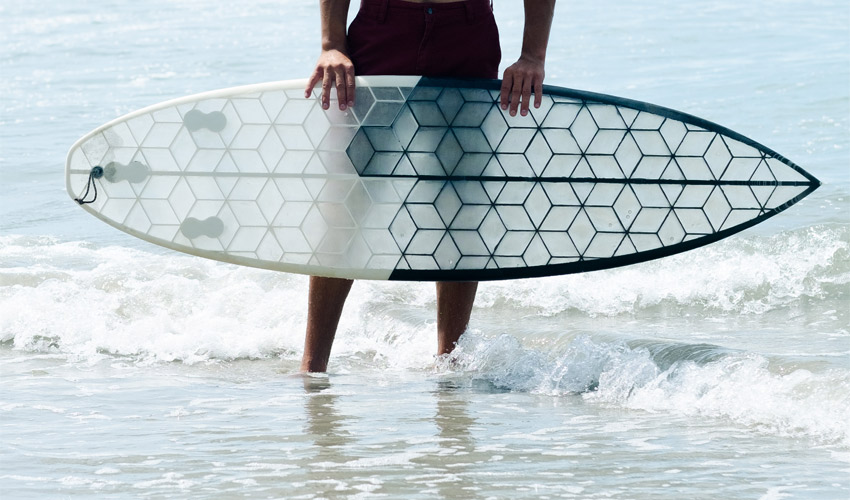 WYVE, previously known as HEXA Surfboard, is a young French company that has relied on 3D printing to design surfboards that are more environmentally friendly, customizable and with a transparent design. Aware of today's ecological problems, the brand is totally rethinking the way it produces and distributes its boards by promoting local manufacturing, close to surf spots. It uses recycled and recyclable plastic waste to create tailor-made boards where the honeycomb core of the boards has been 3D printed. This allows the company to use less material whilst optimizing the solidity of its boards. We met the team to learn more about the process of designing a board and the impact of 3D printing on the surfing world.
3DN: Can you introduce yourself and your relationship with 3D technologies?
We are Léo, Sylvain and Mylène, friends for 10 years, passionate surfers and all three engineers by training. We are the co-founders of WYVE, a brand that is rethinking the way surfboards are made and distributed, notably thanks to 3D technologies. As engineers, we were introduced to digital modeling and optimization at an early age, but it's really when we started prototyping our first surfboards that we were able to gain real expertise in 3D printing. We had the chance to prototype at the Fablab of the Ecole Polytechnique where we were able to train on a large 3D printer. In a few months, we were able to learn a lot and share our expertise with the other project leaders who were prototyping there.
3DN: Why did you create WYVE?
If more than 80% of surfers feel very concerned about the future of oceans and the climate, especially when it comes to surfing, they are not ready to make any concessions on the performance of their equipment. The younger generation is all the more ready to combine ecology and innovation in their consumption for a simple, fluid and online experience.
The reality of surfboards is far from it today. The many intermediaries that line the production chain of boards produce carbon emissions linked to transport, toxic waste and accumulated margins have been blocking the sector's ability to innovate since the 1960s. In a few figures: the components of a surfboard travel 10,000 km around the world before being used, a board is 95% derived from petrochemical materials, and more than 6 kg of toxic and carcinogenic waste is emitted for a board weighing barely 3 kg.
It is from this paradoxical observation that we decided to create WYVE, a brand that totally rethinks the way surfboards are produced and distributed. Thanks to advanced technologies such as 3D printing, we manufacture in one place, from recycled and recyclable plastic waste, high performance, custom-made, eco-responsible boards with an original transparent design! Available and simply customizable online, we want to allow the surfer who doesn't have access to a shaper to ride the board of his dreams. The one that allows him not only to have pure sensations but also to progress!
3DN: Can you explain the process of making a board?
Starting with an online questionnaire for customization or simply custom dimensions, we start by designing the custom shape (dimensions and curves) of the board. We work on a customization algorithm that automatically translates measurement and feeling data into a custom design. Once the digital file of the shape is validated, we move on to the 3D printing of the heart of our board.
We are keen to develop our local production to limit our carbon impact linked to transport. We have our own large-format machines, close to the surf spots, and collaborate with specialized actors in the region. In terms of raw materials, our first models have been printed with PLA, known to be bio-sourced and easily usable in 3D printing. In parallel, we are developing the manufacture of the core of our boards from 100% recycled PET, ideally from the plastic waste that pollutes our oceans.
Our time to print the heart of the board is several tens of hours, variable depending on the degree of personalization of the boards. Its honeycomb design maximizes the strength of the structure in relation to the amount of material used, and also highlights the board's special transparent design. The heart of our board is then glazed with bio-sourced resin and fiberglass. Even though our resin is made in France and awarded the ECOBOARD Gold label, we focus a large part of our R&D to limit our use of both resin and fiberglass, which have an impact on the eco-responsibility of our boards.
All these steps are done in the same place, in our micro-factories, which are also designed to welcome our community of users to exchange with them and allow them to see and touch our boards.
3DN: Why did you choose 3D printing as a manufacturing method?
3D printing technologies are an excellent manufacturing method for us to meet our performance and customization requirements. Thanks to parametric design, we can precisely and efficiently adapt the shape of a board to the surfer.
But 3D printing is also an important asset in terms of eco-design. First of all, it allows us to produce much less waste. Indeed, we use FDM 3D printing technology, which is an additive technology: it's the superimposition of layers of materials that make up our product. By using just the right amount of material, there is no toxic or unused waste, as is the case in more traditional board manufacturing. In addition, 3D printers can be used with a wide variety of materials, which for us mean more eco-friendly raw materials. Remember that the core of conventional high-performance boards is made of polyurethane, which makes them non-recyclable and emits very toxic gases.
In addition, 3D printing is an excellent way to make fully custom-made surfboards. The high level of customization, which makes our surfboards unique and tailored to the surfer, is a key element in their environmental impact. In terms of use, they meet the current needs of the surfer but also his future needs in terms of technical progress. A better adapted surfboard indirectly has a lighter impact on the environment as it will last you longer. And since our surfboards are made to measure, there is no stock or overproduction. Finally, 3D printing allows us to build surfboards that are more durable and repairable.
We are aware that 3D printing does not solve all environmental issues, especially in terms of energy consumption. That's why we are also working on optimizing the printing time of a surfboard to minimize our energy consumption, on two levels. The first level is to optimize the components of our machines when printing our designs to improve our printing speed. Indeed, speeding up the printing process means producing more surfboards with the same amount of energy. And the second level is to digitally optimize the file defining the printer's movements to build a surfboard.
3DN: Why is a WYVE surfboard more durable than another board? Is it recyclable?
First of all, a WYVE surfboard is stronger than a classic board with a layer of foam, especially because of its honeycomb structure. Secondly, it is easier to repair. As the inside of our board is hollow, our simple valve system makes it easy to empty the board in case of water infiltration. It is then sufficient to plug the hole classically. Since there is no foam inside, the core does not rot in contact with water.
Moreover, the core of our boards is recyclable! If your surfboard is badly damaged, we are committed to recovering the materials it contains in order to recycle the plastic and create new surfboards. That's why we start a work of education and material recovery with our users to encourage them to recycle their boards.
Finally, we strongly believe that the durability of our surfboards is also very much linked to the suitability it has with its owner. Indeed, a surfboard that is perfectly adapted to its owner is more likely to be used correctly and for longer than a surfboard with a more random shape.
3DN: Any last words for our readers?
Join our community on the networks to come and test our boards and don't hesitate to come and see us in our offices in Anglet! You can find more information HERE.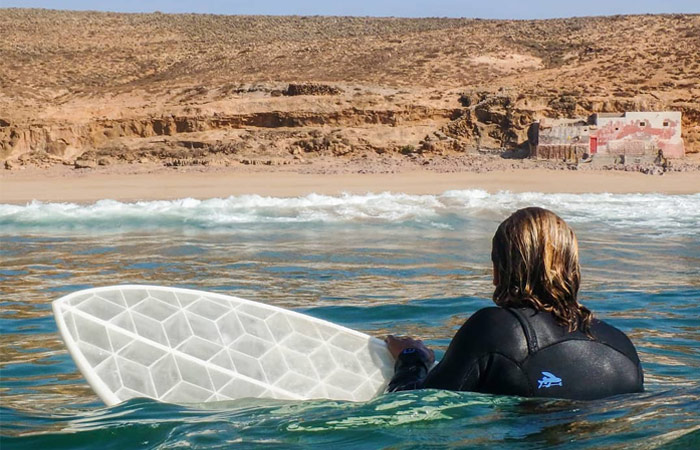 What do you think of the WYVE surfboards? Let us know in a comment below or on our Facebook and Twitter pages! And remember to sign up for our free weekly Newsletter, to get all the latest news in 3D printing send straight to your inbox!