HeX; 3D printed headphones to protect your hearing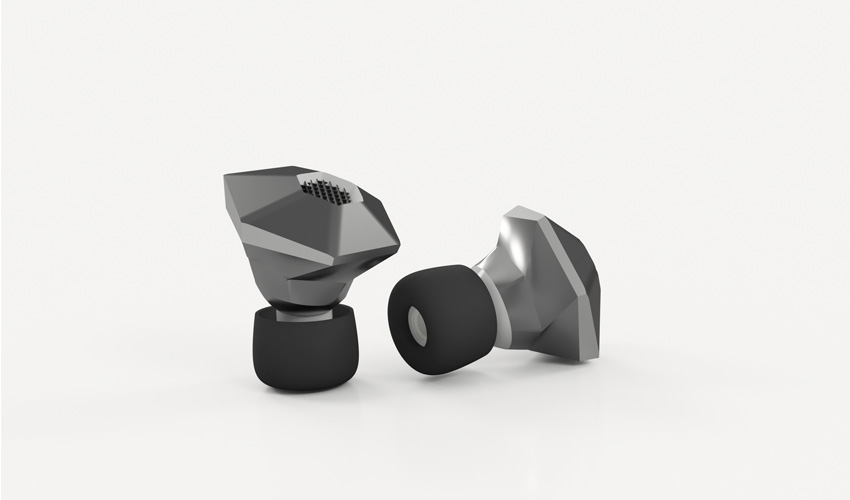 The young designer Elen Parry developed the HeX headphones using 3D printing. It was a part of her graduation project at the Manchester School of Art. The project was realised with the help of Print City, an education and innovation center specialising in 3D printing. This device can be used as conventional earphones or as a help for the hearing impaired. All with the objective being to propose a tool that allows these people to forget for a few moments their disability.
3D printing is already used in various applications to simplify and improve the daily lives of people with disabilities. We are thinking of projects such as H (Earring), which rethinks hearing aids by turning them into jewellery, or the project developed by BQ, which allowed people with visual impairments to enjoy works of art through additive manufacturing. Elen also wanted to focus on a project of "human-centered design methods." She states; "My mission is to encourage social inclusion through my designs, to create improved situations for everyone. The driving principle behind creating HeX earbuds was to create a hearing device that is for everyone – whether you live with hearing loss or perfect hearing,"
HeX earphones protect hearing
The HeX headphones combine several features that make the device attractive to different target groups. On the one hand, these are classic and accessible headphones that protect the hearing. On the other hand it is a tool to help the hearing impaired. With a processing chip, headphones are able to distinguish between background noise and noise that people want to hear, such as music or words on a phone call. In other words, it means that certain frequencies can be increased or decreased. They therefore protect the hearing by reducing loud noises that could damage it.
"People with disabilities often feel excluded and conspicuous because of their medical devices, so I want to transform hearing aids into a desirable wearable tech product that gives people enhanced hearing, style and confidence – something that anyone might want to wear." To make HeX headphones more attractive to everyone, the device includes some built-in features, such as streaming music and receiving calls.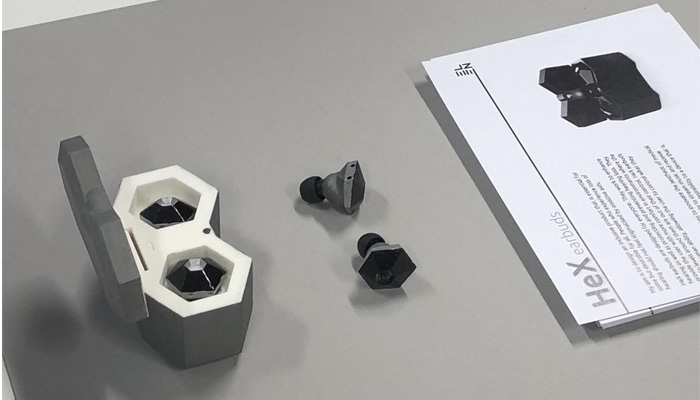 How are the HeXs made?
Headphones have a Bluetooth connection but can be attached with a standard silicone cable. They can be adapted to the user's ear in terms of shape and size thanks to 3D printing, thus offering more comfort. If you look outside the product, it is presented in a titanium case, which is also customised and 3D printed. The hexagonal design would provide a natural and multi-directional listening experience, allowing the user to hear and process a variety of sounds. It also reflects an aesthetic that, according to Elen Parry, should be used more often in medical products.

A 3D prototype has already been produced at the Print City manufacturing center from liquid resin. "This is one of many examples of how additive manufacturing and out-of-the-box thinking by Elen disrupts the current design of medical devices." explains Professor Craig Banks, Academic Director of Print City. The goal is to continue to 3D print them, because according to Elen, this allows a simple and fast manufacturing, for a public mass.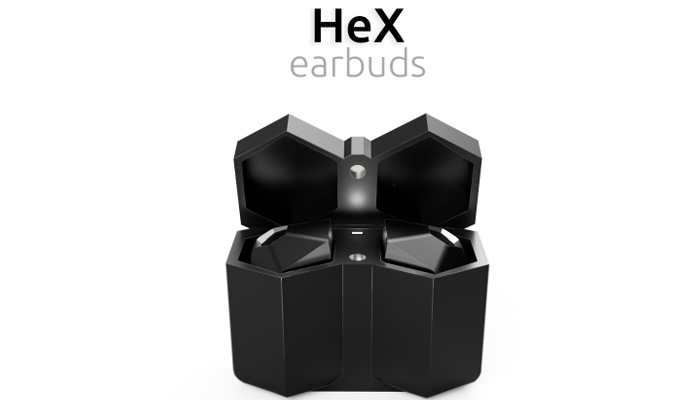 Find more information on these HeX headphones on the official Elen Parry website HERE.
What do you think of this 3D printed solution? Let us know what you think in a comment below or on our Facebook and Twitter pages! Don't forget to sign up for our free weekly Newsletter, with all the latest news in 3D printing delivered straight to your inbox!