Interview with Hargurdeep Singh about his role at CAD MicroSolutions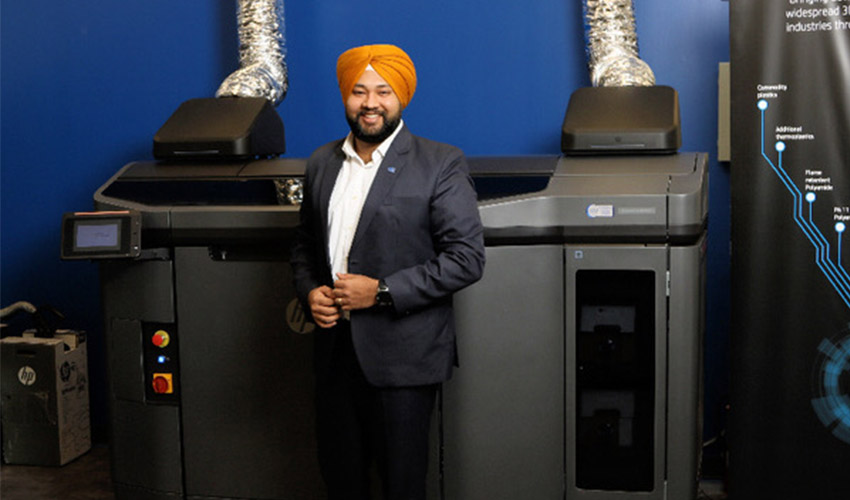 CAD MicroSolutions is dedicated to helping mechanical and electronic customers ensure they are realizing the greatest value from their technology investment. The company offers design automation software, training, and consulting to help clients innovate, disrupt, design, and succeed. Hargurdeep Singh oversees the additive manufacturing vertical of the company, providing key insights for companies interested in the technology. We spoke to him to learn more about his role at CAD MicroSolutions and vision of the market!
3DN: Can you present yourself and tell us about your link with AM?
My name is Hargurdeep Singh, and I am part of the leadership team at CAD MicroSolutions Inc, where I oversee the additive manufacturing vertical of our company. I enjoy helping Canadian SME and academic institutions realize ROI benefits by leveraging the latest additive manufacturing equipment and processes. My favourite part of the job is to understand the functional part requirements of our clients and provide them with solutions which encourage them to Design for Additive Manufacturing (DfAM) process, reduce current manufacturing costs, go to market quicker with innovative products, become more competitive in the global market, optimize supply chain to reduce inventory and become highly capital efficient while increasing profitability.
My journey with additive manufacturing started back in 2012 while I was doing my co-op terms as a Mechanical Engineering Student Researcher and Product Developer at the Centre for Advanced Manufacturing and Design Technologies (CAMDT) lab in Brampton, Ontario. I worked with many industrial 3D printers at the lab and my first 3D printer was the Spectrum Z510 by ZCorp. The Z510 printer used a binder jetting process and the parts were printed in full colour with gypsum powder material. I was very fortunate to have complete access to such a range of additive equipment and this allowed me to gain the true practical experience needed in the field.
3DN: How would you describe the 3D printing market in Canada?
Currently, the Canadian additive manufacturing sector contributes about 2% globally, which includes services, hardware and material sales and training.  However, since manufacturing is one of the largest industries (the source of 61% of Canada's exports and 9% of total employment) in Canada, the opportunity for AM is set to grow year-over-year. Manufacturing companies are realizing the assistive benefits of AM in manufacturing processes by supplementing AM in tooling & fixturing applications and by implementing their AM strategies as end-use mass customization parts.
Canadian manufacturers are finding new ways to compete and stay ahead of the competition globally by leveraging AM. We are starting to see some of the largest printer farm installations take place locally. However, the challenge for us is to get customers to agree on spotlights or case studies. AM has become their secret tool that allows manufacturing companies to go to market quickly, deliver more profitable results and scale their business.
3DN: Can you tell us more about your role at CAD Microsolutions?
In my role as Director of Additive Manufacturing at CAD MicroSolutions, I work with our management team to ensure we stay at the forefront of 3D technological advancements to provide our customers with the best possible recommendations and support on their additive journey. That means evaluating new and upcoming additive technologies and processes on the market, attending annual additive manufacturing conferences around the world, and regularly training and educating our team of consultants and field support technicians. I enjoy working closely with our customers who are designing and creating some amazing things with their 3D printers, so I embrace the opportunity to visit with them onsite and learn about what they are up to. I have a team located across the country that I work with on a daily basis to consult and support those clients, so my role requires quite a bit of travel.
Some of things I'm regularly involved with include:
Evaluation of new AM technologies and processes 

Educating customers, prospects and internal team 

Oversee equipment implementation, logistics and operations of our Additive vertical

Advise customers and team on the best possible solution 

Review and support functional part requirement 

Guide both sales and technical staff at CAD Micro

Develop long term strategic partnerships with industry, OEMs, and academic institutes

Work closely with the management and marketing team to develop strategic plans

Participate in webinars, seminars, tradeshows, conferences, and outreach programs 

Collaborate with external partners at HP, Markforged, BigRep, Nano Dimension, Ultimaker, Formlabs and Intamsys
3DN: How do you work with clients?
Our certified sales & technical team lead the discussion by understanding the business issues and functional part requirements of our clients. We then help build out an ROI program based on the findings which allow our clients to benchmark their projects and implement AM solutions from a wide range of additive equipment.
At CAD MicroSolutions we work with clients from various industries and have developed strong internal competencies in the following sectors:
Consumer Goods

(Sports Equipment, Fashion, Home Decoration & Furniture, Toys)

Education and Research

(Curriculum, Grants, and Training) 

Electronics

(Additively Manufactured Electronics, Wearables, IoT devices)

Government and Defence

(Commercial & Military, Drones, Satellites, and Nuclear)

Manufacturing

(Machinery & Equipment, Robotics, Pipes & Tubes & Fluid Systems, Heating, Ventilation & Air Conditioning)

Medical

(Dental Laboratories, Prosthetics & Orthotics, Medical Equipment, and Hospital/Anatomical Models)

Mobility & Transportation

(Aerospace, Automotive, Boats, Motorbikes, and Rails)
One example is that we partnered with the University of Alberta. Supporting them through their additive investigation, culminating in the acquisition of Canada's first Nano Dimension Lights-Out Digital Manufacturing system. Cambrian College in Sudbury became Canada's first educational institute with the HP Multi Jet Fusion 580 3D printer. We also supported the Centre for Advanced Materials Joining (CAMJ) at the University of Waterloo with their first Markforged Metal X system implementation.
3DN: How is CAD MicroSolutions facing the COVID-19 crisis?
The canadian additive manufacturing industry is equipped to help our medical front lines during COVID-19. Our Clients and CAD MicroSolutions are on stand by and waiting for instructions from the government to start producing medical equipment supplies. We are ready to help bridge the supply chain disruption. Now is the time for our industry to demonstrate all the benefits we talked about for years and number of initiatives have already started creating shields, door handles, and ventilators to flatten the curve. You can learn more about how CAD MicroSolutions is helping HERE.
3DN: Any last words for our readers?
Challenge the status quo! Learn about the programs available to de-risk your investments in Additive Manufacturing, implement an Additive strategy in 2020, and develop internal design competencies to leverage the AM processes. This will allow companies to be successful in a highly competitive market and foster innovation.
What do you think of Hargurdeep Singh's work in additive manufacturing? Let us know in a comment below or on our Facebook and Twitter pages! Don't forget to sign up for our free weekly Newsletter, with all the latest news in 3D printing delivered straight to your inbox!