Gravity Industries & Ricoh 3D Partner On Human Flight Project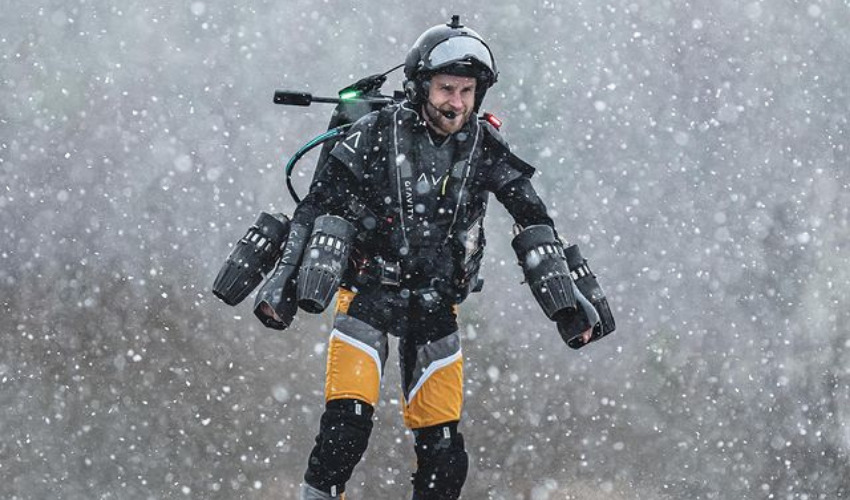 Ricoh 3D has announced they are partnering once again with Gravity Industries, this time with the goal of producing Gravity's latest human flight project, the Electric Jet Suit. Having experienced great success with Gravity's Jet Suit over the past four years, the companies have decided to develop an electric version of the Jet Suit which Gravity plans to debut at the 2021 Goodwood Festival of Speed. This recent endeavor is made possible thanks to Ricoh 3D's expertise in polypropylene technology. "Thanks to polypropylene and its organic nature, people see a human who is flying when someone is in the Jet Suit. They aren't strapped into a device or seated in a vehicle, they appear to be genuinely flying and it's that distinction that makes all the difference," said Sam Rogers, Gravity's Chief Designer.
Over the past few years, Gravity Industries has taken their Jet Suit technology across the globe to 33 countries, conducting Search & Rescue trials, commercial flight training, and racing on Top Gear. Working with Ricoh 3D has demonstrated the market viability of producing human flight gear. Combining Gravity's innovative designs with Ricoh's flagship material, polypropylene, allowed for the Jet Suit  flight experience to be comfortable and safe, yet, cost-effective to produce.
Benefits of Using Polypropylene (PP)
Polypropylene is one of the most widely used thermoplastics in the industrial sector. Among polypropylene's primary benefits are its low price point, lightweight, and low friction which makes its surface relatively slippery. As for performance characteristics, PP has chemical-resistant attributes, is hydrophobic, has impact resistance, and excellent electrical insulation. "The Jet Suit is a testament to the tenacity of engineering. By pushing the boundaries with both 3D printing and polypropylene, we're showcasing what's possible when you have the right expertise and ingenuity. 3D printed polypropylene is 90% recyclable, lightweight and flexible while still being incredibly durable–ideal for taking to the skies. Previously, it would take more than two weeks to custom build the core Suit structure out of aluminum riveting and bolt together manually. Print time is now just 24 hours, taking assembly time from two weeks to two days.", said Mark Dickin, Head of Ricoh European 3D Printing Operations.
Using 3D printing simplified the production of Gravity's electric Jet Suit in that there was no need to produce hundreds of prototypes, instead, they were able to incrementally adjust designs between iterations, without commissioning all new mouldings or undergoing any of repetitive and time-consuming delays that come with starting from scratch. As an additive manufacturing material, polypolprene has the distinct advantage of being used as both a prototyping and end-part material. "The design freedom of 3D printing reduces the Suit's part-count significantly by consolidating several assemblies into one, with far fewer components to glue and bolt than would be necessary with other manufacturing methods. Polypropylene also makes it possible to create multifunctional components, with lots of internal flow parts which move air through the Suit to keep it cool.", said Richard M. Brown, Founder & Chief Test Pilot at Gravity Industries. Learn more about Gravity Industries and Ricoh 3D's electric Jet Suit partnership HERE.
What do you think of Gravity Industries and Ricoh 3D's use of polypropylene in their partnership? Let us know in a comment below or on our Facebook and Twitter pages. Don't forget to sign up for our free weekly newsletter, with all the latest news in 3D printing delivered straight to your inbox!
Cover Image Photo Credit — Instagram: @richardmbrowning, Founder & Chief Test Pilot at Gravity Industries