3D printed graphene aerogel granted Guinness World Record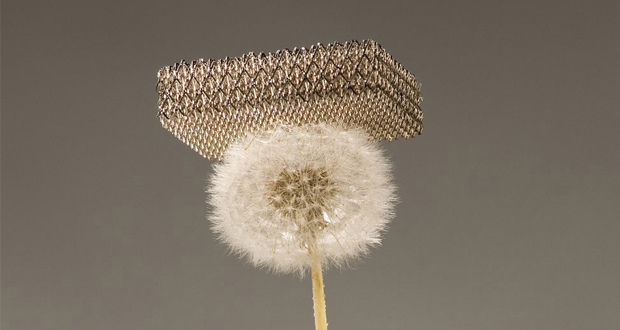 Graphene, which is a form of carbon, is known for its properties of strength and lightness, especially when used as a 3D printing material. Taking this lightness and strength further, three engineers decided to print the graphene with aerogel, creating what is now considered to be the lightest 3D printed structure by the Guinness Book of World Records
Aerogel is a gel-like material, which consists of the liquid component being replaced by gas. Thanks to its thermal insulation properties, this material is considered to be a very solid, low density, and advantageous material. In regards to graphene, it is 10 times stronger than steel, so it is therefore easy to imagine that a graphene aerogel combination l make it even more strong. As proof, when 3D printed, it could be placed on the petals of a flower or a piece of cotton without falling.
Other researchers had already succeeded in printing using graphene aerogel, but it was in a cylindrical or cubic form, thus reducing the possibilities of handling. But three Chinese professors, Chi Zhou, Dong Lin and Qiangqiang Zhang managed to create it in another form; with a structure that weighs only 0.5 milligrams per cubic centimeter.
"Graphene is a revolutionary material and it makes sense that its aerogel form would be just as important," explained Lin. "Our 3D printed graphene aerogel has important properties that give the material many applications for better electronics, batteries, or semiconductors."
To create the graphene aerogel, the researchers used a two-nozzle inkjet printer to print their droplets of graphene oxide and water onto a plate with a temperature of -20° C. After, the researchers were able to produce a 3D printed ice structure that consisted of graphene and frozen water, which enabled the graphene to keep its shape. Once printing was completed, the researchers put the 3D printed material into a freeze dryer, which removed the ice with a high vacuum and low temperature. Once finished, they were left with a 3D graphene aerogel that is able to keep its shape, even at room temperature.
"With this 3D printing method, we can control the shape of the graphene aerogel and ideally we can control the electric and mechanical properties for the aerogels, too," explained Lin.
The three researchers did not expect to win a world record, but their work shows the full potential of graphene aerogel. Thanks to their research, we may see flexible batteries and semiconductors using their material in the future!
To learn more, check out the video below:
What do you think of graphene aerogel? Let us know in a comment below or on our Facebook and Twitter page! Don't forget to sign up for our free weekly Newsletter, with all the latest news in 3D printing delivered straight to your inbox!