GF Machining Solutions and 3D Systems optimize the metal AM workflow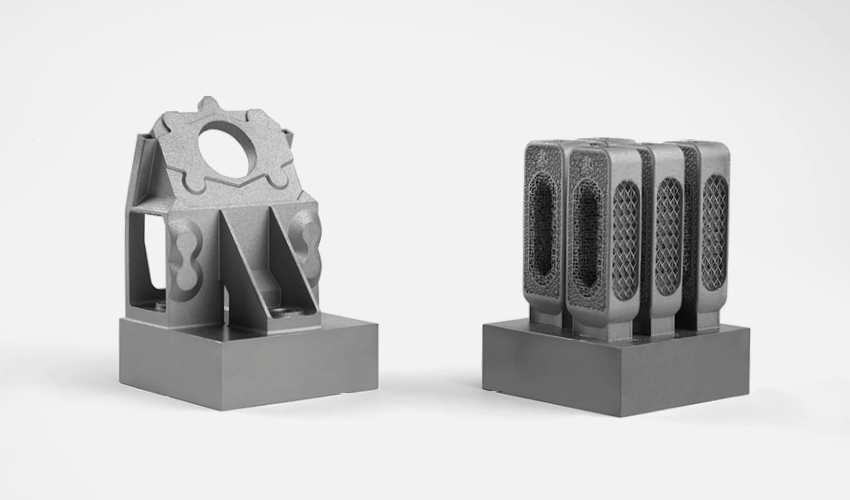 GF Machining Solutions (GF), a division of the Swiss company Georg Fischer, specialised in the mechanical industry, is strengthening its presence in the metal additive manufacturing market through a partnership with the manufacturer 3D Systems. By combining their respective expertise in machine tools and additive manufacturing, the two players can offer a complete solution to all manufacturers who wish to adopt metal 3D printing technologies and design quality parts. GF offers an optimized production line so that manufacturers of metal parts can easily integrate additive manufacturing into their plants, and ultimately reduce the cost per part.
The Georg Fischer Group has divided its activities into 3 divisions: the design of pipe systems, the manufacture of automotive/aerospace components and the development of machine tools used in all industrial segments. It is through this last activity that the industrial group decided to focus on metal additive manufacturing, convinced of its potential for the industry. In July 2018, GF partnered with 3D Systems and developed an optimized workflow, from part design to post-processing, to help each manufacturer integrate metal 3D printing solutions easily. These solutions require specific rules, different from those used in machining or injection moulding. For example, a metal 3D printed part is not designed in the same way as if it were to be machined, there is a risk of making mistakes, therefore lengthening manufacturing times and increasing costs. This is where GF and 3D Systems come in.
Dogan Basic, Product Manager at GF Machine Solutions, adds: "We have seen a growth in the adoption of additive manufacturing by manufacturers and identified a real opportunity in the use of metal technologies, allowing us to better meet the needs of demanding sectors such as aerospace, medical and automotive. We want to support them in their manufacturing processes by offering complete and automated solutions. Our partnership with 3D Systems is the concrete expression of this desire."
Industrial metal 3D printing solutions
GF offers various metal additive manufacturing machines, the DMP Flex 350 and the DMP Factory 500, these 3D printers have been designed in collaboration with 3D Systems. Based on Laser Powder Bed Fusion, the first one has a manufacturing volume of 275 x 275 x 420 mm. It has been designed for the production of finished parts and R&D work and is compatible with a wide range of metals and alloys, such as steel, titanium, nickel and aluminium. The DMP Factory 500 is a modular factory manufacturing solution, capable of designing parts measuring 500 x 500 x 500 mm thanks to its 3 lasers with a power of 500W. It includes printer modules and powder management modules to ensure continuous production.
Both machines are based on the use of 3DXpert software, which prepares and optimizes your 3D printing parts. It manages the creation of all substrates and lattice structures, simulates the printing process to minimize the failure rate, proposes the best possible orientation of the part, defines printing strategies and even handles any machining. Combined with GF and 3D Systems' metal 3D printing solutions, it will automate manufacturing processes and ensure the user can create industrial quality parts.
GF Machining Solutions optimizes metal additive manufacturing
Aware of the technical and economic difficulties associated with the manufacture of metal AM parts for some manufacturers, GF Machining Solutions has developed an optimized workflow and supports each user in the following steps: design, preparation, printing and inspection of the part, separation of the 3D printed part from the build platform and post-process. The company relies on the solutions mentioned above but also on its expertise in machine tools since it offers complementary post-processing and machining solutions.
Knowing how to control the entire post-printing process is essential because this step can quickly become time-consuming, lengthen time-to-market and increase costs. This is why GF Machining Solutions offers solutions adapted to additive manufacturing, designed for manufacturers who need to produce continuously, therefore minimizing the time between each print drastically. The CUT AM 500 machine, for example, separates 3D printed parts from the printing plate while preserving their structural integrity. It is based on an Electrical Discharge Machining (EDM) process that uses electrical discharges to remove material from a part – in this case, to remove the part from the plate.
GF has developed other more traditional machines for all parts that require post-printing machining, the objective being to meet the highest industrial requirements and to provide a solution covering the entire value chain. You will be able to find out more at the Formnext in Frankfurt from 19 to 22 November. The industrial group will be present on stand D19/D03, hall 12.1, with its partner 3D Systems.
Visit the GF Machining Solutions website for more information.
What do you think of this collaboration between GF and 3D Systems? Let us know what you think in a comment below or on our Facebook and Twitter pages! Don't forget to sign up for our free weekly Newsletter, with all the latest news in 3D printing delivered straight to your inbox!