General Motors opens new center dedicated to additive manufacturing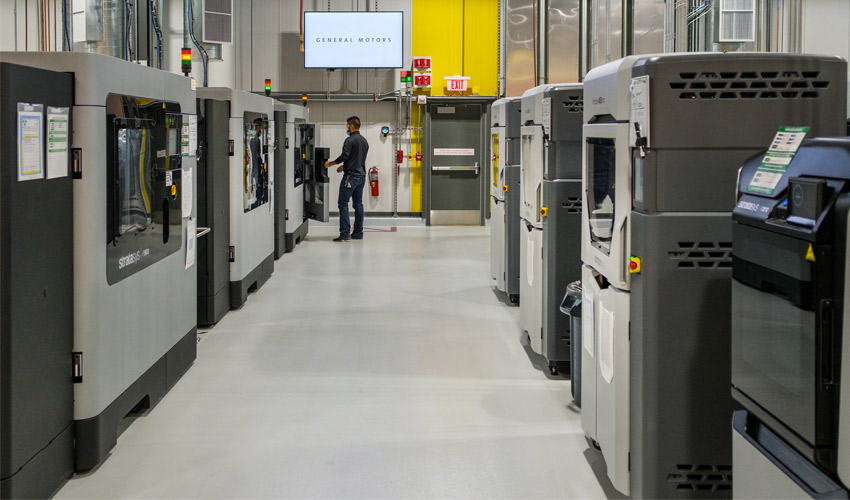 In December 2020, General Motors (GM) announced the opening of a center dedicated to additive manufacturing, joining initiatives spearheaded by BMW and Seat. The Additive Industrialization Center (AIC) is a 1,400 square meter (15,000-square-foot) space that will enable GM to accelerate the development of prototypes, the manufacturing of tools and the production of finished parts.The creation of the center underlines the efforts General Motors has made in pursuing its strategy of integrating additive manufacturing into its daily operations for increased agility and speed in production. Already, one of its divisions, Cadillac, has unveiled two new cars with incorporated 3D printed parts for the first time.
Additive manufacturing (AM) is not a new venture for General Motors. The group has been using AM for more than 30 years, notably in the creation of 3D-printed rapid prototypes. Its new AIC center is the culmination of both GM's experience and investment in 3D printing, allowing the group to bring additive manufacturing into the production realm.
Audley Brown, GM director of Additive Design and Materials Engineering, explains: "The core component of GM's transformation is becoming a more agile, innovative company, and 3D printing will play a critical role in that mission. Compared to traditional processes, 3D printing can produce parts in a matter of days versus weeks or months at a significantly lower cost." 
 The production of functional prototypes by GM
For General Motors, 3D printing has been especially important in the creation of functional prototypes. In particular, for the development of its 2020 Corvette, several brake lines were 3D printed in plastic, before being subjected to numerous tests on the track. The teams were therefore able to modify the part design 4 times without increasing the cost, reducing the development time by 9 weeks and reducing total costs by 64%.
The prototype of the next GMC Hummer EV includes 17 3D printed parts for the battery, components that will reduce development times by 50% and overall costs by 58%. Audley Brown adds, "Many recent product developments have benefited in one way or another from 3D printed prototype parts. Not only can these parts save time and money, the team also uses 3D printed applications during product development to overcome unexpected challenges in real time."
Finished Parts through Additive Manufacturing
With the new center, General Motors wants to go even further in the use of AM, focusing on the production of finished parts. The AIC currently has 24 3D printers which allow for a number of AM processes, including molten deposition, selective sintering through Multi Jet Fusion and laser powder bed fusion. In the Cadillac division already we can see the integration of additive manufacturing, as the CT4-V Blackwing and CT5-V Blackwing, available from summer 2021, will be the first GM vehicles to incorporate 3D printed parts. Two HVAC ducts, a manual shifter knob, and an electrical harness holder will be 3D printed and featured in the vehicles. 
Audley Brown concludes: "This is just the beginning. Ultimately, we see the potential for 3D-printed parts to be used in a wide variety of production applications — from greater personalization options for new-vehicle buyers, to unique accessories and reproductions of classic car parts." One thing is certain, the automotive industry has never relied so heavily on additive manufacturing! Be sure to watch the video below to learn more about General Motors' strategy or visit their site: 
What do you think about the new AIC? Would you be interested in a car with 3D printed parts? Let us know in a comment below or on our Facebook and Twitter pages! Sign up for our free weekly Newsletter, all the latest news in 3D printing straight to your inbox!
*Featured image from Steve Fechts