General Electric is investing €100 million in the expansion of Concept Laser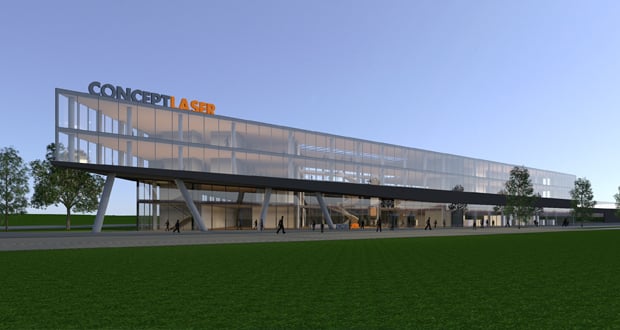 In December 2016, General Electric (GE) completed their purchase of two of the most important companies in additive manufacturing: The Swedish company Arcam AB and Concept Laser GmbH. With GE taking over each company by 75%, this move is helping to consolidate GE's increasing role in the industry of additive manufacturing.
Recently, the US giant made an investment of €100 million into their main location in Lichtenfels, Germany. This is to be used primarily to help the growth of Concept Laser, with an aim of increasing their number of employees from 200 to 300 by the end of 2017 as well as creating a 3D campus, which is expected to be completed in 2019. This campus will cover over 35,000 m2 (376,736 ft2) and will accommodate up to 700 workstations.
"Significant investment in a new location, combined with the importance of being a new global center within General Electric, clearly demonstrates its value and value of concept laser," explains Frank Herzog, the chairman of Concept
Laser. "With a global group as a majority shareholder, we can benefit even more from the dynamic market opportunities in our industry."
With these latest economic developments, it is certain that GE doing its best to assert itself into the additive manufacturing market. Already with two of the five main processes under their roof (powder and electric beam), GE has yet to show signs that they are finished expanding. At the Hanover Fair 2017, the Vice President of GE Additive, Mohammad Ehteshami, explained that their goal is "to get all of these" in regards to all the technologies that are currently available. When asked if this would be done through organic growth alone, he responded that they are "Always studying organic and inorganic possibilities… Strategically, there are inorganic plays we would not be smart not to do."
Currently, the additive manufacturing division is still running under GE aviation, as many parts are manufactured for the aviation industry. In addition to this, the company is focusing on a separate development, which includes creating their own company with an annual turnover of $1 billion by 2020.
In total, GE has already invested nearly $3 billion in additive manufacturing over the last decade, with half of which being spent on the acquisition of Concept Laser and Arcam.
In addition to the expansion of the Lichtenfels headquarters, GE is planning a Customer Experience Center in Munich. This is to be an expansion of the Global Research Center. Through this center, current and future customers will be able to follow the design and production process of components live. A total of 50 engineers will operate the facility; this also includes technicians and engineers who are specialized in additive design and manufacturing.
Starting from an investment of over $15 million, the center in Munich will be equipped with 10 machines from Concept Laser and Arcam AB. In addition to the training of customers, the facility is also to be used for research and development by nearby universities.
"The concept of a Customer Experience Center is a key part of GE Additive's strategy to bring the additive technology to manufacturers worldwide," says Robert Griggs, GE Additive's Customer Experience Center General Manager. "Germany is a pioneer for the entire additive production, so it was no coincidence that we chose Munich for our first center."
What do you think of these new developments for General Electric? Let us know in a comment below or on our Facebook and Twitter page!