Ganit Goldstein on her vision of 3D printing for fashion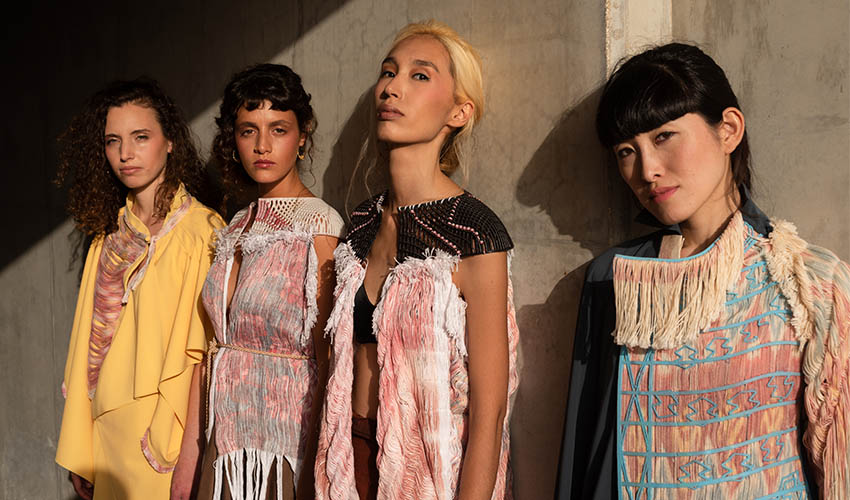 Ganit Goldstein is a 3D designer working on how to merge additive manufacturing technologies with fashion to bring new possibilities to the industry. Her aim is to work with new technologies to provide custom-made items that fit the wearer perfectly. Her creations and collections have aroused attention as they are completely unique, involving materials we are not used to seeing in fashion and designs that will catch your eye. We had the opportunity to speak to her about her inspirations and how she sees 3D printed fashion evolving over the next few years. Check it out below!
3DN: Can you present yourself and your link with 3D printing?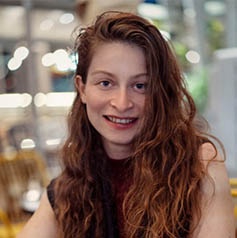 I am a 3D designer whose interest lies at the intersection between 3D printing and textiles, predominantly working to incorporate additive manufacturing processes and 3D body scanning into 3D textiles. I believe in an interdisciplinary approach to design – mixing tradition and futuristic techniques. These days I am studying MA at the Royal College of Arts in London, specializing in developing smart textiles in the 'Soft System' program.
I have been working with 3D design software since the beginning of my fashion design studies. I felt the freedom to achieve more complex shapes than I could have ever imagined. With the use of parametric design software, I realized the huge potential of 3D printing, for producing new shapes that weren't possible before with any other method. I have been working on designing shoes and wearable outfits, to achieve custom-made design, based on a person's measurements, I use a 3D scanner.
3DN: When did you decide to launch your first 3D printed collection and how did it come about?
The first collection I worked on was called 'Between The Layers', part of my graduation project at the Bezalel Academy of Arts and Design. The collection consisted of 7 garments and 6 pairs of shoes that were 3D printed in a unique combination of textiles. I brought two 3D printers to my home, and worked with several companies including Stratasys, with which I collaborated on the shoes' production process, using Multi-Color PolyJet on the J750 machine.
The whole collection aimed to bring a harmonious look to 3D printed fashion, combining flexible filaments, fabrics and yarns I dyed myself. The collection was inspired by my study of Japanese 'IKAT' weaving, which I learned while being an exchange student at the Tokyo University of the Arts. The collection received great interest and immediate press recognition, presented at exhibitions and museums around the world including: Milano Design Week, New York Textile Month, San Francisco Asian Art Museum, Munich Jewelry Week, Holon Design Museum and more.
3DN: Can you tell us more about the benefits of 3D printing for fashion? Do you see any limitations?
From my point of view, 3D printing of clothing means the ability to produce customizable fashion designs. It changes the entire game from mass production to a production based on demand. I believe that due to the nature of 3D printing (layer by layer), the ability to control any part of the printed fabric enables the creator to work in a more creative way than before, and opens up the opportunity to use different materials combinations.
My working process consists of firstly designing over a specific body scan. That allows me to design and produce garments that are fitted to the exact curves of a specific figure, taking into account all measurement of any human body. I believe that the ability to design outfits and shoes with specific measurements bring the customized fashion one step further – essentially, allowing me to use the technology to get fit-to-measure garments in the best manner, stepping away from mass production processes.
I believe that the next stage in the evolution of the fashion world will be to produce one of a kind garments, that will have a major impact on the fashion industry. Nevertheless, there are still limitations with 3D printed fashion regarding material properties for getting the result of fabric touch and look. I believe this will be accomplished very soon, in a few more years, with the development of new materials, 3D printing will allow even more possibilities for textiles production than today.
3DN: What was your latest project about? Which technology did you use?
One of my favorite projects recently was a collaboration with Stratasys for making 3D printed shoes that combine traditional shoe making and 3D printing directly on top of leather. The shoes were part of 'Shifted Craft' collection, and were printed as 3 different parts, then assembled using traditional processes of shoe making (molding, sewing etc.), keeping the tradition alongside the new technology.
I worked with Stratasys for the past few years with their R&D team, developing the shoes that were printed in Multi-color with PolyJet technology. These latest 2 pairs of shoes were presented during Milan Design Week 2019. The development of printing on top of leather is a new feature in the world of 3D printing that allows more wearable applications for textiles, which Stratasys are developing these days.
3DN: Can you tell us more about your future projects?
My most recent work deals with the process of garment production using body scans, creating customized clothing for the entire body, while 3D printing on fabric along with the combination of traditional textile techniques. I am working with several companies to develop this unique method part of a grant I got for Horizon 2020 Refream project. The outcome will be presented in June 2020 during the 'Wear it' summit in Berlin. The most challenging part of the project is dealing with the development of shape shifting structures (4D printing).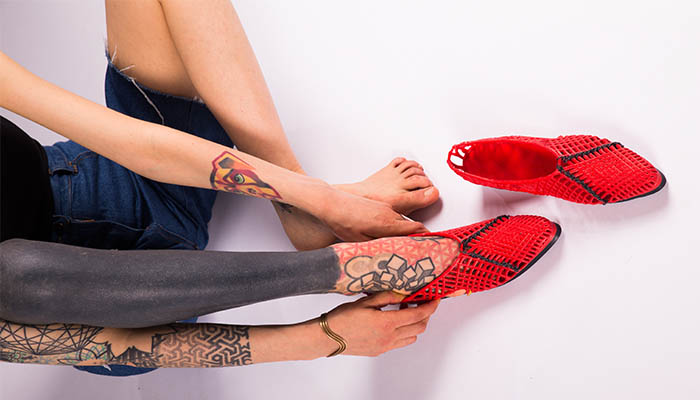 3DN: Any last words for our readers?
For designers, the revolution of 3D printing opened the ability to achieve more unique and complex shapes. I believe that bringing the traditional essence of fashion into new technology will help us to produce differently. I am really thankful for the opportunity to work with amazing R&D teams on these new developments, and I wish my career will take me to areas that have an impact on how people will feel and dress in the future, and hopefully play a major role in changing the entire dressing experience.
You can find more information on Ganit Goldstein's website.
What do you think of Ganit Golstein's work? Let us know in a comment below or on our Facebook and Twitter pages! Don't forget to sign up for our free weekly Newsletter, with all the latest news in 3D printing delivered straight to your inbox!