Fuse 1+ 30W, the New SLS 3D Printer From Formlabs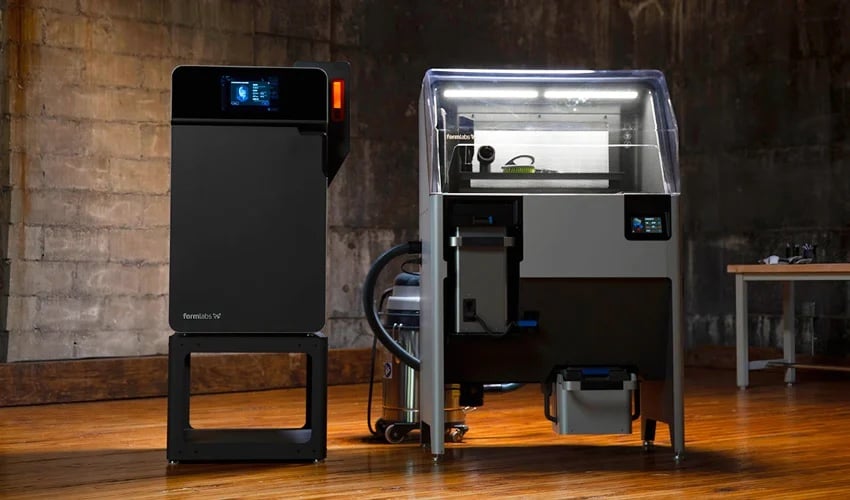 American manufacturer Formlabs, mostly known for its resin solutions, entered the additive manufacturing powder-based technology market in 2021. Although the company had intended to do so since 2017, it did not happen until the launch of the Fuse 1, its first 3D printer based on selective laser sintering. Since then, Formlabs has continued to work toward its goal of becoming a major player in the field. Now, the Massachusetts-based company has just announced the launch of a new version of its powder machine. Called the Fuse 1+ 30W, it is its most powerful industrial 3D printer to date, with a 30W laser that opens the machine up to high-performance materials. It also features an improved manufacturing speed that promises to optimize and drastically shorten production times.
Regarding its market presence, Max Lobovsky, CEO and co-founder of Formlabs, comments, "Since launching the Fuse 1 in January 2021, Formlabs has single handedly expanded the SLS market, accounting for more than 50 percent of SLS printer sales in that time." As we saw in the Fuse 1 3D printer test, Formlabs focused all of its efforts on delivering SLS solutions that make manufacturing processes easier for the user. From laminating the model using PreForm, to 3D printing on the Fuse 1, and finally post-processing the parts on the Sift; every single step is thought through and designed around accessibility, which is an important point they paid attention to with the launch of the Fuse 1+ 30W. But what can we expect from this new solution and what are its characteristics?
Features of the Fuse 1+ 30W
The Fuse 1+ 30W 3D printer has been developed based on its predecessor, the Fuse 1. It integrates improved components, such as a much more powerful 30W laser that will make it possible to work with high-performance materials. It also has an improved galvanometer system, with scanning speeds of up to 12.5 meters per second. Thanks to this, the Fuse 1+ 30W will allow customers to print their parts in less than 24 hours, i.e., up to twice as fast. Another feature to highlight is the low waste generation thanks to the high packing density and the possibility to recycle the powder. This enables a low cost per part and a fast return on investment. Lobovsky continues, "With the Fuse 1+ 30W, we're pushing SLS 3D printing to new heights — delivering truly rapid, high-throughput SLS printing at a price point that companies can afford. In total, Formlabs has sold over 100,000 professional SLA printers — more than any other 3D printer manufacturer — and the Fuse 1+ 30W sets us up to similarly dominate the SLS market."
In terms of materials, the new SLS 3D printer is capable of working with industrial grade materials enabled by its active powder handling system. In addition to the machine, Formlabs has announced the development of a Nylon 11 CF powder, a carbon fiber reinforced material that it hopes will be much stronger and lighter to expand applications for manufacturers and companies. This new addition to the company's SLS range of materials is specifically designed for end-use applications with the Fuse 1+ 30W. Nylon 11 CF will also enable the creation of stiff, lightweight parts to withstand repeated impacts, making it ideal for replacement parts, high-impact equipment and functional prototypes. With high stiffness, dimensional stability and thermal stability, users will get the best of nylon and carbon fiber in one material.
In short, the new Formlabs solution is designed for reliability and efficient workflow from start to finish. From print setup to post-processing; Fuse Series hardware and Formlabs software maximize efficiency at every step of the process. Ideal for a variety of industries, from engineering and manufacturing, to dental and healthcare, the Fuse 1+ 30W is a great choice for many professionals. With a starting price of $27,499, the machine is available to order now and will begin shipping at the end of August. Will this second 3D printer allow Formlabs to become one of the leaders in the SLS market? More information can be found on the company's website HERE.
What do you think of Formlabs' new Fuse 1+ 30W 3D printer?  Let us know in a comment below or on our LinkedIn, Facebook, and Twitter pages! Don't forget to sign up for our free weekly Newsletter here, the latest 3D printing news straight to your inbox! You can also find all our videos on our YouTube channel.
*Cover Photo Credits: Formlabs