Furthering Bioprinting with Innovative New Printheads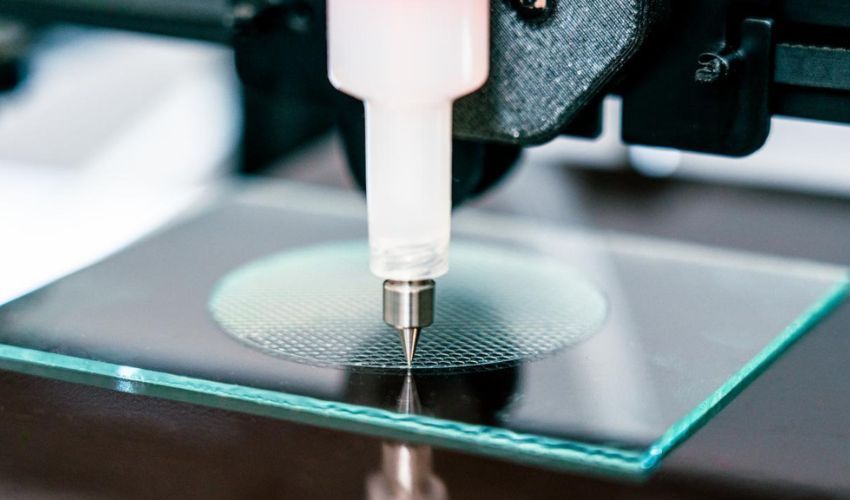 When we talk about recent innovations in the medical sector, one subject that often comes up is bioprinting. Defined as the utilization of 3D printing techniques to combine cells, growth factors, and or biomaterials to make biomedical parts, the concept is exciting for its vast possible applications. By turning to bioprinting, doctors could 3D print biocompatible organs, bones, or more, revolutionizing healthcare. However, because it is a developing field, it is still in need of new solutions to meet the special requirements of the market. Luckily one of the players on the market, ViscoTec Pumpen- und Dosiertechnik GmbH (ViscoTec), was able to turn to rapid product manufacturing GmbH (rpm), and by extension Carbon, for the creation of better printheads designed for bioprinting through the use of the Carbon Digital Light Synthesis™ (DLS™) process.
ViscoTec manufactures dosing solutions for progressive cavity technology. Their Puredyne printhead solution uses patented single-use cartridges, enabling precise dispensing for extrusion-based bioprinting. Ultimately, these printheads are expected to be used for a variety of applications including organ models, cancer research, tissue engineering, personalized medicine, scaffolds, drug development and testing, food, organs-on-a-chip and cosmetics, among others. They work by processing low to high viscosity liquids and pastes such as hydrogels and cell-laden material, conductive inks, ceramic pastes and more. However, due to the delicate nature of bioprinting, manufacturing the printhead proved difficult as it was almost impossible to do with traditional methods. Additive manufacturing provided the solution.
Turning to Additive Manufacturing for Better Bioprinting Printheads
When ViscoTec started designing the Puredyne printhead part, they knew they had a number of requirements. Namely, the part needed to be made out of a material that had been medically approved and was chemically resistant to detergents and disinfectants. Additionally, it needed to be made with a solution that provided high design freedom, tight tolerances, easy cleaning, and high surface quality. Additive manufacturing is a clear choice when it comes to high design freedom as well as cost-effective low production quantities, but for the perfect product they could not turn to just any technology.
For example, when trying to make the part with SLS, another AM method, and PA12, they found that the surface quality did not meet the necessary standards. Moreover, post-production was not a sufficient solution as the internal channels and undercuts could not have been accessible, which also ruled out milling. However, working with Carbon production partner rpm, they found that the Carbon DLS process could not only satisfy all their requirements, but it also gave them access to a material that also was ideal for the part.
As you probably know, the Carbon DLS process is based upon photopolymerization, a process known for its ability to quickly produce very accurate parts with high surface quality without significant post-processing. The necessary high surface quality for the part was further possible thanks to the material used, Carbon MPU 100. This not only met all the material requirements, including biocompatibility, hardness, high shape fidelity and resistance to solvents, but it had medical approvals which allowed it to be in contact with living cells. Additionally, the parts made from this material allow for a high surface quality and are non-yellowing.
With DLS it was possible to create the complex inner channels of the Puredyne printhead. These were critical as the channels enable an air supply that moves the plunger down to ensure the pump is always getting material. Creating the inner channels as well as the small installation space were not possible through other techniques including injection molding or milling. Furthermore, not only did the process enable the ability to easily print complex geometries, but it also allowed for tight tolerances. All these factors combined allowed ViscoTec to make the perfect printerhead for their specific needs.
What Were the Results?
Overall, ViscoTec benefited greatly from using additive manufacturing, especially Carbon's DLS technology, in the creation of their printheads. Beyond meeting all the requirements, there were additional benefits of using the Carbon DLS process, primarily when it came to time to market, cost and light weighting. Thanks to the use of AM, ViscoTec was able to reduce the dimensions of the printhead. Working with rpm additionally helped ViscoTec to further remove material without compromising print quality. The resulting weight was down 55%, going from 275 g to 125 g and the size also was decreased, moving from a height of 22 cm to 16.5 cm, about a 25% reduction.
Working with rpm and using the Carbon DLS process allowed ViscoTec to reduce time to market from 1 year to only 4 months. DLS is also perfectly suited for creating on-demand parts without sacrificing the quality of the part, meaning that it is possible to keep production low and cost effective as well as ensure that each printhead can be personalized for the customer's needs
The result? Carbon and rpm were able to create what ViscoTec considered to be a radically better product. According to the companies, ViscoTec was able to solve a number of common bioprinting issues with this solution including process fluctuations, bioprinting precision and clogged dispensing needles. Since the product launch, the Puredyne printhead has won the Red Dot Design Award 2022 for industry design and is now entering the North American market. You can learn more about the Puredyne Printhead HERE.
What do you think of the Puredyne printheads and how they are being used for bioprinting? Let us know in a comment below or on our LinkedIn, Facebook, and Twitter pages! Don't forget to sign up for our free weekly Newsletter here, the latest 3D printing news straight to your inbox! You can also find all our videos on our YouTube channel.
*Cover Photo Credits: Puredyne