Intamsys showcased the FUNMAT PRO 610 HT for the first time in Europe during Formnext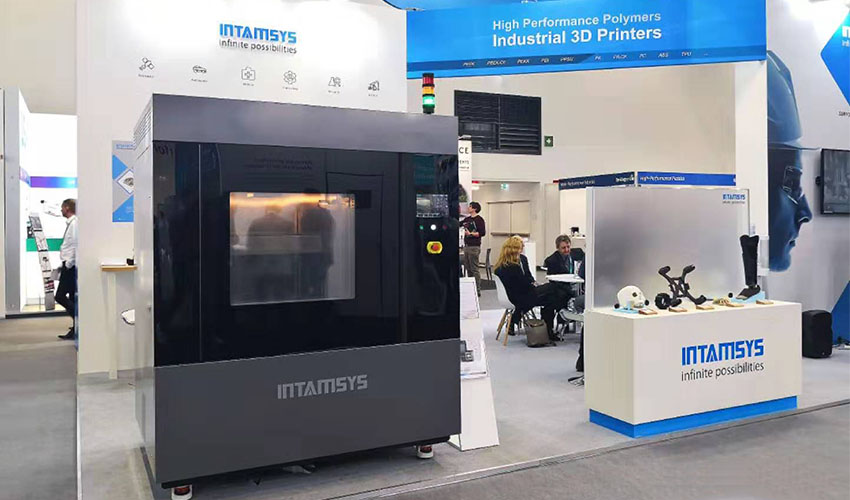 We told you before about INTAMSYS and its additive manufacturing solutions for PEEK and other high-performance functional materials such as PEKK, ULTEM and PPSU. When we interviewed the Co-Founder and CEO of the company based in Shanghai, Charles Han, he explained to us that some manufacturing requirements can only be met by HPPs (high-performance polymers) as these materials have special properties such as high-temperature resistance, acid resistance and biocompatibility, enabling use in critical requirement applications.
Of course, INTAMSYS was present during the largest fair for additive manufacturing in Germany, Formnext. During the event, the company showcased for the first time in Europe its FUNMAT PRO 610 HT solution. Similarly to its other solutions, this machine has been designed to handle high-performance materials such as PEEK, PEKK, ULTEM and more. The manufacturer guarantees that warpage will not be an issue with this machine thanks to a dual nozzle that can reach 500 °C and a heated chamber of 300 °C. Additionally, the FUNMAT PRO 610 HT boasts a build volume of 610 x 508 x 508mm for the creation of large parts.
The manufacturer explains that the key to avoiding warpage was to design a high build chamber that could achieve ultra constant temperature to avoid edge warping and crackling. As a result, the 3D printed parts show a very high mechanical strength and endure a low mechanical stress. With the FUNMAT PRO 610 HT, the post-processing step has been automated and integrated into the machine. In general, when we talk about post-processing for HPP parts, we are talking about annealing. Annealing is a heat treatment that alters the physical and sometimes chemical properties of a material to increase its ductility and reduce its hardness. In other words, this process enables to reduce stress and strain any 3D printed part has to endure. It is also crucial for the dimensional stabilization and the improvement of the physical properties of the piece.
In terms of applications, INTAMSYS designed this solution for industrial applications. More precisely, for low volume production and for all demanding applications such as automotive, aerospace, Oil&Gas, the medical sector, etc. We can take the aerospace industry as an example, which was actually the first industry to adopt and implement additive manufacturing to create parts. This industry seeks parts that are lightweight, yet durable – a demand HPP 3D printing can meet.
Indeed, many demanding aerospace applications require the use of excellent mechanical strength and inherent flame retardancy parts. INTAMSYS advises using ULTEM 9085, because it meets the stringent aerospace industry requirements thanks to its high strength-to-weight ratio and its FST (flame, smoke and toxicity) rating.
The FUNMAT PRO 610 HT is the latest addition to INTAMSYS' FUNMAT series of 3D printers. As explained, it brings together a high build volume and very high temperature thermal design. You can find more information HERE.
What do you think of the FUNMAT PRO 610 HT? Let us know in a comment below or on our Facebook and Twitter page! Don't forget to sign up for our free weekly Newsletter, with all the latest news in 3D printing delivered straight to your inbox!