Boosting performance of the Fun Utility Vehicle thanks to 3D printing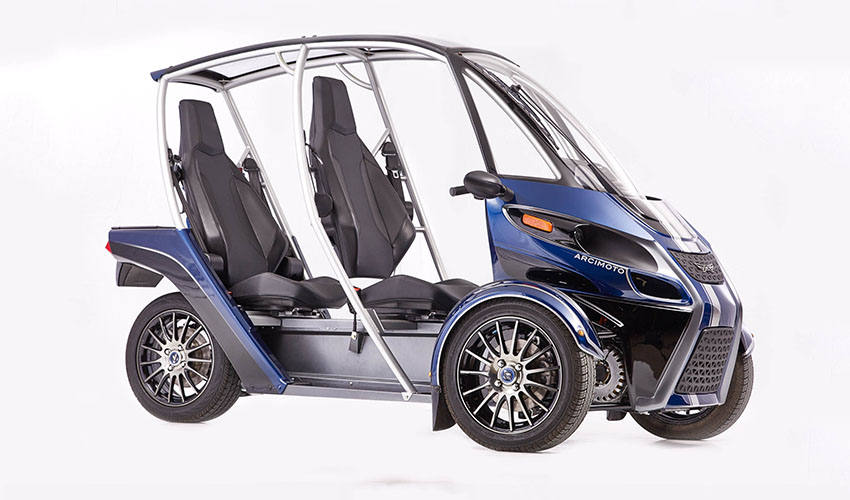 In industrial sectors such as automotive, additive manufacturing has an important role to play in designing optimized parts that improve vehicles' performance. Thanks to design for additive manufacturing techniques, lightweight parts that don't lose in strength can be fabricated. A new partnership in this space has emerged between XponentialWorks and Arcimoto to design and fabricate lightweight components for Arcimoto's Fun Utility Vehicle, making their vehicles more environmentally friendly.
The Fun Utility Vehicle from Arcimoto is a three-wheeled electric vehicle that aims to raise the bar for environmentally efficiency, footprint and affordability. "We are thrilled to open Arcimoto's ultra-efficient vehicle platform to XponentialWorks' team of lightweighting and additive manufacturing experts," explained Arcimoto CEO Mark Frohnmayer. "Our mission to rightsize the footprint of daily mobility means a continued commitment to optimizing not just the vehicle platform architecture, but all of its constituent parts as well."
Their mission is to create 3D printed parts that will replace traditionally manufactured ones that are heavier than they could be. Designing these lighter parts was achieved thanks to XponentialWorks' expertise in artificial intelligence and generative design and ParaMatter's solution, CogniCAD software. Their unique technology was used to redesign and fabricate new parts with geometries that mimic natural structures. Imitating forms found in nature has been employed by many manufacturers to achieve performance and sustainability.
Arcimoto revealed that it would be working on reducing the weight on its rear swing arm, knuckle, upper control arm and brake pedal by between 30 and 50%. In order to do so, the software works with artificial intelligence, which essentially means that based on design concept, it can explore nearly infinite design permutations. After exploring a range of permutations, an optimal solution to generate a lightweight part is found. CogniCAD can also automatically combine all the different parts into one homogeneous assembly instead of creating multiple parts that need to be manufactured – a time consuming activity that also leads to heavier components.
If you haven't seen the Fun Utility Vehicle before, as mentioned it's a three-wheeled electric vehicle, with a top speed of 75 mph and a city driving range of 100 miles per charge. It's completely assembled at Arcimoto Manufacturing Plant in Eugene, Oregon, and available at a starting price of $19,999. Arcimoto has been centered around sustainability and delivering a vehicle that is suitable for everyday transport, constantly seeking new solutions to achieve this!
Avi Reichental, CEO of XponentialWorks concludes: "In this new age of industry 4.0 manufacturing, no one company can do it all alone. This project demonstrates the power of curating relationships and building joint innovation programs that pool together resources and expertise from complementary organizations to create practical tractable products in record time."
What do you think of the Fun Utility Vehicle? Of this collaboration? Let us know in a comment below or on our Facebook and Twitter pages! Sign up for our free weekly Newsletter, all the latest news in 3D printing straight to your inbox!