FreeScan UE Pro, Shining3D's Most Multifunctional, Laser Handheld 3D Scanner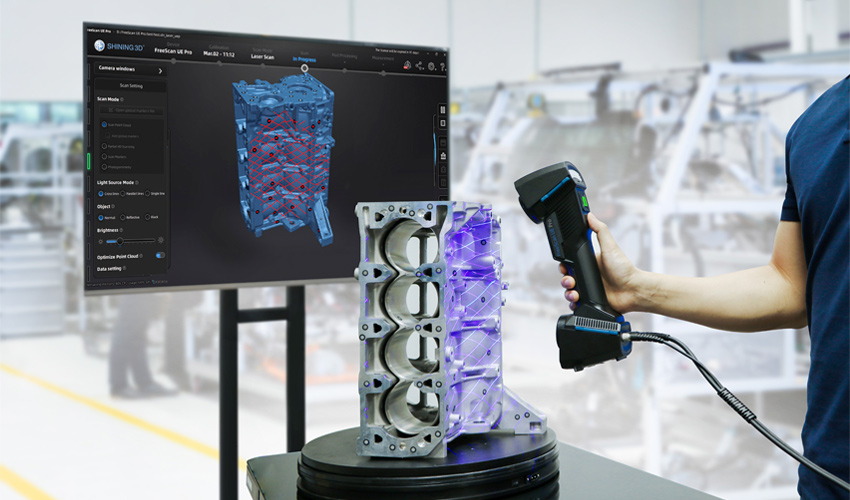 Shining3D is a leading supplier of 3D digitizing technologies for a multitude of applications and industries. In addition to additive manufacturing machines, the international company is known worldwide for its 3D scanning and inspection solutions. Now, Shining3D is expanding its FreeScan UE product range with the addition of the FreeScan UE Pro model, which is based on blue laser metrology technology. This new laser handheld scanner is expected to answer any industrial, 3D scanning need by offering increased multi-functionality, high precision and accuracy. This, all while featuring a lightweight and user-friendly design.
Since its founding in 2004, Shining3D has been dedicated to the development of technologies for 3D scanning, digital dentistry and additive manufacturing. It has solutions for mass production, advanced 3D digital technologies and comprehensive services for its customers. Indeed, Shining3D has become a major player in the market by offering all types of 3D machinery worldwide. This has captured the interest of many as the 3D scanning market has been showing high industry growth. Market research has found that it is expected to reach a value of $11,679.69 million by 2023, at an estimated CAGR of 4.39% during the forecast period of 2018-2023. Some of the industries that are adopting this technology the most are aerospace and defense, followed by the medical and construction. Now, with this new release, Shining3D expects to further position itself in the market while still facilitating its implementation in other application sectors.
Features of the FreeScan UE Pro
The FreeScan UE series is part of Shining3D's range of 3D metrology solutions. The range is made up of handheld 3D scanners that offer high data quality results, leading to better final models. Now, Shining3D has launched the Pro version of this model, which has a number of new updates and features to make the technology even more accessible to users in any industry. One of the most important aspects of this new scanner is the multi-functional scanning modes with high precision metrology-grade accuracy up to 0.02 mm, which delivers consistent and highly accurate final results. Among its scanning modes, the FreeScan UE Pro can scan large objects with thirteen crossed laser lines, it can also digitize the finest details with five parallel laser lines. Finally, with a single laser line it is able to scan deep holes and pocket areas.
Thanks to the different scanning modes and the high-resolution camera, this 3D scanner allows even the finest details to be captured more accurately. Sunny Wong, Product Manager Industrial Products at Shining3D, adds: "Photogrammetry plays an important role in the 3D scanning of big objects, providing a guarantee of high accuracy. We fuse the power of laser and built-in photogrammetry in the FreeScan UE Pro to provide a highly efficient all-in-one solution for large-scale 3D inspection and reverse engineering." In addition, the integrated photogrammetry function allows the spatial position of the target frame to be locked in a wide space, without the need to apply coded targets.
Another key point is the wide range of adaptations for materials. The FreeScan UE Pro can scan all types of surfaces, including the darkest and most reflective. This makes the scanning process more efficient by reducing the need to apply matting agents. On the more technical side, the FreeScan UE Pro achieves a speed of 1,850,000 points per second, with a scanning range of 600 mm x 550 mm and a depth of between 170 mm and 680 mm. With a lightweight and ergonomic design inherited from the UE series, this 3D scanner has dimensions of 298 mm x 103.5 mm x 74.5 mm and a weight of 840 grams, making it user-friendly and shortening the user learning curve. In terms of software, the 3D scanner enables seamless coupling to the inspection and design program. This means that scanned data can be imported into common 3D software such as Geomagic Control X, Geomagic Design X and Verisurf Inspect with a single click, offering a more efficient workflow.
This professional 3D metrology solution keeps speed, accuracy and detail in mind, allowing it to be applied to scanning scenarios of different sizes and perform metrology-grade inspections, reverse design, additive manufacturing and other applications. With the new scanner, Shining3D expects to improve efficiency when working with 3D solutions, enabling the digitization of powerful and complex structures while making the technology more accessible to all. You can find more information about the 3D scanner on the company's website HERE.
What do you think of the FreeScan UE Pro? Let us know in a comment below or on our Linkedin, Facebook, and Twitter pages! Don't forget to sign up for our free weekly Newsletter here, the latest 3D printing news straight to your inbox! You can also find all our videos on our YouTube channel.