How To Get the Most Out of the FreeScan UE Pro 3D Scanner and its Integrated Photogrammetry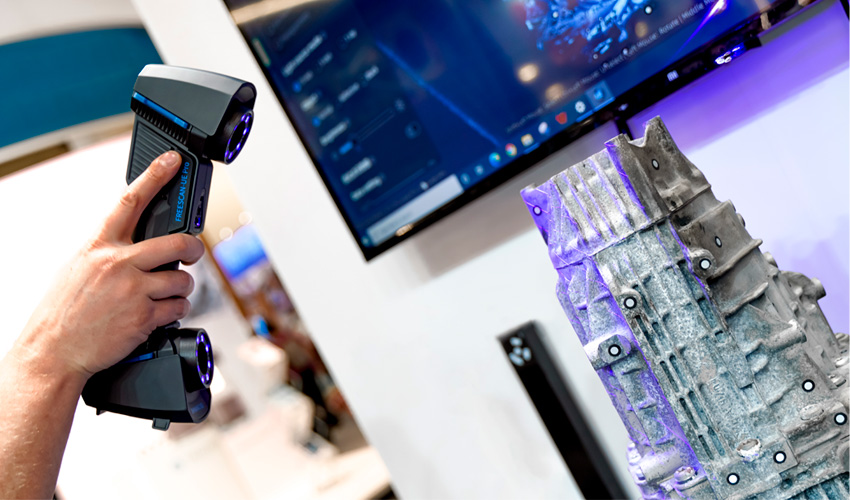 A few weeks ago we introduced you to Shining 3D's new 3D scanning solution. The so-called FreeScan UE Pro is a portable 3D scanner with a number of more advanced features than its predecessor, the FreeScan UE. Broadly speaking, this 3D metrology solution can be applied in a multitude of professional applications and scenarios, enabling different size scans as well as allowing for metrology-grade precision inspections, inverse design, additive manufacturing and other applications. In addition, it stands out for its photogrammetry function which aligns the points in the scanning space, providing a more accurate measurement. To learn more about this 3D scanner and its photogrammetry technology, we wanted to answer some of the main questions users might have when using it, as well as give you tips on how to take advantage of all the benefits of the scanner.
Differences with other manufacturer's 3D scanners
When a company launches a new product, the first thing we usually think is: how is it different from previous versions? We know that in Shining3D's range of more advanced 3D scanners, there is the EinScan HX, the FreeScan UE, and now the FreeScan UE Pro. Well, in this last case, Shining3D has created a portable solution that is multifunctional and ideal for metrology-grade and high-precision inspection. Among its main features, we can highlight the integration of photogrammetry technology, which as we know is a technique that serves to provide data of the actual physical space through a series of photographs. It also has a more advanced 3D scanning mode (cross line, 13 cross laser lines to scan large objects quickly, 5 parallel laser lines to scan fine details and single laser line for deep hole and pocket area scanning) and the ability to scan all types of objects, whether they are small or large pieces.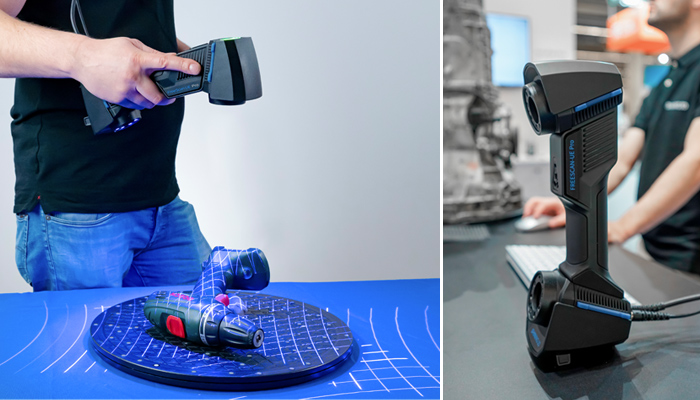 If we compare it with other Shining3D solutions, the FreeScan UE is a multifunctional manual laser 3D scanner with two scanning modes that are based on 7/11 cross lines and a single line. For its part, the EinScan HX stands out for being able to scan textures and align object reference points.
How does integrated photogrammetry technology work?
One of the most remarkable features of FreeScan UE Pro is the integrated photogrammetry. Generally, when working with large objects, there is bound to be an alignment deviation when data is aligned several times. To address this, photogrammetry provides a spatial frame to serve as a reference for the fixed alignment of the data prior to scanning the point cloud. Afterwards, the reference information from the scale bar is used to optimize the spatial frame and to obtain high quality and accurate results. In the built-in photogrammetry mode, the scanning accuracy is 0.02+0.015 mm/m. This means that, on parts longer than 8 meters, the deviation accuracy is up to 0.14 millimeters (0.02+0.015×8=0.014).
In other circumstances, it would be necessary to resort to coded targets in some systems, e.g. monocular photogrammetry. However, the FreeScan UE Pro 3D scanner integrates a binocular photogrammetry system. This means that it can determine the previously mentioned spatial frame more easily and accurately, without the need for coded targets. It also enables the capture of more complete photos and angles for more accurate overall precision control results in data calculation. Shining3D experts summarize this aspect, explaining, "Coded targets are used in the photogrammetry system. FreeScan UE Pro uses a binocular photogrammetry system that can more easily and accurately determine three-dimensional space without coded targets."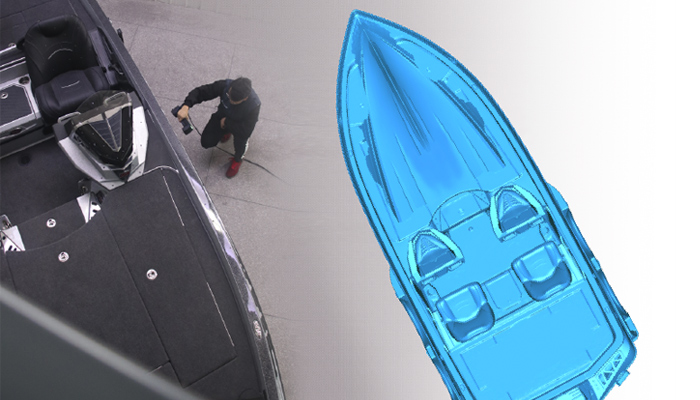 FreeScan UE Pro Technical Specifications
When using the 3D scanner, it is important to take into account a number of technical aspects. If you are going to use it to scan a dark or translucent part, you will not need to use matting sprays, you simply need to configure the surface type in the scanner software. It is also worth mentioning that the FreeScan UE Pro cannot scan full color parts. The maximum resolution it achieves is 0.01mm spot distance, which is recommended by Shining3D for fine scan mode. This scanner also has a unique feature, and that is the fast speed option. With this mode, the user can choose fast speed scanning (frame rate up to 180) if working with less detailed objects.
The so-called HD partial scan is a feature of the device, which serves to select and scan the area of an object in parallel line to obtain a high level of detail. To take advantage of this, first the cross line is used to scan quickly and then the area is selected, changing the resolution to scan with parallel lines. On the other hand, more in terms of design, once the models have been digitized, post-processing of the data can be performed with appropriate software. This includes simplification, mesh optimization, smoothing, removal of small floating parts, automatic hole filling, manual hole filling and cutting plane tool.
Now you know in more detail the main functions of the FreeScan UE Pro 3D scanner. With these points, you will be able to get the best out of it to digitize any kind of surfaces and objects, whether they are small or large. You can learn more about the 3D scanner on the Shining3D website HERE.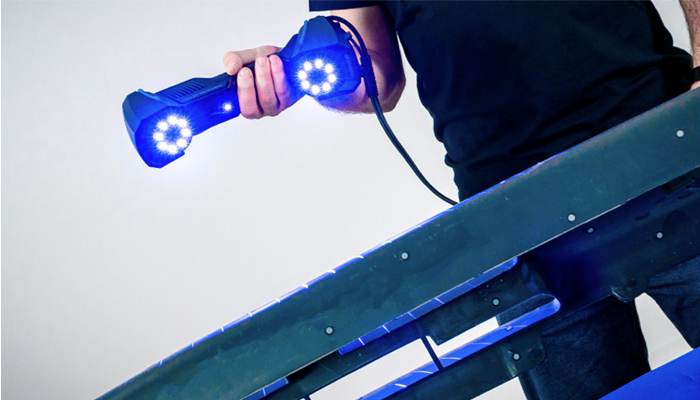 What do you think of the FreeScan UE Pro? Let us know in a comment below or on our Facebook, Twitter and LinkedIn pages! Sign up for our free weekly Newsletter here, the latest 3D printing news straight to your inbox!
*Cover Photo Credits: Shining3D