FossiLabs creates PEEK implants to promote bone growth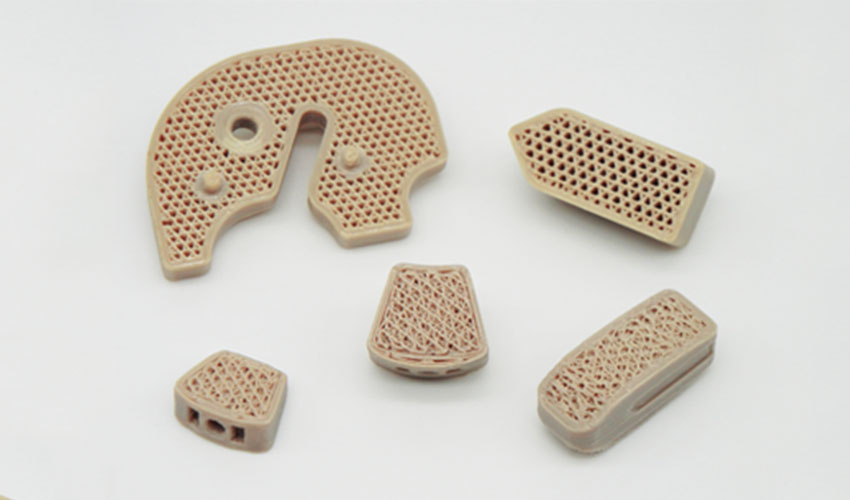 FossiLabs, based in the US, is a startup focused on the development of FDM 3D printers to produce PEEK medical implant devices. As you may have noticed, high-performance thermoplastics such as PEEK have gained a lot of attention in the last few years in the 3D printing sector. These materials offer key benefits to demanding sectors like aerospace and automotive such as temperature stability, chemical stability and mechanical properties. Yet, they are also more affordable than alternative solutions. In the medical sector, it's their biocompatible properties that are of particular interest for implants. 
The company FossiLabs' aim is to promote bone growth in patients. As a result, it has developed a proprietary process to offer a first-of-its-kind 3D printed PEEK porous medical implant with defined areas of full porosity and advanced hydrophilicity to promote osseointegration. In other words, unlike other 3D printed PEEK implants, the entire piece has porous structures instead of only surface porosity or windows within defined layers. 
The Founder of FossiLabs, Todd Reith further explains: "Using 3D printing technology makes it possible to create a porous structure that would not be possible using traditional methods. The increased surface area and the full porosity encourage new bone on-growth and in-growth of the implant, leading to greater integration strength. Add hydroxyapatite (HA) nanocoating, now you have something unmatched in the industry."
The material is based on Evonik's VESTAKEEP (PEEK) material, a polymer monofilament that was designed specifically for the FDM process. The German chemical group explains that such a material can be considered a metal substitute in components that must withstand severe environmental conditions. More precisely, VESTAKEEP i4G exhibits  high biocompatibility, biostability, and x-ray transparency. 
Moreover, the startup has developed software in addition to its hardware to make it possible to easily identify solid and controlled bone-like macroporosity regions within existing client models. Primarily for spacers and cages for the spine, desired bone growth areas can be defined, and 3D printed in PEEK. Currently, the startup is looking for medical device companies to licence its technology to enhance their static product lines and develop exclusive new high-performance products. You can learn more on FossiLabs' website HERE. 
What do you think of FossiLabs' solution? Let us know in a comment below or on our Facebook and Twitter pages! Sign up for our free weekly Newsletter, all the latest news in 3D printing straight to your inbox!