Fortify enables new functionality in photopolymer composites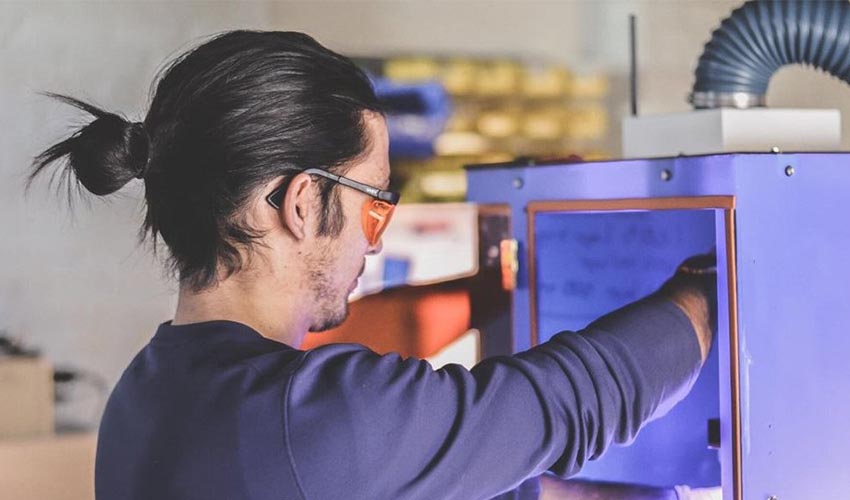 Fortify is a startup based in Boston that creates composites for the additive manufacturing industry. Following some research on composite 3D printing at Northeastern University in Boston, the founders decided to create a company that would develop materials with optimized microstructures. The technology they use to manufacture these composites is based on magnetic 3D printing – they call their process Fluxprint. Recently, the Boston-based company announced that it had launched a new system which they call CKM (Continuous Kinetic Mixing). This system will enable the uniform suspension of fiber and other functional additives.
There are growing needs from the additive manufacturing industry for advanced materials that can meet specific requirements. For instance, composites are very beneficial for a number of industrial applications because they add strength to parts without adding weight. In a study released by IDTechEx, the composite 3D printing market was predicted to reach $1.73 billion in value in the next ten years – an impressive growth to say the least! This is actually why Fortify developed its Fluxprint technology in the first place. The startup sensed the strong need for high-performance materials. Digital Composite Printing (DCP) as they call it, is a process based on Fluxprint, which aligns functional additives (such as particles and fibers) during the printing of each layer using a magnetic field.
Carbon fiber composites are probably the most popular composite in the 3D printing industry. However, Fortify is focused on reinforcing 3D printed photopolymers with additives. Therefore, it needs to make sure that the additives stay uniformly distributed in the resin when a part is being produced. According to the company, mechanical performance is enhanced (strength, stiffness, toughness, wear, and heat deflection temperature) as well as thermal and electrical properties. The CEO and Co-Founder of Fortify commented: "We're excited to incorporate this material handling module with our Fluxprint process to solve the application challenges of our customers. It will play a critical role in manufacturing functional parts."
In terms of applications, the company is primarily focused on injection mold tools. The 3D printed tools compete directly with aluminum molds for quick-turn, short and medium run injection molding applications. In an interview with 3Dnatives, Josh Martin had told us: "This is a demanding application because the parts must withstand high pressures (often greater than 1500 psi) and high temperatures (50 to 240°C) while maintaining defined tolerances." In the case of metal injection molding, it's ceramic fibers that are blended directly with the resin. The tools created with this reinforced resin can withstand the extreme temperatures and pressures of the molding process as Josh Martin explains.
Material properties is one of the key factors driving the adoption of additive manufacturing. Therefore technologies and systems such as this one showcase how AM is developing and maturing. Fortify ensures that its Digital Composite Manufacturing (DCM) platform is the industry's first and only 3D printer to include onboard mixing (CKM) and magnetic alignment technology (Fluxprint) to enable new functionality in printed photopolymers. You can find more information HERE.
What do you think of Fortify's new 3D printing system? Let us know in a comment below or on our Facebook and Twitter pages what you think! Don't forget to sign up for our free weekly Newsletter, with all the latest news in 3D printing delivered straight to your inbox!