Why is Formula 1 turning to 3D printing?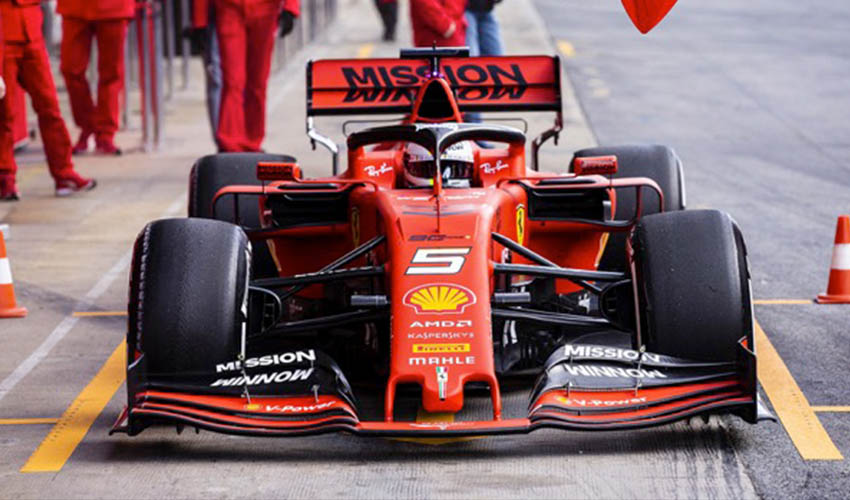 As the 2019 Formula 1 season is coming to a close, we can't help but notice how 3D printing has once again helped all teams towards their goal of rapid development. Yes, that's right, all teams. All 10 of the Formula 1 constructor teams are using additive manufacturing to produce parts for their cars. This year – much like every year in Formula 1 – the cars were pushed to their limits and were faster than ever. In the technology driven and constantly changing world of Formula 1, methods that allow ultra rapid prototyping, high precision, low volume production and part creation in all types of materials and complex shapes are constantly researched and used. As 3D printing technologies advance, we see a stronger and stronger utilization from Formula 1 teams. 
Of course, other motorsports, such as Indycar, Lemans, WRC, Formula 2 & 3, and Formula E, are also taking advantage of the benefits of additive manufacturing technologies. However, Formula 1, as perhaps the unofficial leader of technological progress in competitive motorsports, has been the earliest adopter and biggest user. Strong long-term partnerships between 3D printing giants and Formula 1 teams are not rare. The McLaren Formula 1 Team made news back in 2017 when it signed a 4-year partnership deal with Stratasys. Much like with Renault F1 Team and 3D Systems or Williams Formula One and EOS. 
So, when and why did Formula 1 start using 3D printing? What parts do they create and how? And of course, what does the future hold for the relationship of the two?
The History of 3D Printing in Formula 1
Historically, Formula 1 has been known to be an early adopter of any technology that can contribute towards creating faster, lighter, and stronger cars. The presence of 3D printing in Formula 1 is nothing new, as a matter of fact, when speaking with Pat Warner, ADM Manager at Renault F1 Team and known additive manufacturing expert, he told us that the Renault F1 Team purchased its first 3D printer as early as 1998. Of course, the use of AM didn't start picking up until the 2010s. 
3D printing began as a technology for rapid prototyping, and that is where it initially benefited F1 teams. For a Formula 1 team to be successful, they must always innovate for their cars to be faster than their competitors which is demonstrated through faster lap times. This necessitates rapid iteration of new parts for the cars, often within the few days between races. "One advantage provided by 3D printing is the ability to quickly print a prototype, test it in a wind tunnel, and quickly modify the design as needed. Once the part is performing to specification, the teams are then able to also use 3D printing to produce a final part.", explains Simon van De Crommert, Sales Manager at 3D Systems and 3D printing veteran.
How does 3D printing coexist with other manufacturing technologies?
Considering that traditional manufacturing methods, such as injection molding and CNC machining have been around for way longer than 3D printing, it would seem incredibly challenging for the latter to gain such popularity. So what are exactly the benefits that additive manufacturing technologies offer compared to other manufacturing methods? 3D printing allows one to print small quantities of parts very quickly as opposed to other manufacturing methods which often require costly and time consuming tooling. It is also capable of producing parts with additional complexity, that cannot be made at all using traditional manufacturing technologies, whilst also improving their performance. For a sport with such rapid changes from one race to another, it's all about the ability to quickly design and manufacture complex parts. From a software perspective, applications like topology optimization allow engineers to reduce the weight of parts and redistribute it lower in the car (often on the floor, in order to get a lower center of gravity, which allows the car to go faster through the corners of the track). Overall, faster time-to-part results and reduced costs help Formula 1 teams maintain their competitive advantage.
For plastic parts, it is nearly impossible for 3D printing to dominate as injection molding is a way more mature technology and offers a much wider range of materials. However, the lack of need for molds gives an advantage to 3D printing, hence it is often used as a complementary technology. As Pat Warner told us, "Additive is not going to take away injection molding or machining, it's another tool in the box. All technologies come together to create the final part." 
When it comes to metal additive manufacturing, we see strong collaborations between manufacturing technologies. Usually, what comes out of the printer is a 'near net shape' part which means it's very close to the final part but still does need some post processing. Usually CNC is used for final precision or smoothing etc. The advantage of 3D printing is that CNC is limits the kinds of cuts one can do. 3D printing allows one to design and produce with a much richer geometry. At the end of the day, combining the two allows the manufacturer to get the needed part.
What Formula 1 parts are 3D printed and with what technologies?
According to the Renault F1 team, each of their two 2019 Formula 1 cars have about 100 (!) 3D printed parts in them at any given moment. As one would expect, Formula 1 engineers are not limited to using just one 3D printing technology. They often use 2 to 3 separate ones or even combine them in order to achieve the level of quality needed for their parts. 
Fused Deposition Modelling (FDM) was one of the first technologies to be adopted as it can create quick samples, fixtures and early stage prototypes. Whilst engineering plastics like nylons tend to be the favorable material to use with this technology, in recent years, we have noticed a trend towards using high performance polymers such as PEEK and PEKK. This is mainly due to the high heat resistance such polymers offer, which is highly desired as the temperature around the engine of a Formula 1 car can reach up to 2,600°C (~4700°F). However, FDM is rather limited to those applications, as it lacks the ability to support functional parts. As a result, it is mainly used to produce parts like electrical boxes, cooling ducts, and covers.
Stereolithography (SLA) is also used as it can achieve complex geometries, which is a common requirement for certain parts. However, it is restricted to applications that don't require a lot of strength, for now. For this reason, 3D printing companies and material manufacturers are constantly developing new materials that could solve such issues. For example, Simon van de Crommert shared with us that "3D Systems developed a new material in collaboration with two F1 teams – Renault and Williams – to develop a new ceramic-filled epoxy SLA resin for this specific application. Nowadays, large-frame stereolithography machines have become the standard for producing scale model wind tunnel parts for all the F1 teams."
Powder bed technologies like Selective Laser Sintering (SLS) and Direct Metal Laser Sintering (DMLS) appear to be the most commonly used in Formula 1. Powder bed fusion has a number of advantages over FDM or SLA. It tends to create more isotropic parts, it is more consistent, and it needs no supports (which saves time and an extra step in the post production process), making it ideal for F1 teams. John Dulchinos, Vice-President of 3D printing and Digital Manufacturing at Jabil, explained "Functional parts that would go to a Formula 1 car are most of the times made in SLS/DMLS. In the time needed to produce a single part in FDM, you can get 10 parts in SLS. That can be advantageous when you produce 3-4 variations of a design in order to check which one suits your needs best." Metal parts produced by Formula 1 teams often include exhausts, engine parts, and suspensions. 
What does the future of 3D Printing in Formula 1 look like?
While 3D printing was once used only for rapid prototyping, we're seeing it expand into usage for production. One of its biggest benefits is that its potential is as vast as one's imagination. When speaking with Simon van de Crommert he told us "I believe F1 teams will continue to not only use 3D printing for prototyping parts and wind tunnel testing. But they will also expand usage of the technology for production parts that are actually installed on the cars. This will be driven by advancements in new high temperature materials designed to withstand the heat and rigors of Formula 1 racing. This will provide the added advantage of also being able to prototype and test the part in the final material, ultimately reducing the design cycle even further."
Perhaps one of the key benefits of 3D printing is the design capabilities it offers. In the fast paced environment of constant technological breakthroughs that Formula 1 has, designing and producing optimised parts is key, regardless of the technology used. If the 3D printing design freedom offers unique solutions to the engineers, they will surely increase the use of the technology moving forward. If not, Formula 1 teams will not start switching to 3D printing just for the sake of changing. As we saw though, signs seem very positive for the wider adoption and usage of 3D printing in Formula 1. John Dulchinos concludes: "As 3D printing advances (and we get access to a larger variety of materials) and the results of the printers get better (speed, cost), we'll reach a stage where the vast majority of Formula 1 parts will be 3D printed." 
What do you think of the use of 3D printing in Formula 1? Do you believe we'll be seeing more applications of it in the future? Leave a comment below or on our Facebook and Twitter pages! And remember to sign up for our free weekly Newsletter, to get all the latest news in 3D printing sent straight to your inbox!