Formnext 2023: What Are the Major Trends in Additive Manufacturing?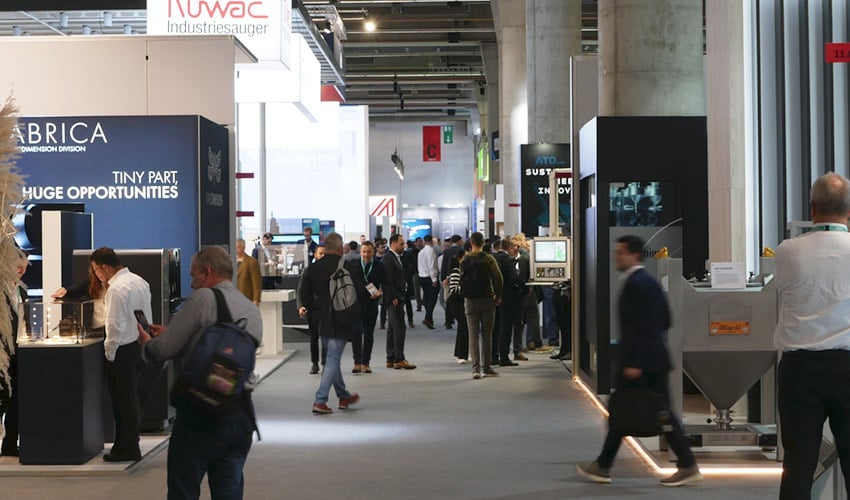 Once again, it's time for us to give you our thoughts on Formnext 2023. The show closed its doors last Friday, leaving behind thousands of hours of exchanges between professionals and manufacturers, dozens of product launches and announcements of new partnerships, and hundreds of machines to be repacked. And what's certain is that this year's event once again could be deemed a success, reaching some of the pre-sanitary crisis figures despite the current geopolitical context. In total, 859 exhibitors answered the call including 60% international companies, addressing verticals such as medical, transport and defense. But what were the main trends at Formnext 2023? What were the main takeaways?
Compared to 2022, this year's Formnext had more exhibitors – fifty to be precise. Moreover, there were 32,851 visitors to the show, an increase of 11.1% from last year. The four halls showcased numerous machines, particularly hybrid solutions. It's clear that more and more manufacturers have taken the strategic step of combining additive manufacturing with machining or other more traditional manufacturing processes. We already knew this, but this Formnext confirmed the complementary nature of these means of production. The integration of additive manufacturing is taking place within a more global lens, and manufacturers are looking for all-in-one solutions. This is why machines capable of rapidly changing tool heads were more numerous, as were robotic arms.
We also spotted a manual injection press: HoliMaker was presenting its HoliPress, a machine that melts plastic granules and injects them into your mold. It can be used with 3D-printed molds, demonstrating the complementary nature of the two manufacturing processes (a sentiment shown by many at the show as we saw more and more 3D printing applications for casting and molds), and is compatible with a very wide range of pellets. Furthermore, on the pellet side, we've seen a lot of buzz around pellet 3D printing this year, with a few more dedicated machine manufacturers than in previous editions.
There were also many exhibitors specializing in materials of all kinds. Filaments, powders, resins, silicones and ceramics were all on display. Although what stood out for us at this year's show was the focus on machines for characterizing materials (and powders in particular), and their manufacturing processes. Talking to Microtrac MRB, a leader in powder characterization and additive manufacturing, Dr. André Klicpera told us: "3D printing is one of the biggest sectors where we are seeing the need for this work since both size and shape of the particles is so important for quality control. This is used for metals, polymers and even ceramics. And we are just seeing the demand grow and grow. Research and development as well is a major field for this type of work." Characterization of materials is also vital for powder recycling, at a time when the entire market is paying close attention to sustainability.
Machines and Printing Speed
Formnext 2023 was packed with printing machines of all sizes. Some went for large format – BigRep and Hage3D, for example, had a stand with large parts and large machines when they announced their merger – while others opted for micro-printing, such as UpNano. But what particularly struck us this year was the number of FDM desktop solutions that were back in the spotlight. Not just any machines, but solutions offering higher print speeds. Users seem to be looking for a fast, repeatable models.
We saw this with the Bambu Lab craze, but also on the stand of Creality, which exhibited its new machine offering higher printing speeds. Materials manufacturer Polymaker was also showcasing its high-speed filament range, PolySonic™ PLA, designed to meet these challenges.
On the industrial side, Stratasys has also unveiled its latest extrusion 3D printing solution, the F3330. It is twice as fast as other models on the market, features multiple extruders, a redesigned head movement mechanism for greater reliability. All that with a generous print volume of 600 x 600 x 800 mm.
Artificial Intelligence on Show at Formnext 2023
If you have wandered the aisles of the show, you're bound to have come across the words "Artificial Intelligence" on a few stands. Indeed, more and more companies are relying on this concept, which enables machines to imitate human intelligence, thereby reducing human intervention and labor costs. While AI is currently the subject of much debate because of the ethical concerns it can raise, it remains a powerful tool for industry in all sectors. However, many players are surfing on this "buzz word", and we might wonder what's really behind the term.
We have, however, discovered a few applications that use this concept and machine learning to offer an innovative product. Such is the case of Australian company Automation Acoustics, which is developing sensors capable of detecting defects in 3D printing based on the sound the machine emits. It has drawn on seven years of research and data, listening to the noises made by manufacturing machines. For the moment, it is concentrating on the DED and WAAM solutions.
On the software side, we can mention the PRINT&GO solution, which relies on AI to detect printing errors and gather data on the prints made. The aim is to use this data to better understand machine behavior, facilitate workflow and increase productivity.
Formnext 2023 Focuses on Verticals and Local Production
Additive manufacturing is increasingly designed for specific applications, and this is how it reaches its full potential. For some years now, Formnext exhibitors have been presenting parts, showing how they can be used, and so on. But this year, the applications dimension was even more prominent, with a strong focus on different verticals.
As we have already shown in a dedicated article, the automotive sector was particularly in the spotlight this year, with an area dedicated to automotive parts, organized in collaboration with Daimler. The medical sector was not left out either, with a number of exhibitors specializing in the healthcare sector. Finally, the show's organizers emphasized the importance of the defense and aeronautics sectors.
Finally, we noted the importance of local manufacturing at Formnext 2023, with more areas dedicated to one country or another: the Nordic countries were in the spotlight this year, but we also had an area dedicated to the USA, Australia and Canada, and even specific zones for South Korea and China, among many others. When we spoke to some of the technology's users, they told us how important it was for them to find local partners, both socially and environmentally.
In any case, Formnext 2023 confirms the interest of additive manufacturing in Industry. While the geopolitical context is particularly tense, with inevitable repercussions on our market, it is nonetheless dynamic and showing signs of growth: while some exhibitors had considerably reduced the size of their stand, others have enlarged it, and new ones have placed their bets on the event. This is a pivotal moment for our industry, and the next few months will be decisive for many players. In any case, look forward to seeing you again next year, between November 19 and 22!
Were you at Formnext 2023? What did you think of the event? Let us know in a comment below or on our LinkedIn, Facebook, and Twitter pages! Don't forget to sign up for our free weekly Newsletter here, the latest 3D printing news straight to your inbox! You can also find all our videos on our YouTube channel.
*All Photo Credits: 3Dnatives