Formnext 2019: industrial additive manufacturing in full boom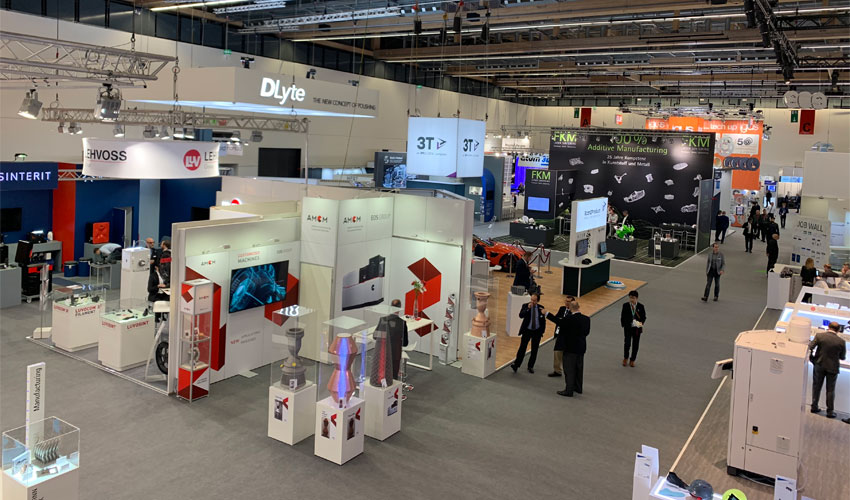 This year again, Formnext was a big success: bringing together more than 850 exhibitors and 34,500 participants (compared to 27,000 last year), the 5th edition focused on the industrialization of additive manufacturing technologies. It must be said that this year the machines were larger, more industrial, and capable of supporting greater production needs. The 4 halls of Formnext 2019 were full of equipment and innovative applications, 3Dnatives was able to attend the world's largest trade fair on additive manufacturing to report on the latest innovations! Among all the exhibitors present, we noted a strong presence of the actors of metal AM, large format machines, a more pronounced interest in ceramics and finally, a strong presence of visitors from the professional sectors, going to Formnext with their specifications and their project already in mind.
Metal additive manufacturing continues to rise
This year, many exhibitors were specialized in metal additive manufacturing, whether they were already well established market players such as EOS, Trumpf, Renishaw, HP, 3D Systems but also new entrants such as Meltio, One Click Metal, and growing companies – Aurora Labs, Velo3D, Xerox… There were more than 185 companies focused on metal technologies, clearly showing a strong position for this 5th edition. This was already the case in the last two years, but in 2019, AM technology showed its willingness to industrialize, gradually turning to mass production. In discussions with Jordan Zacha, Marketing and Business Development Specialist at Aurora Labs, he revealed that more and more participants are familiar with the technology and are seeing the benefits: "It is quite surprising to see the number of players in this sector but even more so the proportion of visitors who are interested, especially American companies. They are looking for a fast and efficient production solution. I think that's where the future of additive metal manufacturing lies."
Our favorite is surely the American company 6K, formerly Amastran, which developed a plasma system to create metallic powders from used powders, waste or worn or defective metal parts. It is part of a real circular economy approach and can above all create metal alloys that were previously impossible to obtain. A project that we will follow closely!
Polymers, large format and ceramics
Although the trend seems to be towards metal, let's not forget that the polymer family remains large and well established in the additive manufacturing market – showcased by the strong presence of  FFF machines in the aisles of the Formnext! Many were large format 3D printers such as the one presented by Tractus3D or Modix. High-performance thermoplastics are still highly sought after by manufacturers, as are composite materials. We met Giovanni Cavolina, co-founder of 9T Labs, who explained to us: "Composites are still young on the 3D printing market and are of great interest to professionals. At the moment, there are still few reliable processes for printing them, we hope of course to change the situation. I think that composite materials have a bright future ahead of them and will be able to shade metals for some applications." It must also be said that they have mechanical properties sometimes comparable to those of metals but at much more affordable cost and a weight that is often ten times lower.
We noticed a significant presence of chemical groups, which are increasingly involved in additive manufacturing. Solvay, for example, took advantage of Formnext to launch its Solef PVDF filament, a material offering resistance to solvents, UVs and oxidation and specially designed for the chemical, semiconductor and Oil&Gas industries. Arkema announced its partnership with Kimya on PEKK, known for its high mechanical and thermal resistance, as well as PEBA-S, for applications requiring light weight, good energy return and low temperature resistance properties such as the sports sector.
Ceramics could also be the material of tomorrow. There has been a growth in the number of exhibitors specialising in ceramic additive manufacturing this year, a technology that is still little known on the market and yet has real potential. The French manufacturer 3DCeram is proof of this with the release of its new machine dedicated to the production of large finished parts.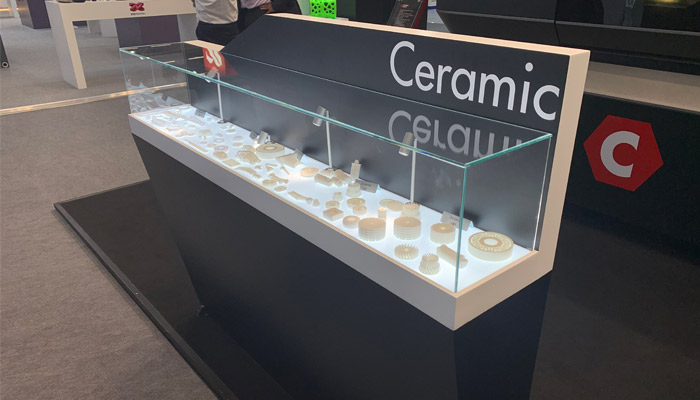 An increasingly mature audience
Additive manufacturing is now a more mature technology that interests a much more informed public than before. Most of the exhibitors we met are all in agreement – Thomas Janics, CEO of HAGE3D even added: "I am really impressed by the growing interest in the market. Most of the time, visitors know what they are talking about, already have an idea of what can be done, why and how. I am also amazed by the number of different applications that can be found. It's very promising for the future."
A feeling shared by participants who come with very precise specifications, technology and materials in mind, etc. However, many people are still surprised by the innovations offered by the market. One of the visitors of the aeronautics sector told us that he "was far from having seen everything. It's exciting!" However, there is only one downside to this 5th edition: with its 50,000 square metres, it is difficult for a novice to find his way around. However, we are looking forward to next year! You can find more information about Formnext on the organizers' website HERE.
Did you go to Formnext 2019? What did you think of the show? Let us know in a comment below or on our Facebook and Twitter page! Don't forget to sign up for our free weekly Newsletter, with all the latest news in 3D printing delivered straight to your inbox!