Formlabs reveals the Fuse 1 at our ADDITIV virtual event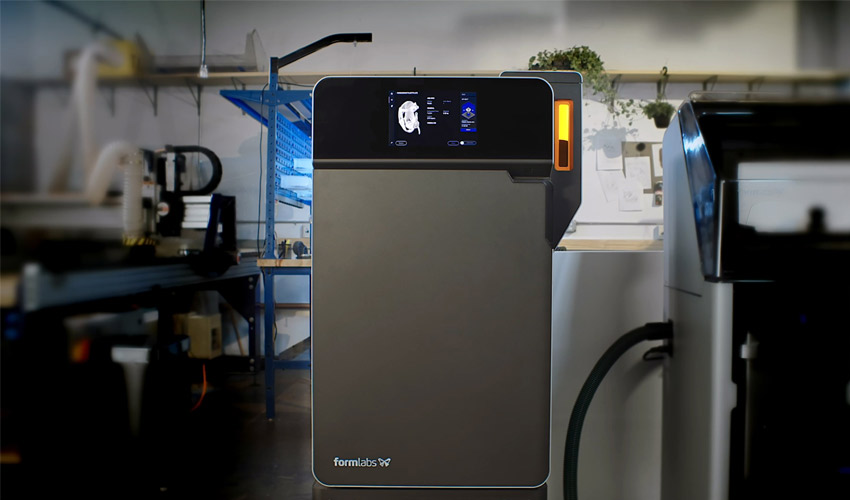 Do you remember Formlabs' announcement in June 2017? The 3D printing manufacturer, best known for its resin solutions, announced their intention to tackle the selective laser sintering (SLS) market with a desktop machine, the Fuse 1. After developing several prototypes, Formlabs finally launched the machine, now available from $18,499, at our virtual event ADDITIV médical France. Based on Surface Armor technology, the Fuse 1 allows the creation of industrial parts from nylon powder – PA12 to be precise – and displays a powder refresh rate of 70%.
SLS technology is without a doubt one of the key technologies currently on the additive manufacturing market. It offers the possibility to create functional and solid finished pieces without using printing supports and by optimizing each print. And yet, for a long time the high price of this technology limited it to industrial use. Formlabs intends to move the market by offering a more affordable solution, one that nonetheless does not compromise on quality. The project began in 2014 and the printer went through ten different prototypes before the manufacturer was completely satisfied. Max Lobovsky, CEO and co-founder of Formlabs, explains "SLS 3D printing shouldn't be solely for those with big budgets, it needs to be accessible so all companies — from startup to big manufacturer — can benefit from the design freedom and high productivity SLS 3D printing provides."
Formlabs' first SLS machine, the Fuse 1
The Fuse 1 features a modular print chamber to reduce downtime and deliver continuous printing, with a maximum volume of 165 x 165 x 320mm . It is based on the Surface Armor technology, patent pending. According to Formlabs, this technology creates a semi-sintered shell around the part to protect it during printing. The user can thus expect to obtain a better surface quality, greater reliability and optimum properties. As for material, the machine is compatible with PA12, Nylon 12 Powder. This features a 30% refresh rate, the ability to print a part with 70% recycled powder and 11% elongation at break. The manufacturer says it is already working on the development of Nylon 11 and other materials.
Formlabs is also launching Fuse Sift, a post-processing solution for the Fuse 1 so that users can benefit from an all-in-one solution. We do not know the price of this post-treatment machine, but it is most likely intended for depowdering the part.
Feedback from the first users
The American company Partial Hand Solutions is one of the first beta users of the Fuse 1. It designs prosthetic fingers or people with partial hand amputations. Today, the company uses additive manufacturing to produce custom-made prostheses instead of using injection molding. Matthew Mikosz, founder of Partial Hand Solutions and Fuse 1 beta user commented: "We previously used an outsourced injection-molding workflow to deliver prosthetic fingers to patients young and old, helping them improve mobility and increase functionality; but this process was extremely slow and did not allow for the personalisation needed for each patient. Fuse 1 gives us the design freedom needed to truly customise our prosthetics and the high productivity and throughput necessary to quickly get this solution to our patients."
It is therefore no coincidence that Formlabs is taking advantage of our virtual event, dedicated to medical 3D printing, to officially launch its SLS machine . The French team will be at this unique event all afternoon to answer your questions: do not hesitate to participate! You can register for free HERE .
You can order the Fuse 1 now for $18,499 HERE. What do you think of Formlabs' solution? Will it be able to make SLS technology more accessible? Let us know in a comment below or on our Facebook and Twitter pages! Sign up for our free weekly Newsletter here, the latest 3D printing news straight to your inbox!
*Thumbnail photo credits: Formlabs