How is Formlabs strengthening its presence in Europe?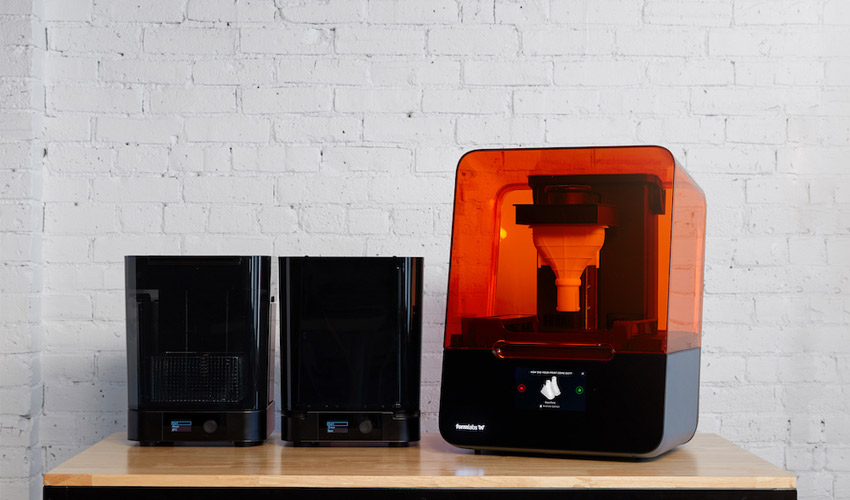 The American manufacturer Formlabs is one of the historical players in the 3D printing market, particularly in the stereolithography segment. Today, the company employs more than 500 people in 7 offices worldwide and has already produced more than 40 million parts. Last week, it held its User Summit for the first time in Europe, in Berlin to be precise. Formlabs announced ambitious projects, the company hopes that within the next 5 years, 1 billion users will use its 3D printing technology for the creation of parts. For this occasion, we were able to meet Stefan Hollaender, EMEA Managing Director, and Dávid Lakatos, Chief Product Officer to learn more about Formlabs' projects, particularly in Europe.
3DN: First of all, can you tell us some more about the User Summit ?
Stephan: The whole idea of such a users summit is a couple of years old, it is something we have done in the US a couple of times already. There we saw how positive and insightful the discussion is with the people who are really using our products in their daily life for either production, design or even creating new stuff they have in mind. The exchange with us as a company helps the users get real insights on how things turn out, so the positives and maybe also the things we need to work on and improve. Our customers come up with plenty of interesting new ideas that we want to work on and collaborate to bring even more materials/products to the market. This summit is a great platform for users to have that exchange with us and learn what others do, but also give us their feedback.
3DN: Why did you bring the summit to Europe as well?
David: Europe is about 40% of our market, it's the largest market after North America for Formlabs. A lot of our customers have been here, that's why we opened our Berlin office back in 2014 already. Very early in the life of the company we knew it was going to be global. And if you look to other 3D printing companies, especially Europeans ones, they end up being regional and a lot of them are not heard of in the US. We, from the very beginning, have been looking into industrial reports, making sure we distributed enough. In Asia for example, we are still behind, it's a very different market, but we are growing very quickly. Hopefully we can bring our user summit to Asia too.
3DN: Formlabs announced some new printers back in April : can you tell us more about your product range as of today ?
David: Yes, we launched the Form 3 in April and we started shipping it during the summer. By now we have shipped 1000 printers and sold many more, lead time is coming down, so things are looking good. Initial feedback from the market has been very good. For the next months to a year we'll be focusing on improving the printer even further through software updates and materials availability etc.
We also developed the Form 3L which is based on the Form 3, so the technical challenges that are remaining are really manufacturing related. This is our first large machine so there is definitely some things we've been learning on how to manufacture it and we're going to have updates as we go. We are confident it's going to be a great product. The remaining exciting thing is really engaging a different user base. There are industries that will be disproportionately happy about the Form 3L, specifically the automotive and aerospace industries that have not been adopting our machines (to the same extent as others) so far due to the size of the build volume.
And of course, we need to talk about the Fuse 1 which marks our arrival in the SLS market.We announced it back in June 2017 and the truth is we are falling behind with the availability of the product, that said, we do so because we want to ship the right printer. If you're interested, there are lower cost SLS machines in the market today. If we wanted to offer the same quality with these machines, we could've shipped two years ago. That's not what we want to do, we want to compete with the industrial quality machines and really lower industrial quality SLS printer prices 250-300k € down to the 20-25k € price point. The good news are that we have figured out what needs to be worked on and we are going to be shipping beta units this year and start shipping next year.
3DN: Why is Europe such an important market for you?
Stefan: The operations in Europe are a hell of a race. The Berlin office is growing quite quickly, it's focused around marketing, sales and service (as of today) and it's still also the hub for the people we have out in the field. I think the opportunity is awesome in Europe because we have such a very strong presence in small to medium sized businesses. All the market leaders not only in Germany but also in  super strong engineering power countries like the UK as well as France and Italy, have found a very strong niche in production. Europe has a very strong plastic industry that keeps production in the continent. I believe that in Europe we have a lot of untapped potential to be honest. We have been growing fast, we have been successful but at the same time there is a big opportunity of taking a more structured approach by not only selling to companies, but also helping them to develop workflows and productions flows. We are trying to get more technical knowledge to ensure that we don't only talk about the material and the printer, but also how we can integrate better into the workflows many of our customers have. I think that's the next big step for us, to make sure that we become part of the production facilities of customers. In Europe, I feel like we are just at the starting point and we're going to keep growing the great ride we've had so far.
David: Just to add one thing, for a long time we've been focusing our engineering and product development efforts in North America. As of last year, we opened our first engineering office outside of Boston, in Budapest, Hungary.
3DN: What should we expect from Formlabs moving forward?
David: Our goal is to be the most relevant and important 3D printing company in the market. One technology cannot really own the market, you really need multiple, so expanding to different branches of technologies like SLS is of high importance to us.
3DN: Any last words for our readers?
David: I would just say to the people that read a more industry specific outlet that these are the people that often end up working at Formlabs. We have now 7 offices from Boston to North Carolina to Berlin and Budapest, Shenzhen, Tokyo and Singapore, these are all places where we can use very smart people. I think we are literally hiring for every position right now. Even if you're a nuclear engineer, we can figure out a way to utilise your skills at Formlabs, so please take the time to see if there's something that's interesting to you.
The video above showcases the Formlabs' last User Summit in Boston, U.S.
What do you think of Formlabs' expansion in Europe? Let us know in a comment below or on our Facebook and Twitter pages! And remember to sign up for our free weekly Newsletter, to get all the latest news in 3D printing send straight to your inbox!