Form 3 and Form 3L, the new SLA 3D printers from Formlabs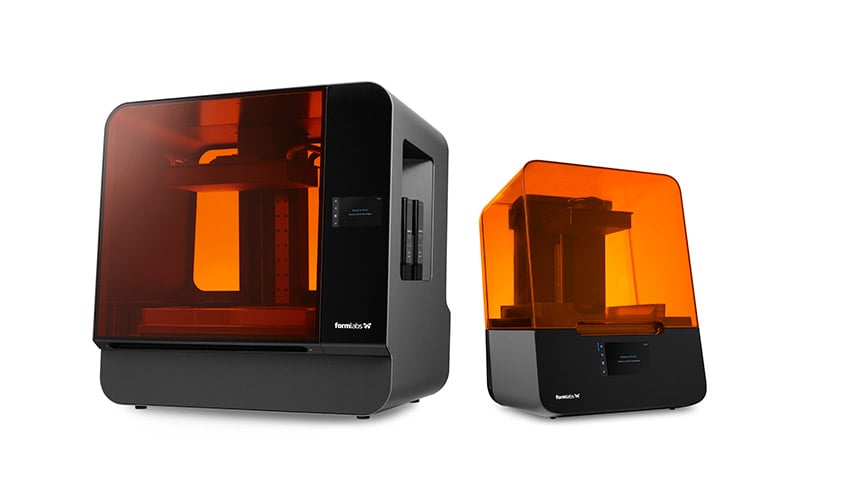 With more than 50,000 units sold of its Form 2 3D printer, the American manufacturer Formlabs is the market leader in SLA desktop 3D printing. At the Hannover Messe event, the manufacturer took the opportunity to unveil its latest generation of machines, the Form 3 and Form 3L, based on a brand new printing process called Low Force Stereolithography (LFS).
A new process at the heart of Formlabs' latest generation of printers
According to Formlabs, the LFS process uses a custom laser and mirror system to polymerise isotropic solid parts from liquid photosensitive resin with high precision.
"We have completely rethought our approach to resin 3D printing with the LFS (Low Force Stereolithography) printing process on which the Form 3 and Form 3L printers are based," commented Max Lobovsky, CEO and co-founder of Formlabs.
New features include easy post-treatment and smoother parts thanks to lightweight and easily detachable mounts, but also the presence of 20 sensors that monitor and maintain the ideal conditions to achieve the best performance. Formlabs teams also relied on modular and scalable components with enhanced machine reliability. Finally, the Form 3 and Form 3L will offer the possibility of remote printing using an online Dashboard.
"We made our first steps in this sector seven years ago with the first powerful and reasonably priced SLA desktop 3D printer, since then our customers have printed more than 40 million parts. We are pleased to take this great leap forward with 3D LFS printing, which significantly improves the print quality and reliability that our customers can expect, while continuing to offer the most powerful and affordable 3D printer on the market", added Max Lobovsky.
A first large format 3D printer and a new resin
However, the main advantage of the LFS process remains its ability to perform large scale printing jobs. In addition to the Form 3, Formlabs presented a new high-volume machine called Form 3L.
It uses two LPUs (Light Processing Units) simultaneously to produce large 3D prints. Formlabs specified that the Form 3L will display a printing volume 5 times greater than the Form 2 as well as the ability to print 4 times faster.
The Form 3 will print parts with a size of 145 x 145 x 185 mm while Form 3L will have a XXL manufacturing volume of 300 x 335 x 200 mm. Both machines will offer a 25 micron XY resolution with a minimum layer thickness of 25 microns using a 250mW laser. On the pricing side, the Form 3 will be available from 3299€ ($3,692) and the Form 3L from 9399€ ($10,517).
Among the other innovations unveiled at Hannover Messe, Formlabs announced the arrival of a new material: Draft Resin, for the rapid production of prototypes. Draft Resin will allow parts with 300 micron layers to be printed 4 times faster than conventional resins.
More information on the Formlabs' website HERE.
What do you think of Formlabs' new SLA 3D printers? Let us know in a comment below or on our Facebook and Twitter pages! Don't forget to sign up for our free weekly Newsletter, with all the latest news in 3D printing delivered straight to your inbox!