TOP 12 applications of food in 3D Printing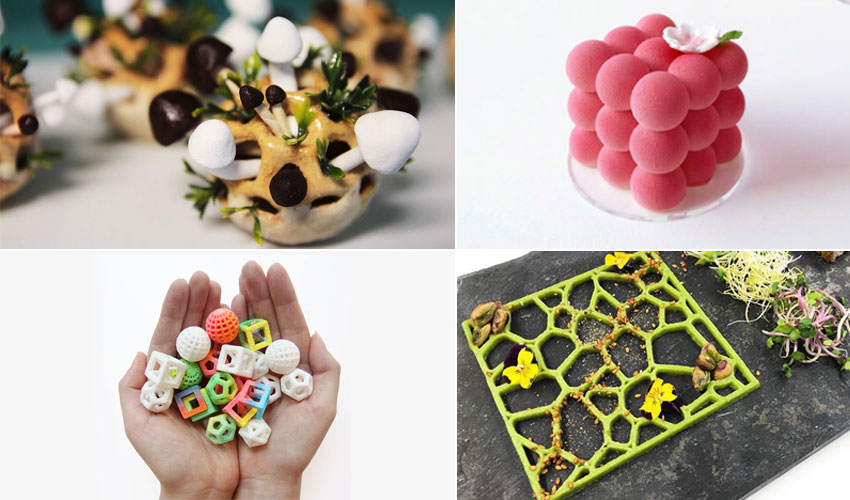 3D printing food is now becoming more of a reality. So much so that we could be seeing 3D printed food in restaurants or in our kitchen in the near future. Initiatives that mix 3D technologies and food are more and more numerous; this new manufacturing method would make it possible to create foods with more complex and original shapes and innovative recipes. It would also offer more customization to better adapt to the diversity of diets. Typically, food 3D printers rely on technology similar to fused deposition modeling but use a dough instead of a plastic filament. This dough can consist of different ingredients including chocolate, sugar, chewing gum and even tomato sauce.
As more and more chefs begin looking to innovate by using this technology in their kitchens, we have decided to gather some applications that incorporate 3D printing in food, whether it be 3D printers and molds or kitchen accessories, if it is used in the realm of cooking, you will find it below!
TOP 1 – The byFlow 3D Printer
In 2009, Dutch company byFlow entered the additive manufacturing market, specializing in the creation of 3D printed food. A few years later they developed their own 3D printer called the Focus, a machine that quickly became known for being innovative, as it could extract food and form dishes of all kinds. The company announced recently that it would be working with a top chef who will be opening their own restaurant. The specialty? 3D printed dishes! An experience that without a doubt, will be memorable!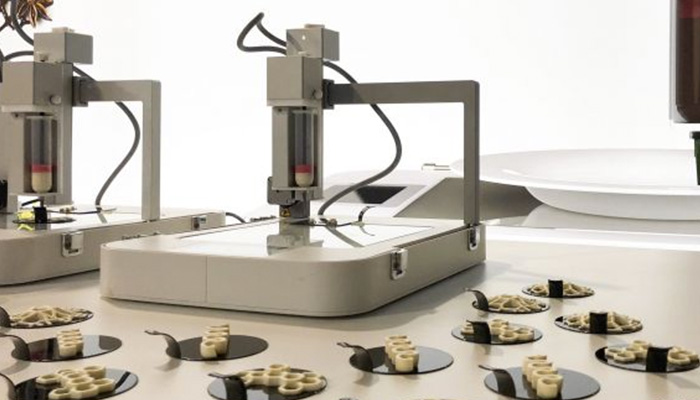 TOP 2 – 3D printing fruit
Dovetailed Design Studio has developed a 3D printer to create fruit! This seems pretty incredible but apparently possible, thanks to a collaboration with Microsoft. Dovetailed used a molecular 3D technique called spherification that allows them to print any fruit in seconds. The researchers change the flavors of the fruit through a combination of fruit juice and sodium alginate powder. 3D printing could, therefore, allow the production of different fruit of all shapes and sizes!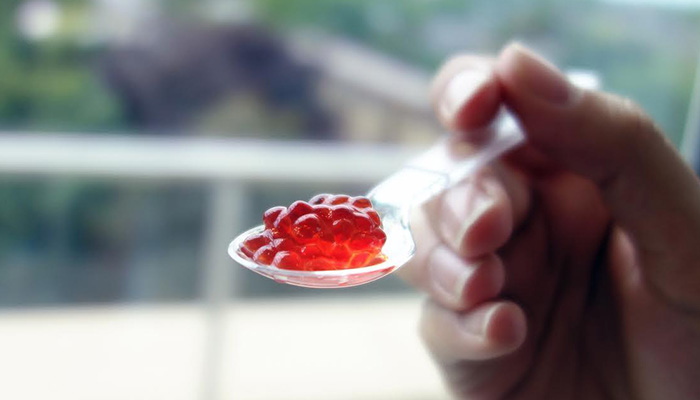 TOP 3 – The pastry chef of 3D printing
Dinara Kasko is a Ukrainian pastry chef who could even be called an artist! She uses 3D printing to offer her desserts a unique design and a breathtaking aesthetic. Although her pastries are not 3Dprinted; instead, Dinara uses 3D technologies to design the plastic mold, allowing her to create increasingly extravagant shapes. Without this method of manufacturing, the confectioner would not be able to create her original desserts.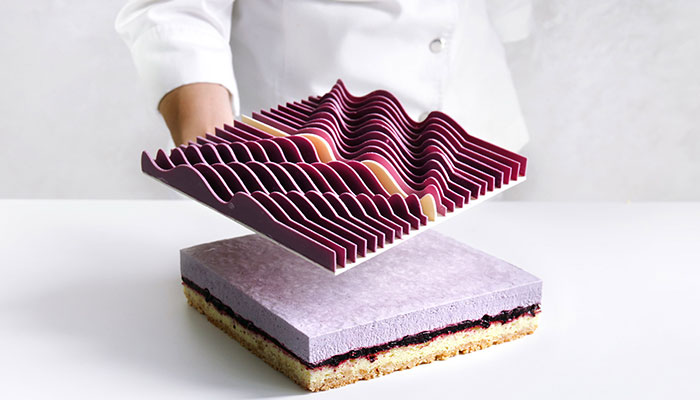 TOP 4 – CocoJet from 3D Systems
3D Systems has also tackled the food 3D printing market by developing their own 3D chocolate printer, the CocoJet. The additive manufacturing giant worked with US confectioners Hershey, who supplied the chocolate printing material. The CocoJet would be ideal for all cooks or chocolatiers who would like to create unique chocolate creations with a more complex design.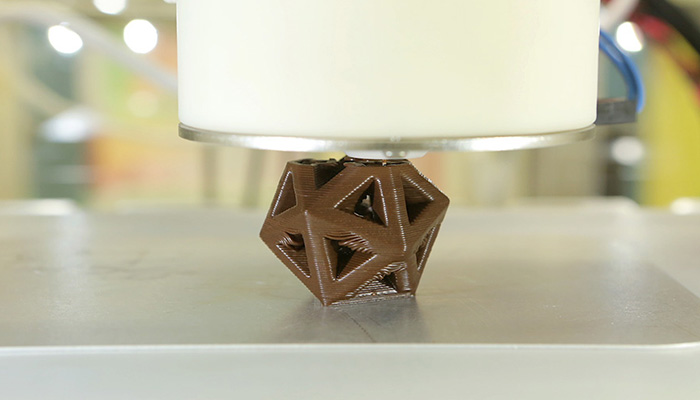 TOP 5 – The Palace of Versailles in sugar
In 2015, the Modernist Cuisine project took place with 3D Systems and different chefs. This project led to the unveiling of the first sugar 3D printer by the American giant, the Chef Jet Pro, a 3D printer that was based on the selective laser sintering technology. The aim of the project was to recreate the Château de Versailles using the 3D printer, without forgetting any detail, whether it be the gardens or the structure itself. A beautiful result that mixes traditional methods and new technologies.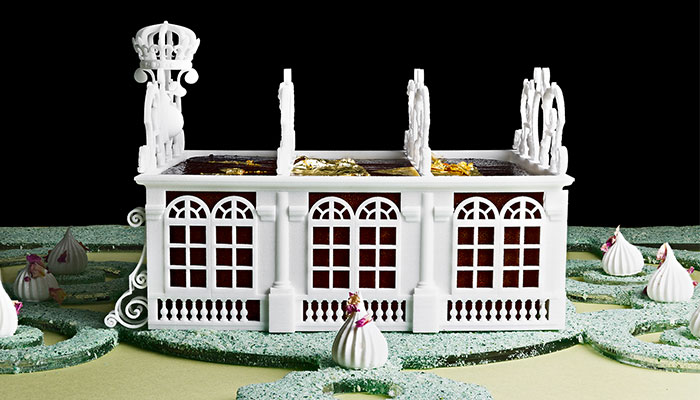 TOP 6 – Foodini, the 3D printer for healthy foods
Natural Machines is a Barcelona-based company that has developed one of the first food 3D printers in 2015, the Foodini. The company's goal was to create safe and quality food more easily through Foodini. The printer has different types of nozzles that allow you to print with almost any food material possible. In addition, the startup shares recipes and examples of how to use the machine.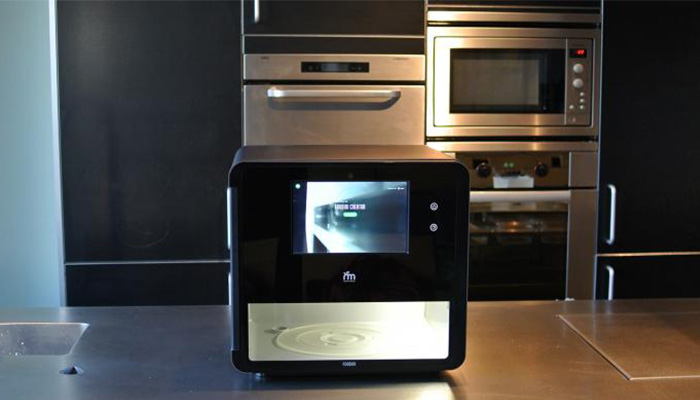 TOP 7 – A fresh pasta 3D printer
The famous Italian company Barilla, who specializes in pasta, worked with the Dutch research institute TNO in 2016 to make its first fresh pasta 3D printer. The machine uses a mixture of water and flour to create, layer-by-layer, pasta with unique shapes while maintaining the flavor as we know it today. However, we do not know much about the evolution of the project nor when the 3D printer could arrive on the market, but we hope it will be soon!

TOP 8 – WASP and gluten-free 3D printed food
WASP is an Italian company that has become known for its projects related to 3D printing in construction. Last year, however, they unveiled a gluten-free food 3D printer. To carry out their project, WASP modified a DeltaWASP 20 40 3D printer and included a new type of extruder, designed for mass extrusion. Once completed, the company printed different shapes and designs that anyone could eat. An interesting project, especially for those who need special gluten-free diets.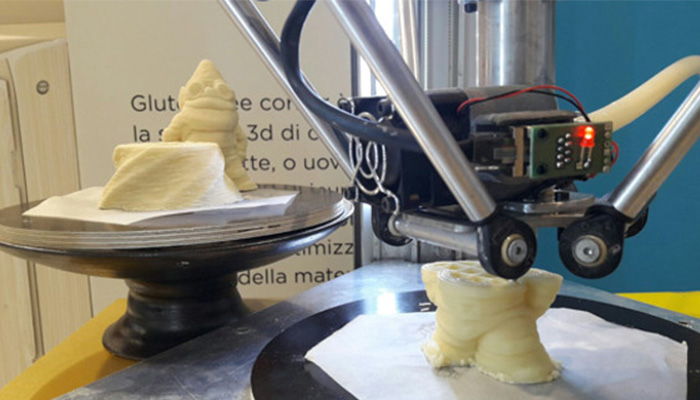 3D printed kitchen accessories
3D printing has not only pushed its way into kitchens everywhere through food but also through the 3D printing of different utensils and objects. Whether it be dishes, a faucet or a coffee service, even if you do not dare to eat a 3D printed dish, opt for a plate or a glass designed using 3D technologies!
TOP 9 – A 3D printed faucet
Kallista is a brand that specializes in the manufacture of luxury faucets for kitchens and bathrooms. In January 2018, they turned to additive manufacturing to create a new range of 3D printed faucets, called Grid. They have been designed on a 3D Systems metal machine, the ProXDMP 320. The luxury brand was able to manufacture a cubic valve, a perfect marriage between design and functionality. Will you incorporate a 3D printed faucet into your kitchen?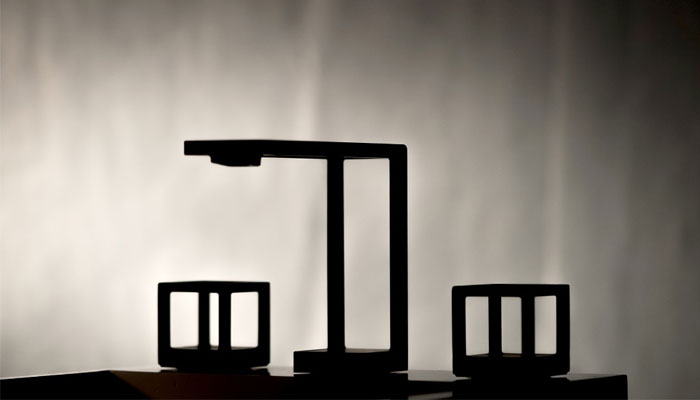 TOP 10 – 3D printed dishes
UAU Project is a multidisciplinary design studio based in Warsaw, Poland that creates everyday objects through 3D printing. Among its collection is TABLE7, which is a collection of 3D printable kitchen items that can be easily printed at home. There are bowls, plates, salt shakers, sugar bowls and much more. All models are available for free on the Cults platform!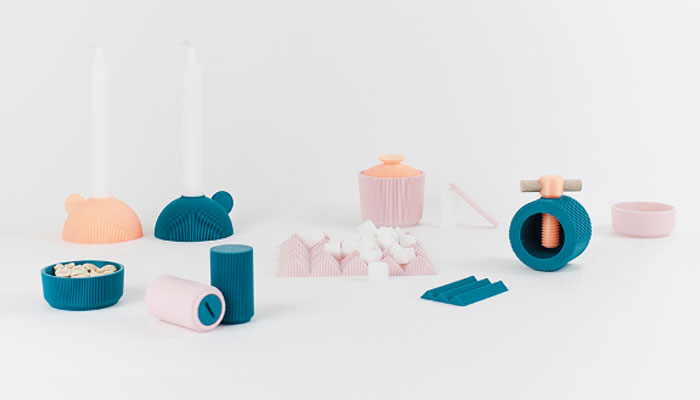 TOP 11 – A coffee break with Kamp Studio
Kamp Studio is a New Zealand design studio that features a 3D printed collection, Kemp, which includes objects that are essential to your kitchen. There is a tea set, a porcelain coffee pot with a lid and a golden titanium coffee filter from Osaka Coffee. All the molds at the origin of this porcelain set were 3D  printed and were made to measure. The gorgeous designs will turn your coffee break into a beautiful moment!

TOP 12 – For those who don't often use their kitchen
For all of you who do not spend a lot of time in your kitchen, we offer you the Ex-Designer Bar whose interior was made thanks to 3D printing. This Spanish restaurant and bar serve dishes on 3D printed plates and cocktails in glasses made the same way that you enjoy on your 3D printed stools. There are three active printers located at the bar that are constantly improving the interior.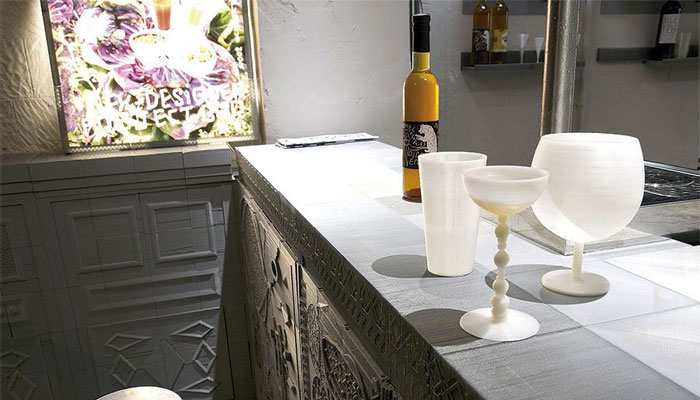 What do you think of food 3D printing? Will you adopt it in your kitchen? Let us know in a comment below or on our Facebook and Twitter pages! Don't forget to sign up for our free weekly Newsletter, with all the latest news in 3D printing delivered straight to your inbox!