Desktop Health's Dental Resin Flexcera Acquires FDA Clearance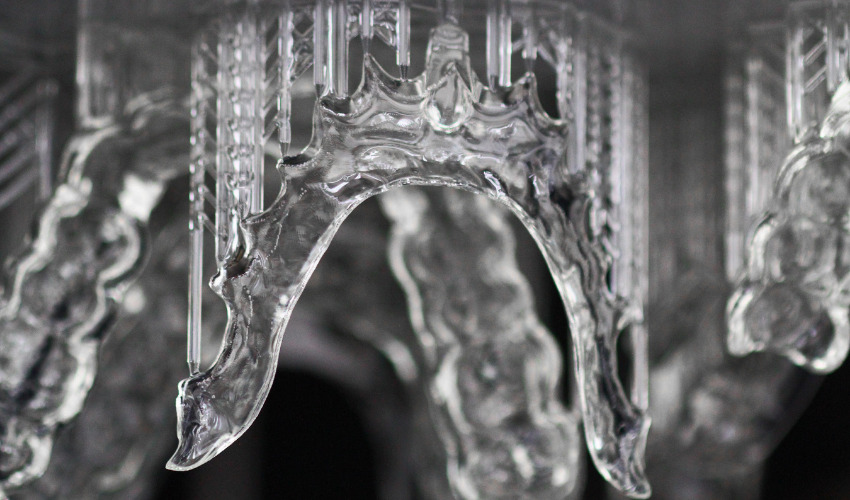 Desktop Health, Desktop Metal's new healthcare business, announced last week that it has received clearance from the U.S. Food and Drug Administration (FDA) for its proprietary resin designed for use in 3D printed dental prosthetics. Though the 3D printing dental industry has been growing rapidly in recent years, notably in the realm of protheses and molds, it has not been without controversy. Just a few months ago, research from Northwestern University suggested that many supposedly biocomptaible resins, notably 3D printing resins, could be harmful to the female reproductive tract. By earning clearance for the Flexcera Smile and Flexcera Base, medical devices made using their proprietary dental resin, Desktop Health has shown that the ever-growing AM dental industry is still advancing despite setbacks. 
Desktop Metal is known as the name suggests for its metal desktop 3D printing, with the stated goal of making metal and carbon 3D printing more accessible to manufacturers and engineers. But clearly metal and carbon fiber are not the only materials used by the company. At the beginning of the year they moved into the resin market with their acquisition of EnvisionTEC. Desktop Health itself was launched earlier this year as a business line focused on accelerating AM solutions in dental, orthodontic and otolaryngology applications.
About Flexcera
The global denture market alone is estimated to reach $3.8 billion USD by 2027 in the U.S. and according to the American Association of Oral and Maxillofacial Surgeons, 60% of adults have lost at least one permanent tooth. It is perhaps no surprise to hear then that the US dental 3D printer market is also expected to reach $144 million in 2027, signifying that it is likely that 3D printing will be used more and more to keep up with the ever-increasing demand. Not only that, but 3D printing is uniquely suited to the task, its ability to create forms that are perfectly customizable to the patient at a lesser cost is ideal for prosthetics, especially those designed to fit in your mouth.
With Flexcera, Desktop Health believes it is addressing a real need in the market. Michael Jafar, President and CEO of Desktop Health noted, "Three years ago, we set out to create a product that addressed the limitations of current 3D printed dental prosthetics – brittleness and poor aesthetics. The introduction of Flexcera marks the inception of a remarkable new era in dentistry, combining advanced Flexcera science with 3D printing technology to deliver superior strength, aesthetics, and function for patients. We are pleased to bring this innovative product to market as it represents our commitment to meet the needs of dental professionals and their patients."
The company states that Flexcera was developed using long chain chemistry to ensure superior dental properties. These include high fracture resistance, moisture resistance to prevent staining or discoloration and an overall natural aesthetic offering lifelike tooth translucency and a natural looking smile. Additionally, when made using EnvisionTEC 3D printers, up to eight customized Flexcera dentures can be made in less than two hours, allowing for same-day, high-quality prosthetics. The resins can be used to create dentures that are both functional and beautiful with ceramic-like strength. Flexcera is expected to launch commercially in the U.S. and Canada by the end of June.
What is significant about FDA clearance?
As you may know, the Food and Drug Administration or FDA, is an American federal agency that protects public health by ensuring the safety and security of drugs, biological products and medical devices. In this case, Desktop Health received FDA 510(k) clearance of Flexcera Base, its proprietary resin for dental prosthetics. As such, Flexcera Smile is considered an FDA Class 1 Medical Device for the fabrication of lifelike denture teeth while Flexcera base is an FDA cleared Class 2 Medical Device for the fabrication of premium denture bases. 
Though this is not the first time that a 3D printed medical advice has received FDA approval, clearance is especially important since a few months back it was discovered that many of the resins used in dental 3D printing could be dangerous to reproductive health. The study suggested that many of the resins could leak compounds that were toxic into the oocytes (more commonly known as eggs). With this, we would hope that these concerns have been addressed, allowing the AM dental industry to continue to grow. You can read the full press release HERE.
What do you think of Flexcera's FDA approval? Let us know in a comment below or on our Facebook, Twitter and LinkedIn pages! Sign up for our free weekly Newsletter here, the latest 3D printing news straight to your inbox!
*Thumbnail Photo Credits: Desktop Health