FLEX 510 by INTAMSYS, a high speed 3D printer for flexible materials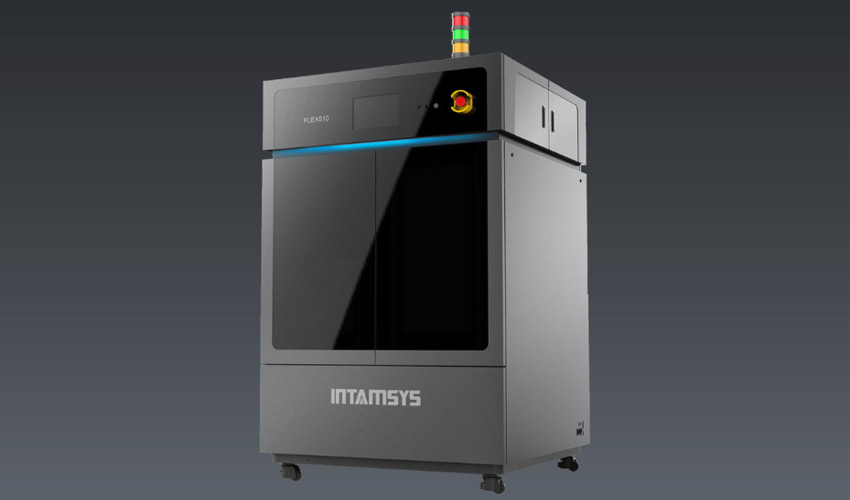 The Chinese manufacturer INTAMSYS has just revealed a new industrial machine designed for printing flexible materials. Called FLEX 510, this is the new addition to the manufacturer's range of machines focused on high-temperature additive manufacturing, capable of working with technical materials such as PEEK and PEKK. The new machine is designed for the production of sporting goods, medical rehabilitation equipment and tools, and is based on a patented HSFE (High Speed Flexible Material Extrusion) technology that increases the printing speed, which is often too slow when it comes to printing flexible materials.
Thermoplastic elastomers, or TPEs, are popular in industry because their surface has varying degrees of hardness. Although they are known for their flexibility, they are difficult to print because a number of factors must be taken into account; for instance, the printing speed: in order to prevent the filament from jamming in the extruder, the printing speed is generally low. The user will therefore need to be patient. The manufacturer INTAMSYS is tackling this problem by launching the FLEX 510, a 3D printer compatible with certain TPEs which would be 5 times faster than the existing solutions. Colin Fei, Marketing Director of INTAMSYS, told us: "The FLEX 510 fits our vision, which is about supplying industrial machines rather than office machines. Flexible materials are becoming more attractive in several vertical markets and more and more customers are asking for it.»
The characteristics of FLEX 510
Equipped with 4 extruders, the machine can print up to four different TPUs or four colours at a time, raising productivity and efficiency levels. They can be raised up to 270°C while the platen heats up to 100°C. Its printing volume is 508 x 508 x 450 mm and its speed reaches 200 mm/s, which is 5 times faster than what other machines capable of printing flexible materials can do, according to the Chinese manufacturer. Finally, the FLEX 510 uses the AALTM (Active Automatic Leveling) technology which allows automatic adjustment of the platen settings, always with the same dynamic efficiency.
In terms of applications, this 3D printer should enable the creation of sports equipment that requires flexibility, but also medical solutions, for instance, customized soles. Indeed, flexible materials offer interesting characteristics such as high resistance to wear, shocks and cuts. The FLEX 510 is compatible with TPU, TPEE and polyamide-based elastomers. Colin Fei adds: "I believe that the introduction of the FLEX 510 will accelerate innovation in the industry's design and manufacturing process, and push more and more related industries towards customized manufacturing." More information can be found HERE and in the video below:
What do you think about the new FLEX 510 printer? Let us know in a comment below or on our Facebook and Twitter pages! Sign up for our free weekly Newsletter, all the latest news in 3D printing straight to your inbox!