Could Flame-Retardant Bioplastics Soon Be Used in AM?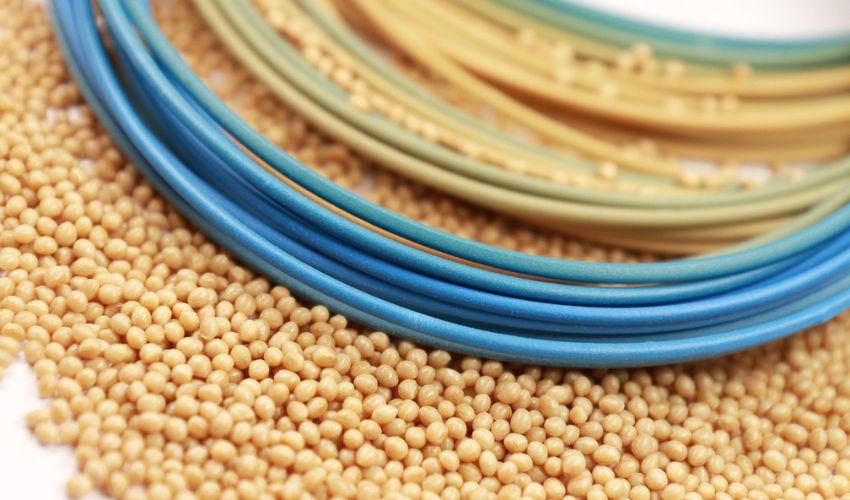 Materials used in electrical engineering or electronics must conform to high demands. This is especially the case since these materials must have properties such as flame resistance. It is well known that in this case plastics meet the necessary flame retardancy requirements needed for use in electrical engineering and electronics, but what about flame-retardant bioplastics? Researchers at the Fraunhofer WKI and the Fraunhofer IAP have asked themselves this question in joint collaboration with industrial partners and have already been able to celebrate initial successes in the course of their research not only developing flame-retardant bioplastics but also showing that the materials are compatible with additive manufacturing.
Before the research results of the Fraunhofer Institutes, there was no known bio-based flame-retardant that would be suitable for the development of bioplastics. With this challenge in mind, the focus was therefore on a halogen-free flame retardant that would be extremely cost-effective to use, since it is needed primarily in extremely small quantities. At the beginning of the research project for the development of bio-composite materials suitable for both electrical engineering and electronics, the focus was on the production of new, bio-based flame retardants. For this purpose, syntheses based on bio-based alcohols and phosphorus-containing compounds were carried out.
A New Flame-Retardant Bioplastic Innovation
However, in order for the flame retardant factor to be given in the first place, it is important to understand that the uniform distribution of the flame retardant within the matrix of the PLA biopolymer is required.  To achieve this bonding of the flame retardant to this matrix, electron beam crosslinking was used, which is a non-thermal process. While this process is extremely common when it comes to plastics, it is not yet very proven with bioplastics. To change this, however, the properties of the polymers must be modified.
However, it was not only flame retardancy that had to be taken into account, but also heat resistance. After countless tests, the team was finally able to produce specific formulations for PLA and PBS that met the flame retardancy requirement and the researchers found the material could be used in additive manufacturing as well as injection molding, opening up a wide number of applications in these fields. These tests conducted included UL94 (a test measuring whether a material extinguishes or spreads flames once ignited), glow-wire testing (testing the materials' tendency to resist ignition, self-extinguish flames and ability to not spread or propagate fire via dripping) and tracking-resistance testing.
"The formulations on the basis of Bio-PA have so far only been processed on a small scale in the laboratory compounder and mini injection molding. Further research is therefore required in order to find out how processing can be achieved using twin-screw extruders and in injection molding. Optimization of the flame-retardant PA-based compounds should also be carried out with regard to the entire range of requirements from the electrical engineering and electronics," summarizes Dr. Arne Schirp, project manager at the Fraunhofer WKI. More information can be found in the official Fraunhofer WKI press release.
What do you think about the Fraunhofer Institutes' research into flame-retardant bioplastics for 3D printing? Let us know in a comment below or on our LinkedIn, Facebook, and Twitter pages! Don't forget to sign up for our free weekly Newsletter here for the latest 3D printing news straight to your inbox! You can also find all our videos on our YouTube channel.
*Cover Photo Credits: Fraunhofer WKI | Manuela Lingnau