Fishy Filaments Is Making 3D Printed Lights Out Of Fishing Nets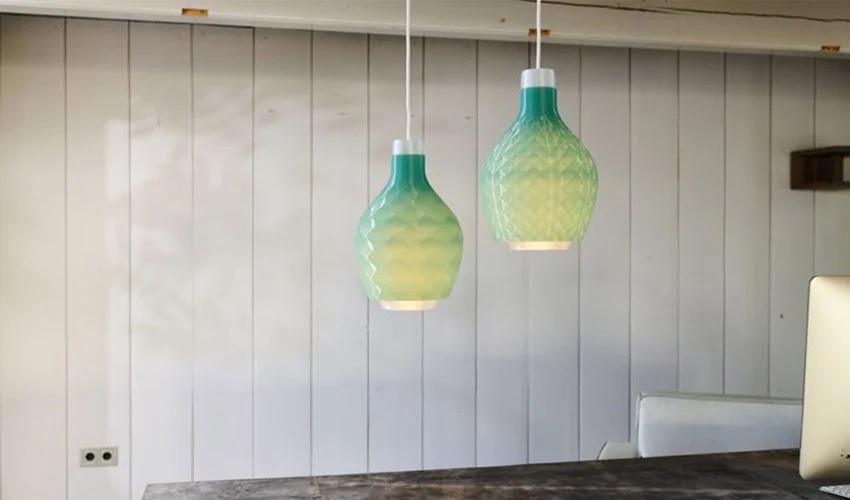 Would you be willing to decorate your house with fishing nets? Well it would not exactly be displaying nets on your walls, but rather hanging 3D printed lights made from these recycled scraps. This is one of the products now offered by Philips, more precisely by its brand Signify (formerly Philips Lightning); it has developed a whole range based on this idea of circular economy and reuse of obsolete objects. For this, it has collaborated with Fishy Filaments, a materials manufacturer based in England, or more specifically in Newlyn, Cornwall, the largest fishing port in England. This way, the consumer can make an informed and environmentally friendly choice without compromising aesthetics.
Our oceans are unfortunately polluted by a lot of waste, often by plastic that humans do not know how to recycle. This is the case of fishing nets. Ian Falconer is the founder of Fishy Filaments. He explained, "Nets are the main tools used by fishermen to earn a living, but fishing nets waste is a genuine problem here in Cornwall due to the lack of a proper recycling infrastructure. Around the world, most of the fishing nets were burned, put in landfill, or worst of all, dumped into the sea, causing massive environmental problems." Faced with this realization, he decided to create a structure capable of collecting these nets and transforming them into manufacturing materials – either into filament or plastic pellets.
On the Philips website, you can choose between several different designs, all of which capture that ocean feel with a slightly wavy, wave-like surface finish. Once lit, the lamp will bring a green touch to your room. All the designs were printed with the filament developed by Fishy Filaments – we don't know which 3D printer was used though. The brand says: "3D printing completely changes the way we design new products. It's much closer to craftsmanship. In a very iterative process, together with the machine, we created code and new textures and we wanted to reflect those new textures in the product. We are taking 3D printing to a new level by pioneering a new design craftsmanship where the beauty of printed forms, textures, and materials are expressed while solving the technical challenges of a sustainability supply chain in a commercially viable way. We are constantly driven by the challenge to create value in a product with its material origin in a waste stream."
You can buy your lamp HERE, starting at €179.99 euros. To learn more about this project, feel free to watch the video below:
What do you think of these 3D printed lamps and the use of waste to make decorative objects? Let us know in a comment below or on our LinkedIn, Facebook, and Twitter pages! Don't forget to sign up for our free weekly Newsletter here, the latest 3D printing news straight to your inbox! You can also find all our videos on our YouTube channel.
*Cover Photo Credits: Philips