Californian Start-Up Unveils First Ever Sustainable Filament Made From Wine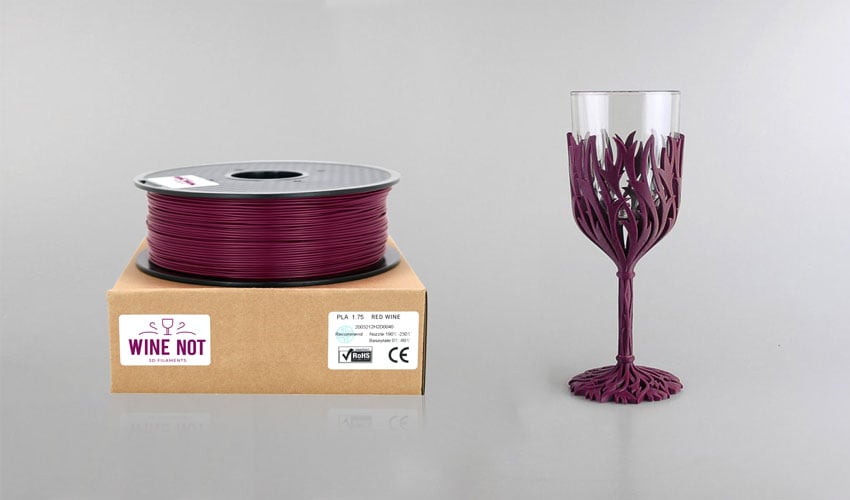 Over the years we have certainly seen some odd alternative 3D printer filaments. There have been filaments made from coffee grounds, hemp and even food waste. These filaments have often been made for a noble cause, namely to address sustainability issues not just in the 3D printing industry but in other markets as well. Adding to this list we have a new sustainable filament from American Start-Up, Wine Not, which is using wine waste, known as grape marc or pomace, as a base for its thermoplastic filaments intended for use in 3D printing.
According to Statista, worldwide, revenue from the Wine market will amount to $381 billion in 2021 alone, with the market expected to grow annually by 8.51%. That means, that worldwide, the average per capita consumption stands at around 3.5L, or in other words a whole lot of wine!  Of course, with so much demand for the product, it would make sense that industry would be booming, especially during the Pandemic. But are there drawbacks to the wine industry?
Apart from the headache and physical symptoms you might experience after a night of over-indulgence, one issue with wine relates to sustainability. Though overall the wine industry is considered one of the most eco-friendly, it still produces a large amount of organic waste that can unfortunately contaminate areas of production. This grape marc is what remains after juice is collected from pressing grapes for wine production and is made up of grape skin, pulp, stems, seeds and residual juice. However, up until now, there has not been a sustainable, effective solution for getting rid of this waste.
That's why American start-up Wine Not, based in Napa Valley, California, has come up with a plan to use that pomace for something good, namely creating a sustainable 3D printing filament. The manufacturers state that Wine Not has all the properties of PLA. As such, it can be used on many FDM machines and is much more ecological than other thermoplastic polymers. The filament costs $34.99 per spool of .750kg, and for printing it requires an extrusion temperature of 446°F (230°C) and a heating bed of 104°F (40°C). It has been noted to have a strong odor of the wine used, even after processing, perfect if you want to 3D print while you relax.
Talking about the development of the product, co-founders Winifred Cork and Merlow Wynn stated: "We have been wine lovers for years now and we know that the organic waste it produces can have a negative impact on the environment in the long term. We wanted to find a solution to these ecological concerns thus allowing us to keep drinking it guilt-free. 3D printing seemed like the logical solution! We have seen what is possible from it in terms of creating food with a 3D printer as well as developing 3D printing materials from coffee and even beer! So why not wine? Today, we offer three different types of filament made from the three wine varieties: red, white, rosé. One for each taste and color!"
This movement is part of a larger one in the AM industry to move to more sustainable solutions especially when it comes to filaments. Though hailed as a more eco-friendly solution as compared to traditional manufacturing, in recent years there have been significant complaints about whether 3D printing can be considered truly "green." This has been addressed by various start-ups and major companies in the sector as they use recycled products to create filaments, meaning they are using less plastic and also contributing to a more circular economy. Using wine waste is just the latest innovative material to come from this drive.
That being said, the filament has some drawbacks. Unfortunately, due to the filament being composed of alcoholic beverages, it is not available for sale in the US for anyone under the age of 21. Furthermore, since the FDA hasn't yet approved the filament, the start-up has made a statement warning users not to eat parts made using the filament as it has not been tested for human consumption. There have also been concerns raised about whether during the heating process alcoholic fumes will be released, meaning users should also refrain from driving after printing closely with the filament.
If you would like to learn more about how the company is using wine waste to create these filaments, you can find more information on their website HERE or in the press release HERE.
Thumbnail Photo Credit: Wine Not
Did you fall for the prank? Let us know if you believed our April Fool's Day article in a comment below or on our Facebook, Twitter and LinkedIn pages! Sign up for our free weekly Newsletter here, the latest 3D printing news straight to your inbox!