First Ever 3D Printed School to Open in Madagascar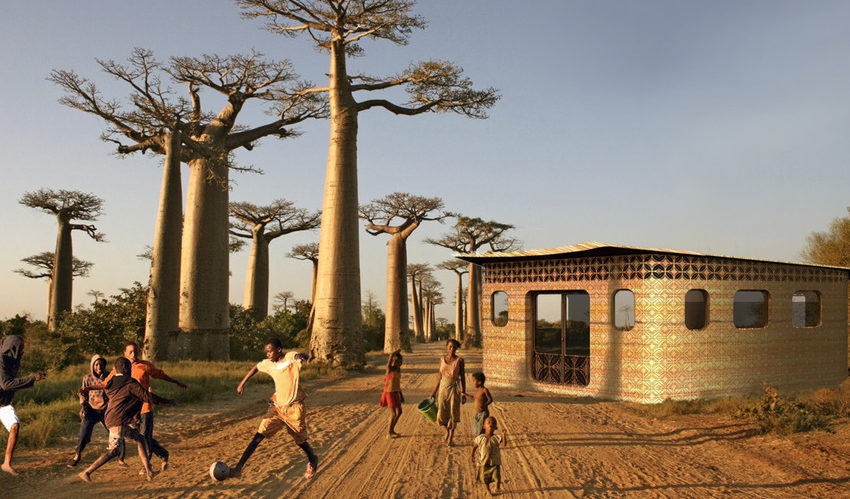 The first ever 3D printed school is set to open its doors later this year. It may seem that the novelty of this feat is somewhat lessened by the dozens of additive manufacturing construction projects preceding it. But rest assured, this project is well-endowed with innovation and potential for global impact. The idea belonged to a Maggie Grout, who founded Thinking Huts at just fifteen years old in an endeavor to make education more accessible. Six years later, Thinking Huts and their partners, Hyperion Robotics and Studio Mortazavi, hope to be able to open the doors to the world's first 3D printed school as soon as December 2021- pandemic allowing.
The pandemic has served to exacerbate the already dire education crisis. Currently, there are over 260 million children who have no access to education. This number has been made worse over the course of the pandemic which has displaced more than 1.2 billion children across the world. Thinking Huts intends to use 3D printed schools to make quality education more accessible in the future. This seemed particularly pertinent in Madagascar. Possessing a need education infrastructure, stable political outlook in an emerging economy, opportunity for growth, as well as renewable energy potential (the school's design incorporates solar panels), the country was the perfect location for the first ever 3D printed school.
Relying on Hyperion Robotics' technology, the walls of the school will be built with an extrusion-based construction 3D printer. Of course, additive manufacturing construction methods are still far from comprehensive and some parts of the school cannot be 3D printed. This includes the roof, doors and windows, all of which will be made from locally-sourced materials. Moreover, in order to have a lasting effect on the community, Thinking Huts also formed partnerships with locals. This was so that they could teach members of the community how to use the 3D printer, thus allowing them to build more schools in the future. Additionally, the idea has been entrenched in the design of the school which possesses a beehive like structure that facilitates expansion of the building.
Explaining their decision to use additive manufacturing, Thinking Huts said "3D printed buildings use less concrete than the average building and shorten construction time, while supporting infrastructure integrity. Our cement mixture is able to withstand environmental pressure and will emit less CO2 compared to traditional concrete." Mortazavi's, of Studio Mortazavi, also commented on the aesthetic and architectural benefits of additive manufacturing: "the beauty of 3-D printed walls is that it's actually easier to make curves rather than right angles. We can have walls that undulate in thickness as well as create relief patterns that with more traditional forms of construction is more challenging and expensive". 3D printing, though not a complete solution in and of itself, has certainly proven its potential to make a monumental contribution toward the resolution of the education crisis.
You can find out more about Thinking Huts project on their website, HERE. Do you think 3D printing could help solve the education crisis? Let us know in a comment below or on our Facebook and Twitter pages! Sign up for our free weekly Newsletter here, the latest 3D printing news straight to your inbox!