First 3D Printed Starbucks Coffee Bar Opens in Shanghai
Posted On January 8, 2018
---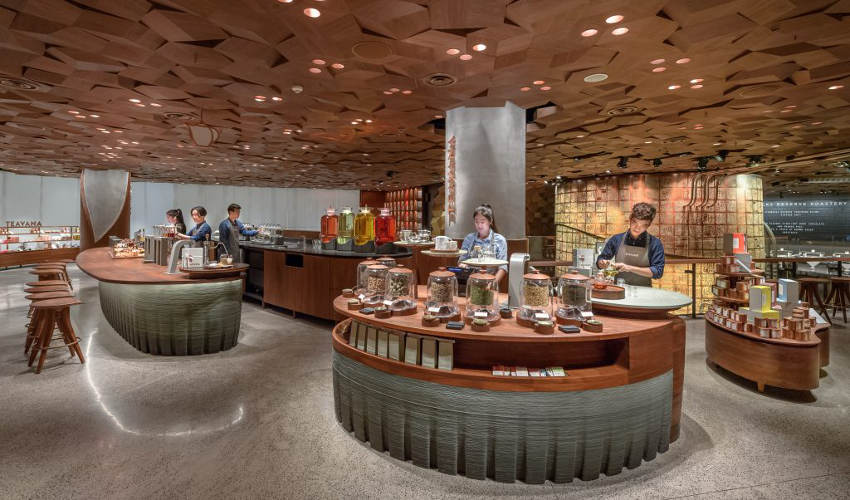 Starbucks is a giant of the corporate world, with over 26,000 coffee bars worldwide as of 2017. A major source of Starbucks' recent growth has been in Asia, especially China. Of their 2017 total, over 3,000 are in China alone, with 600 in Shanghai. Starbucks open a new coffee bar in China every 15 hours, depicting their explosive expansion. Asia has been a big market for 3D printing recently too, with manufacturers such as XYZprinting expanding from Taiwan. But what does Starbucks have to do with 3D printing?
3D Printed Starbucks: Reserve Roastery
Starbucks very rarely open a different kid of store, called Reserve Roastery stores. This Reserve Roastery in China isn't the first however, this award belongs to their original store in Seattle which they opened in 2014. These stores are unconventional in that they have many different stations inside, such as a Rocco Princi Italian bakery, interactive augmented reality roasting, and the special Teavana Bar. They are designed to show coffee in the best possible light, attracting new customers to Starbucks.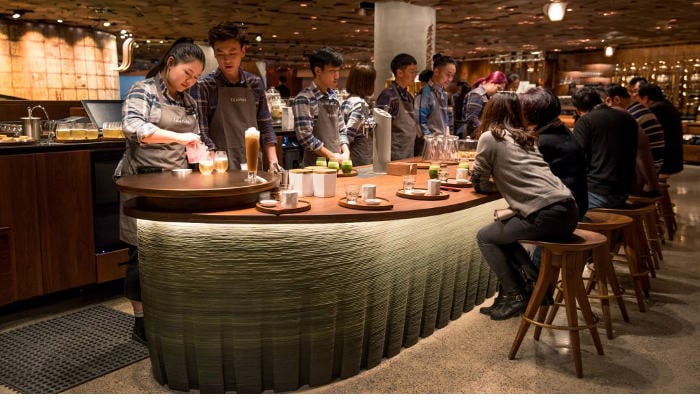 Teavana 3D printed bar
Though Starbucks are a huge company, they are actually not even the largest company from their state. Starbucks is based in Seattle, USA, which is also the home to Amazon who are a much larger company. Shanghai's Reserve Roastery has a Teavana Bar which includes a 3D printed base. Starbucks claim it was built using recycled materials, in a similar vein to CONCR3DE. These layers a 3D printed to form a strong base measuring around 7.5m long.

Within Shanghai's 2700 square metre Roastery, we are unsure exactly who manufactured Starbucks' 3D printed base. It is almost certainly the product of a large, specially produced robotic 3D printing arm, such as those used by Apis Cor. Apis Cor are known currently for 3D printing a whole house in just 24 hours.
Overall, this is an impressive step for 3D printing. The fact that such a large company is using it within its stores shows how far the technology has come. This impressive 3D printed architecture shows 3D printing is capable of great things.
What do you think of Starbucks' 3D printed store? Let us know in a comment below or on our Facebook and Twitter pages! Sign up for our free weekly Newsletter, all the latest news in 3D printing straight to your inbox!

---
You may also like