World's first 3D printed community project aims to be a solution to homelessness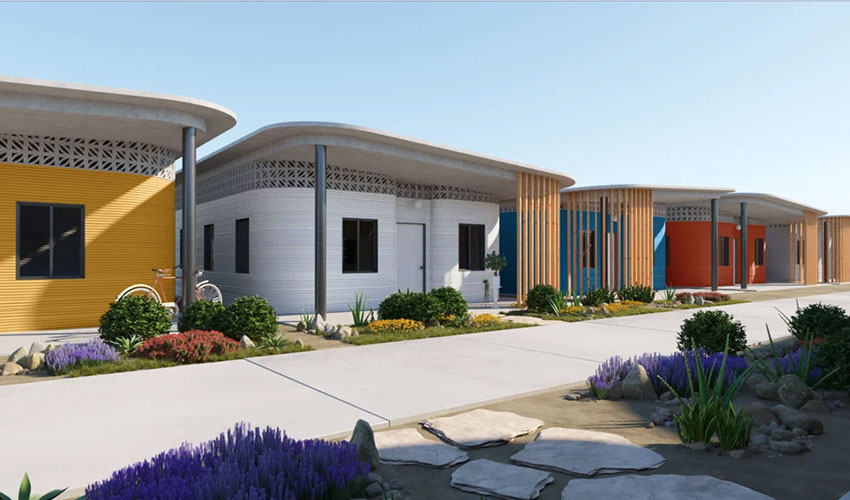 Vulnerable populations are usually the last to benefit from innovation" writes Fuseproject, the design studio based in San Francisco. In fact, they recently announced they have joined New Story on their mission to end global homelessness. According to the studio, technology, in particular 3D printing, has the potential to bring unprecedented speed and scale to housing design. Given this belief, they collaborated with New Story – the non-profit group and pioneer of solutions to end homelessness – and ICON – the construction 3D printer manufacturer – to design, plan and build the world's first 3D printed community.
The project will take place in Latin America and will be carried out over the summer. Yves Béhar, founder of Fuseproject said, "I believe the most advanced technologies can deliver designed solutions for those most in need, and it is both the new technology from ICON and the vision of New Story that is making it possible today". The project is headed to Latin America for families most in need of affordable housing to adapt to their day-to-day life. Moreover, the partners worked directly with the communities in order to design houses that would respond accurately to the culture and community's needs. "As we spoke to the community members, we realized that a single house design doesn't respond to the needs and expectations. This led to design a system that allows for different programmes, climate factors, and growth for families and spaces", added Yves Béhar.
3D printed community to respond to homelessness
As proof of concept, New Story and ICON had partnered last year to 3D print a house in Austin, Texas in less than 48 hours. They had managed to build the house using ICON's Vulcan 3D printer at a cost less than $4000. Now, the trio hopes that the houses in Latin America will be printed in as little as 24 hours using ICON's updated construction printer, the Vulcan II. The cost of producing each building is estimated at $6000. Moreover, ICON's 3D printer is designed in such a way that it produces almost no waste and can function under difficult circumstances such as limited water, power and labour infrastructure.
In terms of design, the inside of the houses will measure 55m2 each – families will also have access to a covered outdoors kitchen, dining room and gardens – the total cover space will be 120m2. The 3D printed concrete walls will be left exposed inside and out and will be decorated with colourful patterns as a result of being 3D printed. The walls will contain perforated concrete blocks that will run along the top to create a clerestory for natural ventilation. Finally, the insides will also be open-plan to encourage air-flow.
3D printing of homes has the potential of providing manufacturing at lower costs and quicker times. The CEO of New Story, Brett Hagler, added, "We feel it's our responsibility to challenge traditional methods. Linear methods will never reach the billion plus people who need safe homes. Challenging our assumptions, iterating based on data, and taking calculated risks on innovative ideas will allow us to reach more families with the best possible solutions, exponentially faster."
How will this project turn out? We can't wait to find out but for now you can find some more information HERE.
What do you think of this project? Let us know in a comment below or on our Facebook and Twitter pages! Sign up for our free weekly Newsletter here, the latest 3D printing news straight to your inbox!