Fiat Chrysler Automobiles uses AM to design suspension system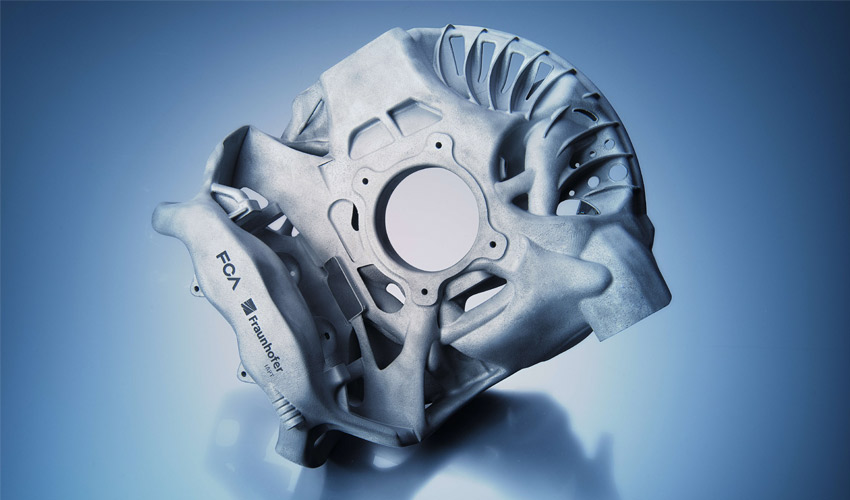 A team of engineers from Fiat Chrysler Automobiles (FCA) collaborated with researchers from Fraunhofer Institute to design a 3D printed wheel carrier with an integrated brake caliper for one of their sports cars. Still in the prototyping stage, this part, originally made up of 12 separate components, was consolidated into one piece, reducing not only manufacturing time but also its total weight. Thanks to additive manufacturing, the teams were able to reduce it by 36%, which will improve the performance of the vehicle. The researchers did not specify which car model this suspension system could be for.
For many years, additive manufacturing has proven its usefulness in the automotive sector, whether for the development of new vehicles or to optimize the design of some spare parts. Almost all car manufacturers have invested in 3D printing technologies, convinced that they represent a more agile method of prototyping and production for some parts. Today, the FCA group includes a number of brands such as Alfa Romeo, Jeep, Maserati and RAM, subsidiaries that have already shown an interest in additive manufacturing.
This time, the car manufacturer sought to reduce the total number of components used in the manufacture of a suspension system. In this case, we are talking about 12 separate components including a wheel support, a hydraulic system, a heat shield and a brake caliper. This is a traditionally complex component to produce as it requires many assembly steps with multiple joints and screws. Ruben Meuth, Head of Business Development at the Fraunhofer Institute, says: "The overall focus is on the reduction of manufacturing costs, for example, by significantly increasing production speed. This innovation project is an excellent example of the collaboration between industry and research. This component shows how Additive Manufacturing can be implemented into series production for luxury and sports cars."
Simplified manufacturing process for Fiat Chrysler Automobiles
Therefore, the main objective was to reduce the assembly stage of this part as much as possible, an ambitious goal as it had to meet several requirements. Yanik Senkel, Industrial Design Engineer at the Fraunhofer Institute, explains: "Together with our innovation partner Fraunhofer IAPT, we are cutting the costs and production effort for key vehicle parts. The knowledge transfer will help us to improve Additive Manufacturing competence in the fields of integrated design, materials, and process technology across the group".
The team turned to topology optimisation, a design method that consists of "removing" the material where mechanical stress is low using dedicated software. A process that allowed the researchers to combine the twelve components into a single consolidated piece. They claim that the part weighs 36% less than the original and has better fatigue resistance. The 3D printed wheel carrier with integrated brake caliper could also show better performance in terms of vibration, hardness and noise, aiming to significantly improve the driving experience of a luxury sports car. According to the team, additive manufacturing could also extend the life of the part – still to be tested under real-life conditions. More information can be found in the official press release HERE.
What do you think of this latest application in the automotive industry? Let us know in a comment below or on our Facebook and Twitter page! Don't forget to sign up for our free weekly Newsletter, with all the latest news in 3D printing delivered straight to your inbox!