Feelobject and 3D printing in the service of disability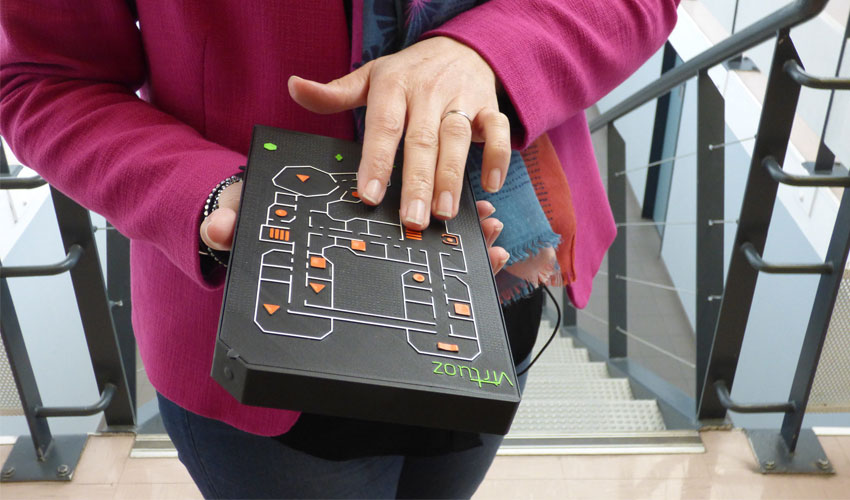 While 3D printing is developing more and more to accomodate disabled with things such as 3D printed prosthetics, the French startup Feelobject is doing well with its Virtuoz solution. It offers a tactile and interactive 3D printed plan that helps people with visual impairments better understand their environment. Whether at home, at work, in transport etc. Feelobject won the first edition of the Startup Contest at the 3D Print Congress & Exhibition in Lyon back in June! We met one of the co-founders, Sylvain Huin, to find out more about the solution created and how 3D technologies can help people who are suffering from a disability today.
3DN: Can you introduce yourself and your link to 3D printing?
My name is Sylvain Huin, I am president and co-founder of Feelobject. In Toulouse in 2015, we created Feelobject with Céline FAVY-HUIN and Pascal GARRIN. The team relies on its own Engineering Studio to imagine, design, test and manufacture the objects of the future through professional 3D printing. We have strong values ​​and we are involved in different actions to promote the intelligent inclusion of fragility and difference in business. At the end of 2016, this led us to design and market high-quality, socially-customisable objects made using 3D printing technology.
3DN: What is your Virtuoz solution?
Virtuoz is the first tactile and interactive plan that allows visually impaired and blind people to move independently in buildings. It represents a raised and simplified building floor plan. In this respect, the indispensable marks are added in the form of symbols. Through touch, the person gradually discovers the space and creates a clear mental image of his environment. By pressing the symbols you obtain sound information that enriches her understanding of the place. It allows access to multiple spaces thanks to a patented plan change system.
Virtuoz reduces users' stress, gives them confidence, autonomy and allows them to explore new places. Our solution offers the freedom to a blind or visually impaired person to choose his path. We believe that it is time to allow visually impaired people to have independent access to all environments, whether at their place of work, administrations, cultural venues, tourist sites, public transport etc. .
3DN: Why did you use 3D printing to create it?
3D printing plays a vital role in this device thanks to a very specific design, only possible with this technology. We have with the Toulouse research laboratory developed "Seek to See" specific symbols so that they can be decrypted intuitively by the poor and blind. The fineness, the precision of these symbols, the robustness and the quality of the touch are essential in the use of the product. Customised, on-demand, cost-effective manufacturing is only possible with 3D printing. It's good because we have exploited our 3D printing know-how and its potential that we have been able to create a simple product to use.
3DN: What technologies / materials do you work with?
Today we work with wire deposit and Nylon printers. Our projections of evolution of the product lead us to evolve our materials to bring other functions to Virtuoz in the months to come.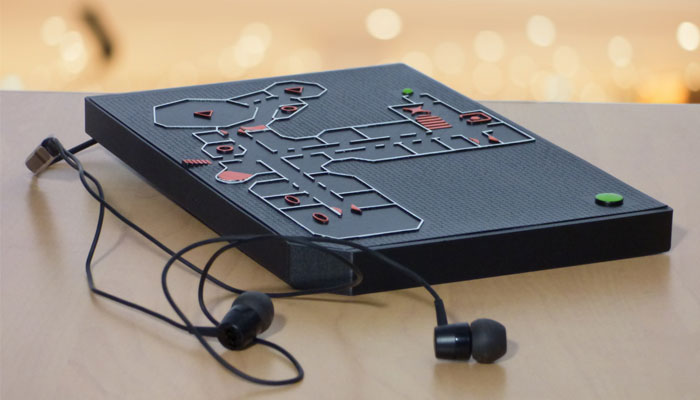 3DN: In your opinion, what is the future of 3D technologies for disability?
3D printing can really improve the lives of people with disabilities. In fact, the unit's ability to personalise and manufacture makes it a suitable technology for solving needs related to a person. But this remains a technology that must be tamed and the design phase of the parts is an important part of the final price. The good news is that accelerating technological developments will enable us to reduce these costs in the near future for greater user benefits.
3DN: A last word for our readers?
Beautiful stories will be created with 3D printing for people with disabilities and they will come from initiatives that will leave true user needs. Because in terms of disability technology is only a means to the service of the human. Startups that work to improve the lives of people with disabilities, federate around initiatives such as La Handitech and FEST (France Eco-Social Tech). What is certain is that no single product will solve the problems related to a type of disability but by combining different tools connected to each other simply, we can significantly increase the autonomy of users. You can find our Virtuoz solution on our official website .
 What do you think of the solution developed by Feelobject? Drop a comment below or on our 
Facebook
 and 
Twitter
 page. And don't forget to sign up to our free weekly 
Newsletter
 to keep updated on all the latest news in the 3D industry coming straight to your inbox!