A Virginian Family Has Moved Into Habitat for Humanity's First, Completed 3D Printed Home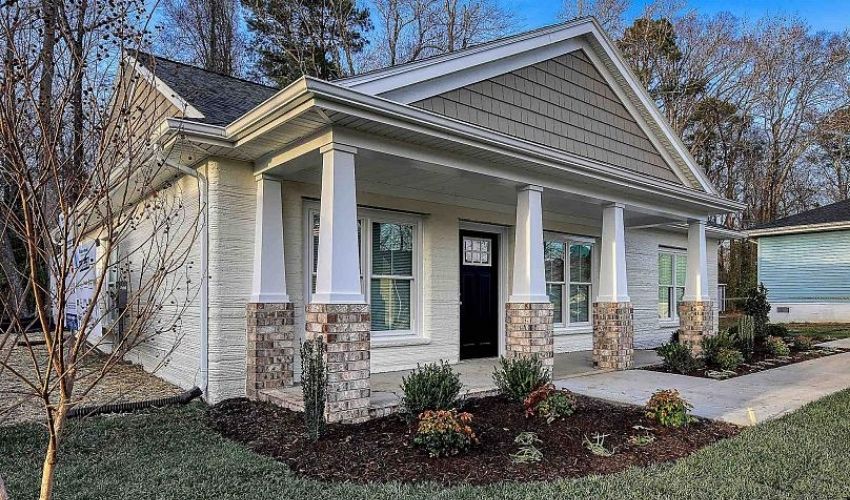 In some good news from the holidays, a family has officially moved into Habitat for Humanity's first completed 3D printed home. Completed only a few short weeks ago, the home was built in a partnership between Alquist, a 3D printing home construction company, and Habitat for Humanity Peninsula and Greater Williamsburg in an effort to address the lack of affordable homes in the United States. The move not only confirms what we have already seen this year, where 3D printing in the construction sector is becoming more viable as more and more homes are actually able to be lived in, but that it could be a key technology in the fight to overcome homelessness and the housing crisis worldwide.
You probably remember earlier in the year when we told you about Habitat for Humanity's project to build a home in Arizona. Though that particular home is not yet finished, this project in Virginia is, having been completed in only 12 hours, saving the weeks of construction usually necessary for a home. It also saves greatly on costs, both in materials and time, making it an interesting prospective for many companies looking into increasing affordable housing, including both Habitat and Alquist. Soon after the home's completion, it was sold to April and her family of two, with mortgage payments of no more than 30% of her income including real estate taxes and homeowner's insurance. Though no new projects have yet been announced, both companies seem interested in continuing to explore the benefits of 3D printing for creating homes for those in need.
Why is Habitat for Humanity Using 3D Printing?
It is well-known that there has been an affordable housing crisis for a number of years in the US. And it has only been exacerbated in recent years by housing shortages as a direct result of the COVID-19 pandemic, climate change destroying homes or driving people to new regions and economic migration. On their website, Habitat for Humanity notes that according to the National Association of Home Builders, "for every $1000 increase in the price of a home, 153,967 families are priced out." This is especially worrying considering the increase bidding wars due to the shortage as well as larger companies buying up homes.
For Alquist 3D, 3D printing is the perfect way to address these issues. Their website notes the importance of a technology like 3D printing as lumber prices have risen significantly with an average home costing $36,000 more than in 2020. Habitat for Humanity further claims that this puts more than 5.5 million families out of the purchasing range for new houses. This is especially marked in rural regions as building costs do not offset the cost to sell even while demand is growing. To accomplish their homes, the company uses a printer from COBOD and concrete for projects in multiple states as they work to lower the cost of housing and infrastructure in under-served areas.
In this latest one, the company partnered with Habitat for Humanity to create this 1,200 square foot home with 3 bedrooms and 2 bathrooms. Alquist decided to turn to 3D printing for its homes for the technology's ability to shave time off of construction while also being more efficient. A representative of a company noted that it is ideal for affordable housing, commenting, "For seven years we have been trying to figure out how to drop the cost of housing and that's how we found 3D. When you look at Habitat's mission it's essentially the same. How do we make housing affordable for people in need?"
In addition, the home takes advantage of even more technology as each home comes equipped with a Rasperry Pi-based monitoring system. This will monitor the indoor environment, provide security and emergency management, optimize energy consumption and analyze occupant comfort and space utilization. You can find out more about the project on Habitat for Humanity's website HERE.
Would you want to live in a 3D printed home? Do you think that 3D printing holds the answer for addressing housing issues in the US? Let us know in a comment below or on our Linkedin, Facebook, and Twitter pages! Don't forget to sign up for our free weekly Newsletter here, the latest 3D printing news straight to your inbox! You can also find all our videos on our YouTube channel.