Fabulous is Presenting New Industrial Materials at Formnext 2021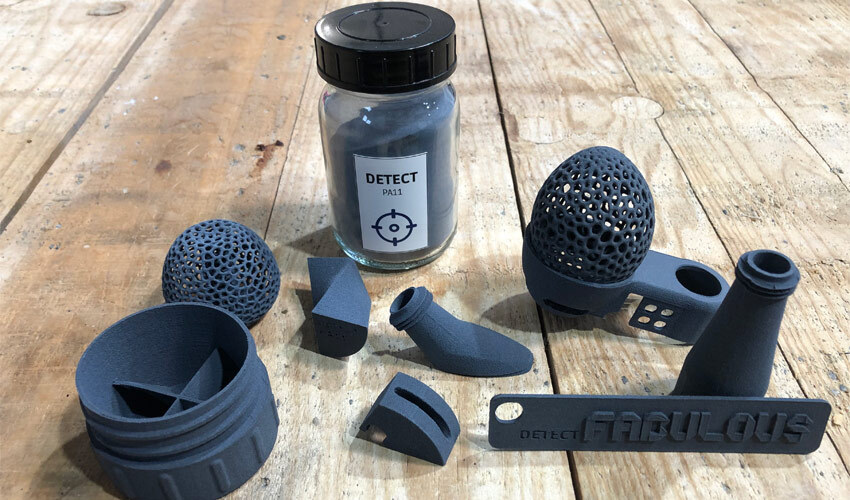 In 2020, Fabulous launched into the development of powders for additive manufacturing, more specifically thermoplastics for powder bed fusion processes. One of its first developments, BLUECARE, is a powder that has been certified for food contact in the European Union and which is in the process of being validated with the FDA in the United States. Blue in color, it allows for the quick identification of the presence or absence of plastics in food. In recent months, the company has continued to expand its range of materials and is currently presenting two new industrial 3D printing powders named DETECT and RED STOP at Formnext 2021.
Innovative, industrial, thermoplastic powders from Fabulous
Fabulous offers a relatively unique approach to the additive manufacturing powder market by proposing materials that integrate new functionalities to meet real industry needs. At booth 12.1 F38 at Formnext, Fabulous will be exhibiting its range of polymer powders with two new products: DETECT and RED STOP.
DETECT powder is made from PA11 which is derived from castor oil. It offers magnetic and X-ray detectability properties. Additionally, the material is magnetizable, making it ideal for sectors that need to identify metal parts, such as the nuclear industry, the food industry and the medical sector, especially for instrumentation. It is also compatible with food contact and holds to EU n° 10/2011 certifications. DETECT powder has excellent chemical resistance, a long life cycle and a 50% refresh rate.
RED STOP powder also has a PA11 base. As its name suggests, it is red and offers a vivid and durable color over time. Users will no longer need to go through post-processing steps of tinting or painting for example. RED STOP powder is designed for safety equipment or hazard warning parts. It also offers a 50% refresh rate. With this innovative powder, Fabulous is clearly positioned on the new color market.
BLUECARE powder to meet the needs of the food industry
At Formnext, Fabulous also will present BLUECARE, the first product in the "Safety and Security" range, which meets the increasingly specific demands of the food processing market. This blue-tinted PA11 powder is safe for food contact.
Introduced a few months ago, Fabulous will unveil several application cases on its stand made from BLUECARE powder. For example, it is used in the manufacturing of food filling nozzles or in the design of modular food conveyor belts. Fabulous hopes to extend the success of this material to other continents.
Arnault Coulet, co-founder of Fabulous, concluded, "Building on its success in Europe, our BLUECARE powder, dedicated to food parts, aims to pass FDA certification before the end of 2021. This will be a new step in the development of our sales in North America."
In order to meet growing demand, Fabulous is already working on new powders and has also launched the production of custom materials from 600kg. In any case, the presence of the French company at the world's largest additive manufacturing trade show clearly shows its desire for growth and expansion. Don't hesitate to meet the Fabulous teams on booth 12.1 F38 from November 16th to 19th at Formnext. You can also find more information on Fabulous' 3D printing materials HERE.
What do you think of the new industrial materials from Fabulous which are being shown at Formnext? Let us know in a comment below or on our Linkedin, Facebook, and Twitter pages! Don't forget to sign up for our free weekly Newsletter here, the latest 3D printing news straight to your inbox! You can also find all our videos on our YouTube channel.