Fabric8Labs Raises $19.3M in Series A Funding and Aims to Commercialize Unique Metal Technology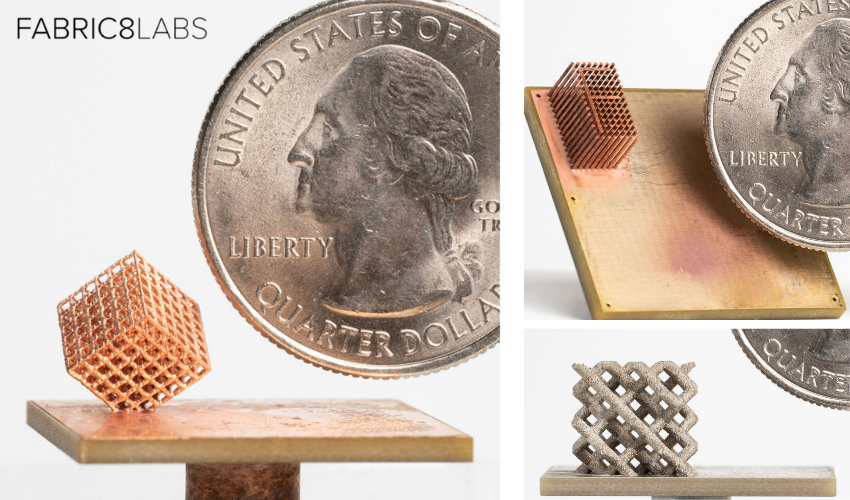 Fabric8Labs, an additive manufacturing (AM) startup from San Diego, has announced the closing of a $19.3 million Series A financing round. The startup hopes that the money will help to accelerate commercialization of its proprietary AM process, allowing them to move into new markets including semiconductor packaging, electronics, medical, thermal management, and radio frequency (RF) components. The news comes as both metal AM and micro-scale 3D printing have been gaining in prominence, notably for their vast applications. In this case, the financing round was led by Intel Capital with several syndicate partners, all of whom noted Fabric8Labs' distinct technology which allows them to get benefits of metal 3D printing while eliminating the need for expensive metal powders and time-consuming post-processing, as well as being more sustainable as the system operates near room temperature thus minimizing energy used.
The AM market is estimated to grow to $235 billion by 2030, and both metal AM and micro-scale 3D printing have been rapidly expanding in recent years. In just 2021, we have already seen large acquisitions from major AM manufacturers such as  Nano Dimension and Desktop Metal. This latest Series A financing shows the continued health of the industry, especially in industries like electronics where AM is still new but quickly becoming more known. Funding was lead by Intel Capital along with syndicate partners Lam Capital, TDK Ventures, SE Ventures, imec.xpand, Stanley Ventures, and Mark Cuban. The companies all pointed to not only the growing strength of AM and its disruptive potential for all traditional manufacturing methods but also Fabric8Lab's distinct process which they claim allows for precision and performance at lower costs. 
Nicolas Suavage, the Managing Directory of TDK Ventures, one of the companies that will back Fabric8Labs, commented: "After nearly two years of scouting for a high purity, high-precision and low-cost metal printing solution, TDK Ventures is backing Fabric8Labs for its unique market approach and innovation pipeline with future multi-materials. Fabric8Labs not only cuts across explosive markets in electrification, thermal management, and 5G applications, but also does so in an environmentally friendly manner by recycling all the metals in the feedstock, hence helping build sustainable yet resilient supply chains, aligning with our investment mission."
According to the press release, the patented process enables users to create complex metal parts at the atomic level. Additionally, thanks to Fabric8Labs' commodity metal salts and the ability to print at room temperature, users can get unlock new applications at significantly reduced costs. The technology also offers high levels of design freedom which is particularly interesting those using additive manufacturing. Apparently, parts made using their AM process will have zero shrinkage while allowing for a high overhang (not always the case with 3D printing processes), with greater freedom thanks to parts not needing to go through thermal post-processing. Furthermore, users can print either free standing parts or directly onto existing substrates. You can find out more in the press release HERE.
What do you think of Fabric8Labs' Series A financing round? Let us know in a comment below or on our  Facebook and  Twitter pages. Don't forget to sign up for our free weekly newsletter, with all the latest news in 3D printing delivered straight to your inbox!
*Thumbnail Photo Credits: Fabric8Labs