F-elia, 3D printed optical jewelry that rethinks glasses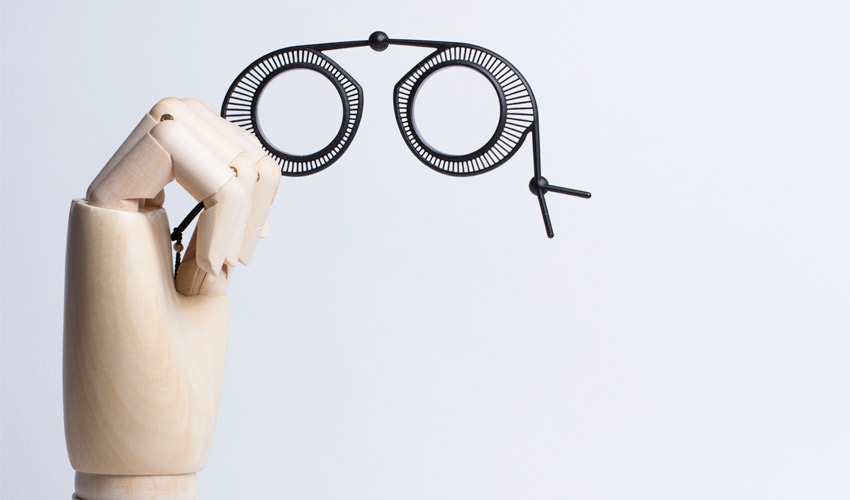 F-elia is a young French brand of 3D printed optical jewelry that gives a second life to the glasses we know. Indeed, these accessories combine aesthetics, practicality and new technologies! The use of 3D printing in the creative process produces original, complex and unique shapes that showcase the full potential of 3D technologies in the design sector. It is also a method that is increasingly popular with eyewear manufacturers, according to the latest SmarTech Analysis report, this market is expected to reach $3.4 billion by 2028. Therefore, we met Sandrine Henry, the founder of the F-elia brand, to learn more about the manufacturing process of these optical jewels and understand how 3D printing can impact such a sector.
3DN: Can you introduce yourself and your link to 3D printing?
My name is Sandrine Henry, I am a product designer with a specialisation in optical and solar eyewear, for more than 20 years. After studying industrial design at the Nantes school, I started my career in a large French eyewear group located in the Jura, for the Nina Ricci and Chevignon licenses. Then, as design manager for a French manufacturer, specialised in luxury frames. Boucheron and Henry Jullien Collection. Rich in these experiences, I settled near Paris, at the Garenne Colombes where I founded Eiffelia design in 2011. The agency offers a global approach: from the creation of frames to cases and the product environment for sports, fashion and designer eyewear
In 2019, I created the f-elia brand, and just launched my first collection of 3D printed optical jewelry. My first link with this technology began a decade ago, with a Chinese manufacturer specialising in Packaging. They wanted to develop their own range of cases using a more innovative approach to differentiate themselves from competitors.  To do this, I had developed different concepts, and it was necessary to quickly validate the technical feasibility as well as the aesthetics of the products. From the 3D files, functional prototypes were printed.
3DN: How did you come up with the idea of creating a range of optical jewelry?
The idea of optical jewelry came to me, on the one hand, through my observations on the attitude of spectacle wearers, and particularly those of presbyopic women. On the other hand, by revisiting the origins of the bezel; the hand side, and the magnifying glass. Presbyopia is a vision disorder that appears around the age of 45 and affects near vision. Reaching out to read a document correctly is the first sign of this! Gradually, wearing glasses becomes essential… but not all the time. The latter are therefore left in the workplace or at home…. It is on these elements that the first collection of F-elia optical jewelry was built. The brand's concept is based on a surprising 3D printed jewel, combining past and future of the side window. The jewel transforms into a hand-held or magnifying glass to read the map of the metro, a menu and more!
The collections are available for sale via the online shop and the optical shops. Other ephemeral places and shops are to come in Paris and the provinces. For the record, the names F-elia and Eiffelia are simply the admiration I have for the architect and engineer Gustave Eiffel. His work, in my opinion, symbolises innovation and French originality. The Eiffel Tower is a real industrial lace that exudes incredible poetry! Lace and poetry are exactly the terms that could be used to define the F-elia collections.
3DN: What 3D printing technology and materials did you use to manufacture them?
For this first collection, only the glass support is made using 3D printing – in powder sintering (SLS) or MultiJet fusion. Polyamide was chosen for its strength, flexibility, lightness, colouring and finishing possibilities. Other materials are being studied for the next collections. 3 models are currently available, DORA, LUNA and GALA, and are available in 4 shades: Darth, Azure, Rosso and Granite. The parts are polished/tinted, or raw, like the reference "granite" which has a magnificent stone appearance! Printed jewelry is combined with more traditional jewelry materials. They are mounted on silk cords and decorated with 925 thousandths silver beads. The plastic lenses are of high quality, hardened and scratch-resistant. The models are designed, drawn and manufactured in France and printed in the Paris region.
3DN: Why did you use 3D printing? What are the associated benefits?
3D printing frees up some constraints, and allows the creation and manufacture of complex shapes or technical parts. With this technology, it is easy to move from the single piece to the series, to modify and customise the elements, to try different materials, finishes, colours…. Finally, material consumption is controlled (no waste) and stock management is optimised.
3DN: In your opinion, what is the future of 3D printing in the design sector?
3D printing is an undeniable revolution in all sectors of activity. Designers already use this technology in food creation, furniture, automotive, leisure, fashion and medical design... Material manufacturers will play a major role in the evolution of this technology. New materials that are even more environmentally friendly, biocompatible or from the recycling of waste into re-printable materials will be developed and combined with each other. As a designer, this perspective is gratifying, as it is a source of ideas for new uses and tailor-made products.
3DN: Any last words for our readers?
I invite you to take a look at the F-elia collections at www.f-elia.com. And don't hesitate to send me your comments!
What do you think of the brand F-elia? Let us know in a comment below or on our Facebook and Twitter pages! And remember to sign up for our free weekly Newsletter, to get all the latest news in 3D printing send straight to your inbox!