Making Extremely Wear-Resistant Plastic Gears with 3D printin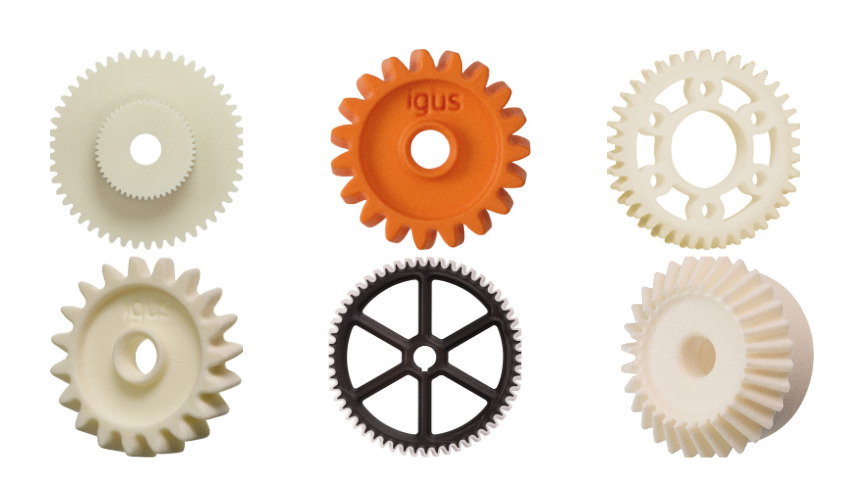 For centuries, gears have been used in a variety of everyday objects. However, they can be difficult to make. To ensure that as little friction loss as possible is generated during the transmission of power, special attention must be paid during their design. The material used for the gears is also a decisive factor in optimum power transmission. Traditional manufacturing methods leave only limited scope to truly optimize gears, as it is too costly to produce ones that have been customized. This is mainly due to the fact that several individual steps would have to be carried out and, if necessary, suitable tools would have to be created or purchased. One way around this is by using Selective laser sintering (SLS), which offers a possible solution in that through AM processes the gear can be manufactured in one piece and without additional tools. In combination with iglidur® high-performance polymers developed by igus, customized plastic gears can be created. These could be revolutionary for a variety of industries as they have increased service life and lower friction values. In addition to the long service life, the printed gears made from iglidur® have a particularly high efficiency, which is only minimally lower than that of lubricated metal gears. The plastic gears can be created on the igus website in the free CAD configurator and then ordered via the igus 3D printing service, starting at just one part.
3D-printed gears made from iglidur®
As already mentioned, customized plastic gears can be produced much more easily using SLS. In principle, any gear with a minimum wall thickness of 0.5 mm can be produced. The installation space of the SLS printer is the only limitation here. Regardless of this, design freedom can be used, for example, to achieve weight reduction. In contrast to mechanical production, there are also cost advantages that can be achieved through more efficient use of materials and shorter printing times. In addition, the design plays a much larger role in the extended service life of the product. Compared to mechanical production or injection molding, the geometries of the gear do not have to be simplified, but can be optimally adapted in the print model. Thus, a higher resistance and a lower shaft calculation can be achieved in the final product.
The material used represents another quality feature – especially because not all plastics are the same. igus was able to develop plastic plain bearings with the iglidur® materials, which have good friction values and low wear due to the tribological properties. For this reason, iglidur® is perfectly suited for moving applications, such as gear wheels. Nevertheless, some iglidur® materials are better suited for certain applications than others. For example, iglidur I3 is characterized by a higher strength and is therefore especially suitable for spur and bevel gears. iglidur I6 has an optimized gliding capability in comparison and is especially suitable for worm gears for this reason. However, if ESD properties are required, iglidur I8-ESD is suitable. However, since the service life is also always dependent on the application parameters, the free service life calculator on the igus website creates an overview of the expected service life of the plastic gears to be manufactured, taking into account the selected application parameters.
The experts at igus advise that the choice between manufacturing gears using 3D printing and production using injection molding should be made on an application-specific basis. As a rule of thumb, it may be more economical to manufacture an order for 10,000 gears using an injection mold. In this case, 3D printing can be used to produce the initial prototypes and manufacture the mold, which can then be used to produce a large quantity of gears with comparable material properties. This option is also suitable for gears that are to be made of a special plastic with special properties (e.g. fire-retardant). With this flexibility, igus can offer customers cost-effective, individual series production of special parts.
3D printed plastic gears in use
Among a large number of users is the Formula Student team from Weingarten, which dependend on a customized plastic sprocket for the construction of a racing car. In this example, these are used as chain tensioners in the chain drive. To escape the long production and delivery times of industrially manufactured individual parts, the team decided to turn to igus and have the component printed. In less than 72 hours, the pinion was manufactured with iglidur I6 using SLS. The team is especially grateful for the part's longer service life, as Richy Göser from the Formula Student Team Weingarten explains: "The ball bearings used so far in the chain drive have barely lasted more than 20 kilometers – which is unfavorable because our longest race is 22 kilometers long. From the 3D-printed sprockets from igus® we expect […] a significantly higher robustness."
But the plastic gears are not only used in the construction of racing car prototypes – they can also be used for the restoration of a classic car, as can be seen in the case of Dr. Jörg Pühler. He is the owner of a Stanley 750B from 1924 and needed to replace a spare screw in the speedometer. Since spare parts for vintage cars are difficult to impossible to find and the dimensions of the replacement part were unknown, a manufacturing method had to be found that was cost-effective yet of high quality. Mr. Pühler also found the solution in 3D printing. Thanks to the flexibility of the adjustments to the CAD model, several prototypes could be produced quickly at comparatively low cost. The material used here was also iglidur I6, which, in addition to stability, offers a significant advantage in that lubrication of the replacement part is unnecessary, as solid lubricants are already integrated in the plastic.
However, the application is not limited to cars, as the example of the Frankfurt am Main airport fire department illustrates. They were looking for a cost-effective solution for the maintenance of the roof-mounted projector actuators of their large airport fire engines. Markus Brummer from the Frankfurt Airport Fire Department explains: "The launcher can change the angle of the spray nozzle by means of a servomotor (in which the two gears are installed). Since this height change also takes place under water discharge, we have a high load on the gear wheels. After 10 years in use, the old gears are now slowly breaking down. The manufacturer recommends replacing the entire actuator, which is obviously very costly." Therefore, the decision was made to test the 3D-printed plastic gears from igus to see if they would be able to withstand the high load. After this was tested, the airport fire department ordered more gears and even made a recommendation: "We would recommend igus immediately, as we have now also had a second component, which controls the pneumatic doors of our large fire engines, manufactured by them."
What do you think of these 3D printed plastic gears? Let us know in a comment below or on our Facebook, Twitter and LinkedIn pages! Sign up for our free weekly Newsletter here, the latest 3D printing news straight to your inbox!