EXTEM™AMHH811F filament can resist highest temperatures on the market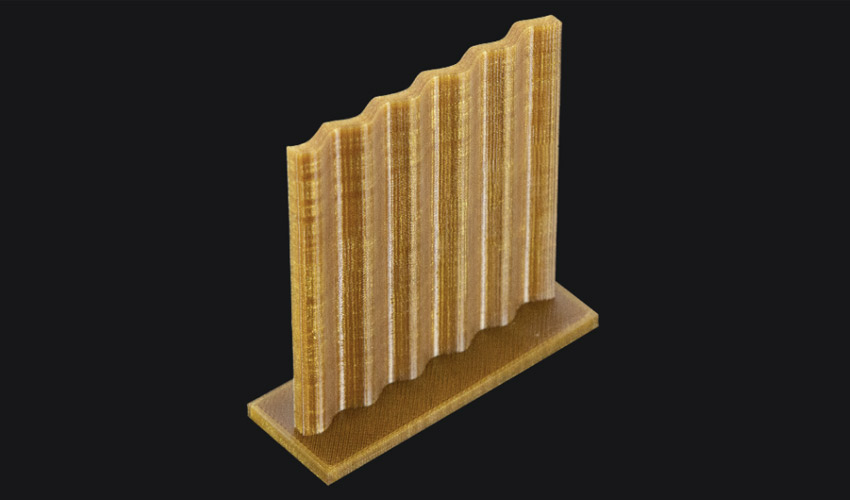 The Italian manufacturer Roboze and the chemical company SABIC have unveiled the fruit of their recent collaboration: a new high-temperature 3D printing material, EXTEM™AMHH811F filament. Compatible with Roboze's ARGO 500 3D printers, designed for production, this amorphous thermoplastic polyimide (IPT) has the highest temperature resistance of its class in the additive manufacturing market. It can withstand continuous operating temperatures of up to 230°C.
In recent years, the additive manufacturing market has seen the development of many industrial applications, made from plastics that are more technical than PLA or ABS. Among these polymers, we find the large family of high-performance thermoplastics such as PEEK, PEKK or ULTEM, which offer properties of interest to the industry in terms of mechanical strength, chemical resistance, dimensional stability and temperature resistance. Some of them can reach heat resistance of up to 260°C. The SABIC and Roboze new amorphous thermoplastic polyimide – EXTEM™AMHH811F – offers unprecedented temperature resistance in this polymer family.
Based on SABIC's EXTEM resin, Roboze states that it has heat deflection performances of up to 230°C and excellent dimensional stability. Its glass transition temperature should reach 247°C, proof that this TPI offers high rigidity even at high temperatures. Keith Cox, Head of SABIC Operations adds: "To enable customers to print high quality parts for a range of demanding high temperature applications, SABIC and Roboze have worked closely together to optimize printing parameters and secure UL recognition of EXTEM™ parts printed on the ROBOZE solution." This certification was launched as part of the UL Blue Card program for plastics in additive manufacturing. It is used to check whether the materials are suitable for use in 3D printing and for the user.
The two partners explain that the EXTEM™AMHH811F filament has obtained UL Blue Card recognition with V0-075 certification on samples printed by ARGO systems with a thickness of 0.75 mm. It also complies with the RoHS directive, which limits the number of hazardous substances in the composition of plastic, and does not contain halogen. Finally, the semi-transparent material is characterized by excellent flame retardant properties, even for thin-walled 3D printed parts.
Due to its mechanical and chemical properties, the new material will be appreciated by many industrial sectors including aeronautics and defence, motor sport, electronics and automotive. They often have applications that have high temperature or chemical resistance requirements that the EXTEM™AMHH811F filament can probably meet. Roboze gives us some examples of concrete applications such as printing thermal and acoustic screens for the aerospace industry, sensors, as well as parts requiring little degassing or metallization. Roboze CEO Alessio Lorusso concludes: "The EXTEM™AMHH811F filament offers the opportunity to explore new horizons on a FFF system. We are proud of this achievement and this collaboration with SABIC. With the Roboze ARGO Production 3D printers and the new EXTEM™AMHH811F filament, we can increase opportunities to replace metal. I am absolutely certain that all this will guarantee great advantages in terms of speed and productivity for users." So, can this new TPI replace metal?
Find more information HERE.
What do you think of this new 3D printing filament? Let us know in a comment below or on our Facebook and Twitter pages!