The Ex-Designer Bar: the 3D printed bar in Barcelona
---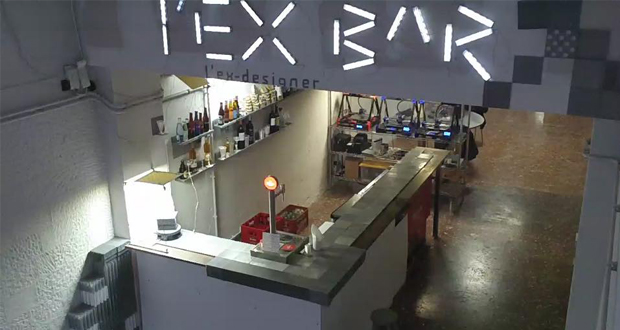 In 2015, designer Martí Guixé began his project "Ex-Designer Bar" in Barcelona, a project that consisted of taking a space of 90m2 and transforming it into a bar that was made completely with 3D printing. As hard as it is to believe, it's true! As everything from the plates and glasses to the stools were all created with 3D printing. What makes this bar even more original is the 3 Cartesian printers located in the bar, which are continuously printing out new improvements for the bar's interior.
Blown away by this concept, we knew we had to learn more. To help us better understand this fascinating project, we talked to Martí himself, to learn more about his bar.
3DN: Could you tell us your professional background and how you came up with the idea for the Ex-Designer Bar?
The studio where I work is a general design studio, but I personally specialize in product design and interior design. The Ex-designer Bar is a project with which we try to evaluate the changes that can bring about the democratization of production. Our studio has been using 3D printers for 6 years to create prototypes. It's been nearly two years since we started printing the bar in 3D and today we estimate that only 20% of the work is truly completed. If those out there are interested in stopping by, we are open Monday to Friday from 6 pm to 11 pm.
3DN: What does the Ex-Designer Bar offer to 3D printing enthusiasts?
The Ex-Designer Bar is a venue for meetings, talking or hanging out with friends and family. It shows how an interior can "evolve" with 3D printers. It is also a place where one can witness the 3D printing of glasses and plates. We even worked with Triditive to create a 3D food printer in order to have as many 3D printed items as possible in our bar.
3DN: What do you think is the future of additive manufacturing at home?
I think 3D printing is a very useful tool for creating all kinds of objects, but it is a technology that still needs to evolve to be perfectly adapted to a family environment.
3DN: What are your future projects related to 3D printing?
For now, we are printing the inside of the bar, which is already a fairly important job – you have to create all the dishes! Once this is done, we will focus on the machines so that they can print the snacks we offer in the bar.
3DN: Any last words for our readers?
We have evolved a lot in a short amount of time and are always looking for new ways to surprise our customers. For example, we have printed glasses in a different way to make them more transparent, more resistant and thin, all in just 30 minutes! It is even possible to buy them.
You can find more information on the project here
What do you think of the Ex-Designer Bar? Let us know in a comment below or on our Facebook and Twitter pages. Don't forget to sign up for our free weekly Newsletter, with all the latest news in 3D printing delivered straight to your inbox!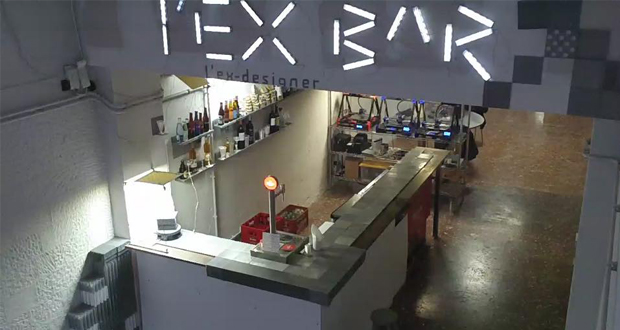 ---
You may also like