WEBINAR: How to Overcome the Supply Chain and Labor Crisis With 3D Printing?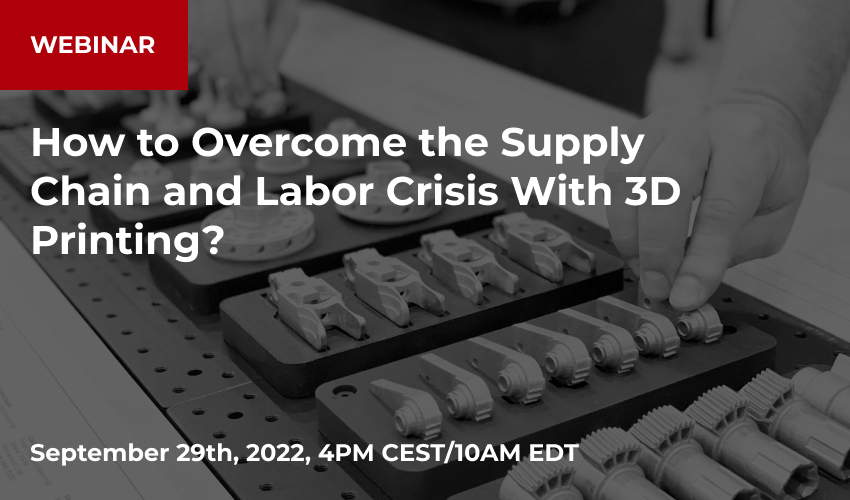 We do not know how long the current mix of supply chain and labor issues will last, especially considering the number challenges countries have been facing worldwide. And for many the question is how can companies continue to outperform during this challenging time? In our next webinar, "How to Overcome the Supply Chain and Labor Crisis With 3D Printing?" taking place on September 29th at 4pm CEST, we will be joined by Pierre-Victor Sabatier from Desktop Metal and Valeria Tirelli from Aidro to explore how it is possible to carve out an advantage despite these challenges thanks to agile, turnkey digital manufacturing tools.
Notably, our guests will show examples of manufacturers successfully using additive manufacturing tools for metal, and sand to step ahead of the crisis. In addition, users will be able to learn how to use additive manufacturing to ease supply chain disruptions; how to produce and integrate 3D printed replacement parts; which printers and materials are available for plug-and-play adoption; and how to identify parts in an inventory that could benefit from 3D printing production. Register for free HERE!
Agenda (CEST):
4:00 – 4:10 PM- Welcoming participants, survey and introduction
4:10 – 4:20 PM – How to use additive manufacturing to ease supply chain disruptions
4:20 – 4:35 PM- Additive manufacturing tools for metal and castings
4:35 – 4:45 PM – How to identify parts that could benefit from 3D printing production
4:45 – 5:00 PM – Q&A
Speakers:
Pierre-Victor Sabatier oversees Strategic Projects at Desktop Metal for the Europe and MEA region which includes partnerships with R&D centers and contract manufacturers, focus on Additive Manufacturing industrialization projects and deep dive on some key vertical markets ready to adopt AM the big way. He spent his whole career doing sales and business development especially in new markets, first in the private equity sector and then, since 2012, in the 3D printing field. He joined Desktop Metal at the start-up stage and actively contributed to its solutions' fast adoption in Europe.
Valeria Tirelli is President and CEO of Aidro, a Desktop Metal company, which excels in introducing additive manufacturing into hydraulics. She enthusiastically manages the company founded by her father 40 years ago, specializing in the design and production of mechanical components, such as valves, manifolds and hydraulic systems. Since 2021, Aidro has joined the Desktop Metal Group to bring 3D metal printing to mass production for various applications such as Oil & Gas, Energy, Aerospace and Fluid Power. Valeria promotes the adoption of additive manufacturing and the sustainability of this technology, supporting the reduction of the carbon footprint in various sectors. She is also a member of international groups for the definition of guidelines and standards for additive manufacturing. Her commitment to the diffusion of additive technologies is placed in the organization of events and networking moments, as Italian Association of Women in 3D Printing.
Madeleine Prior is the English Content Specialist for 3Dnatives, the leading international online magazine on 3D Printing and Additive Manufacturing. As part of the team, Madeleine is in charge of defining the content 3Dnatives covers for its english-speaking audience, bringing the latest news about the additive manufacturing sector and its implications to readers.
You can register for free for the webinar HERE. Will you be attending? Let us know in a comment below or on our LinkedIn, Facebook, and Twitter pages! Don't forget to sign up for our free weekly Newsletter here, the latest 3D printing news straight to your inbox! You can also find all our videos on our YouTube channel.