WEBINAR: How is AM Revolutionizing Industry in the Balkans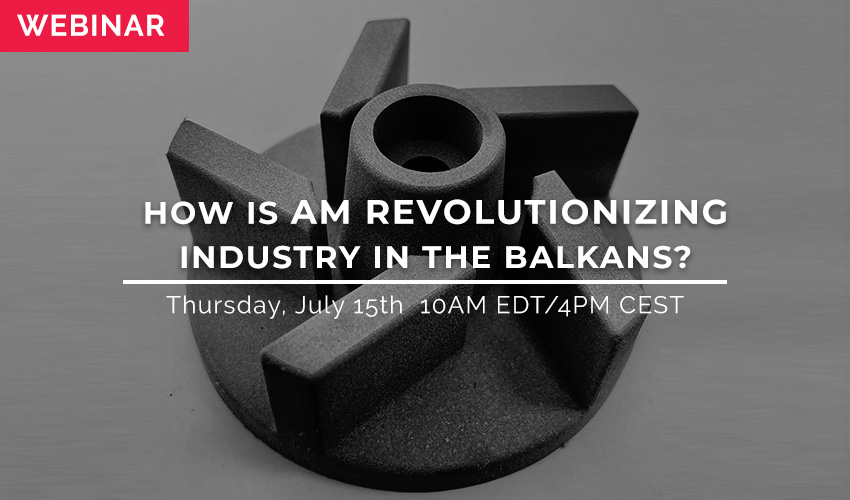 Though the use of metal in additive manufacturing (AM) is traditionally associated with lasers (such as in laser powder bed fusion), new metal printing solutions are continuously being developed. These new technologies can produce parts that are 30-50% lighter and can be mass customized to local markets, all while allowing for unprecedented levels of complexity. Notably, technologies like binder jetting will lead the charge in unlocking medium to large scale production, permanently altering the manufacturing landscape. This is especially true in the Balkans where, thanks to investment from major AM companies and leading service providers, AM is starting to transform a number of traditional industries.
3Dnatives' next webinar, "How is AM Revolutionizing Industry in the Balkans" will delve into the impact that AM has had in Southeast Europe. There has been exceptional investment from leading AM manufacturers in the region and today there are a breadth of AM technologies available in a variety of industries. The webinar will take place on July 15th at 4PM CEST and 3Dnatives will be joined by Desktop Metal, a leading AM manufacturer known especially for its innovative metal solutions, and Lino3DLab, a 3D printing laboratory in Greece. Attendees will learn about this new generation of metal AM processes but also a number of other topics such as: exploring cutting edge applications and case studies in manufacturing, marine, molding education and R&D; and comparing and contrasting AM with CNC, MIM and casting. At the end there will be a Q&A. Registration is free!