Rapid + TCT 2019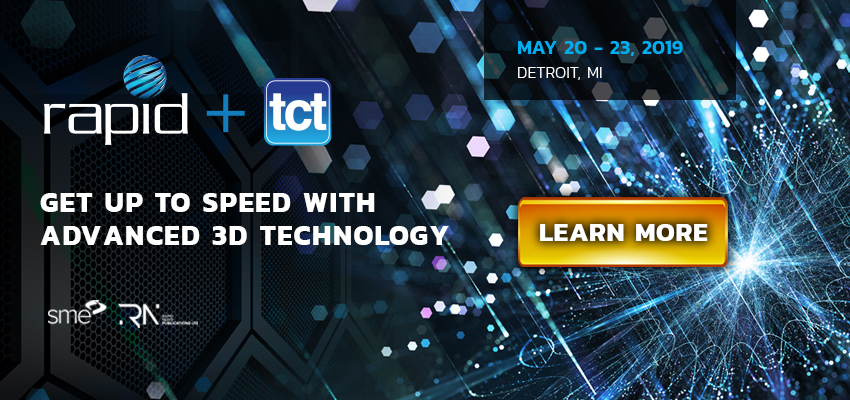 With new technologies, machines, and materials constantly emerging in the market, additive manufacturing is evolving quicker than ever before. If you do not stay up to speed, you will be left behind. RAPID + TCT 2019 will provide you with everything you need to know about 3D technologies, all collected under one roof. At the event you will be able to experience hundreds of hands-on exhibits, groundbreaking product announcements, education from the industry's most respected experts, as well as gain an unparalleled networking possibility.
The longest running AM exhibition in North America
Rapid + TCT is the largest, most respected and longest-running Additive Manufacturing exhibition held in North America. Last year Rapid+TCT 2018 was held in Fort Worth, Texas between April the 23rd and 26th. With a reported attending number of over 6,000 visitors along with more than 300 exhibitors showcasing their latest innovations.
At RAPID + TCT 2019 the numbers are expected to grow even further. Predictions indicated that 2019 will be exceeding 6000 industry peers attending, as well as 300 exhibiting companies. On top of that there will be more than 150 conference presentations. Along with 8 workshops, 4 keynote presentations and 2 networking receptions to enjoy at RAPID + TCT 2019. All to provide you with everything you need as an industry professional working with Additive manufacturing.
What to expect?
At RAPID + TCT 2019 you will be able to engage with the most experienced and influential community. All working with 3D manufacturing. You can learn how to use 3D technologies. Not only to reduce your time to market, but also how to produce stronger and lighter parts, improve efficiency, reduce waste and cost, as well as create complex geometries. The event gives you an opportunity to consult with industry experts, helping you decide on equipment and visit hundreds of 3D technology manufactures. All found in one room. Along with the receptions dedicated to networking, you will have thousands of attendees to engage with and see how they are addressing various challenges. RAPID + TCT 2019 gives you the chance to experience one of the most respected additive manufacturing conferences in North America. With over 150 knowledgable speakers from the industry, it can open up for possible collaborations with users and manufacturers alike to advance your applications of 3D technologies.
If you want to stay in the loop on when and how to register for RAPID + TCT 2019 click HERE.