Meet the Stars of 3D Printing: Automotive Edition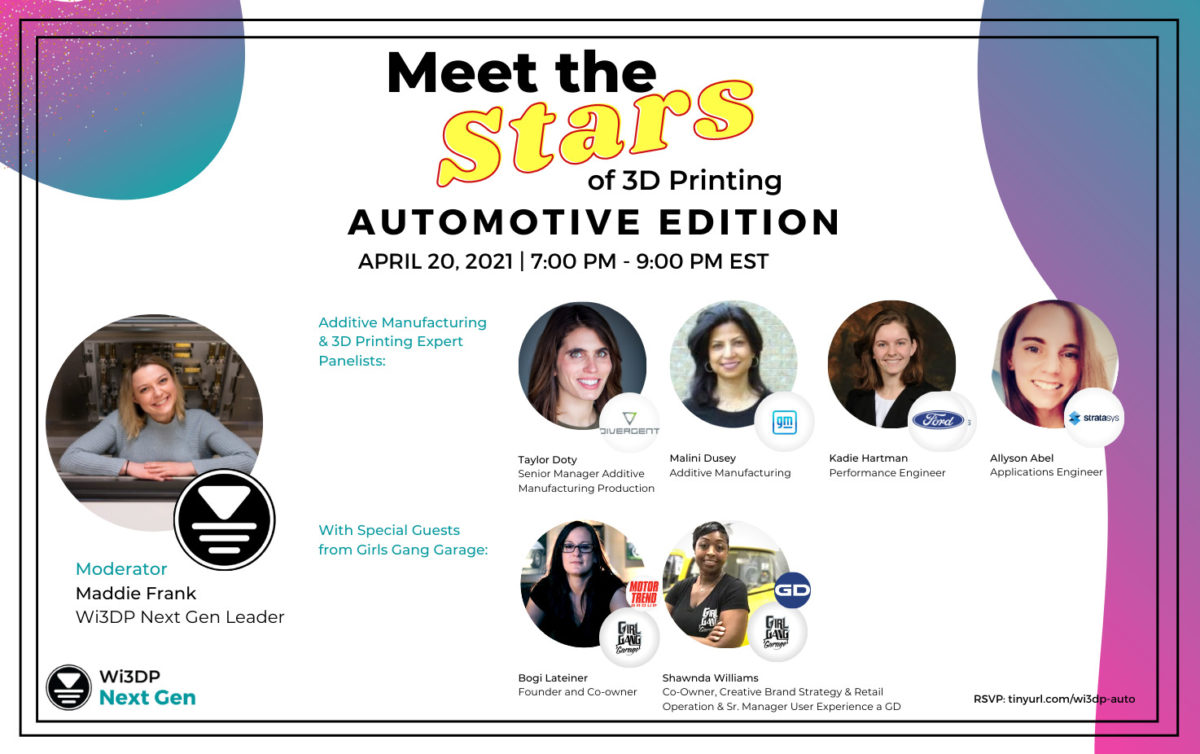 Have you ever wondered what it takes to build 3D printing parts for cars? Whether it be for prototyping, tooling, or refurbishing – there are many interesting opportunities to explore! Join us with 3D Printing automotive experts from General Motors, Ford, Divergent & Stratasys. We'll also be joined by talk show hosts Bogi & Shawnda from Girls Gang Garage!
Save the date for Wi3DP Next Gen's virtual event, 'Meet the 3D Printing Stars: Automotive Edition' that will take place, Tuesday, April 20th from 7 PM – 9 PM EST.
Join moderator Maddie Frank, Wi3DP Next Gen Girls Gang Garage Leader, along with our 3D Printing Expert Panelists:
Malini Dusey, Additive Manufacturing at General Motors
Kadie Hartman, Performance Engineer at Ford
Allyson Abel, Applications Engineer at Stratasys
Taylor Doty, Senior Additive Manufacturing Production Manager at Divergent
Along with 2 special guests from Girls Gang Garage:
Bogi Lateiner, Founder and Co-owner at Girls Gang Garage
Shawnda Williams, Co-Owner, Creative Business Strategy & Retail Operations at Girls Gang Garage – and Sr. Manager of User Experience at General Dynamics Mission Systems
Who can join?
Serving youth of all genders from middle school, high school to university students.
Professionals are welcome, but we'll expect you to share your experience with the next generation! Thanks in advance!
#wi3dpnextgen #STEM #3dprinting
Wi3DP Next Gen is a subsidiary of the Women in 3D Printing non-profit organization. Our goal is to enable middle school, high school and university students learn about 3D Printing and network with industry professionals to support career growth in STEAM.