Iran 3DShow 2018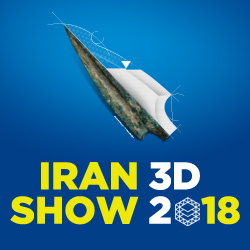 The Iran 3DShow 2018 is launching its 2nd annual Iranian Additive Manufacturing event. The Iran 3DShow 2018 will be held this December the 5th to 7th at "Book Garden" in Tehran. This time around there will be brought a few changes to the event.
Time time around there will be excessive focus on students and the younger generation. Despite the huge amounts of content creation along the web and on Social Media, the majority of children and students do not have proper access to the disrupting technology and related trends.
The 2nd edition of the Iran 3DShow 2018 will be divided into 3 main parts:
The Iran 3DShow exhibition:
The exhibition section of the IRAN 3DShow 2018 aims to publicise the applications and introduce the knowledge and opportunities of additive manufacturing technologies to the Iranian society. The event also shows the achievements throughout the country and persuades synergy and cooperation between players in this field.
The student, university student and teachers' competition:
The competition will feature an exciting venue for candidates to show off their achievements and win the ultimate prize as their award.
The Additive Manufacturing conferences:
The AM conferences is where Invited Speakers provide their presentations to the public.
Dr. Seyed Amir Ghaffari, Iran University of Science and Technology
Dr. Amir Hossein Behravesh, Tarbiat Modares University
The other highlights of the Additive Manufacturing Conferences are:
Additive Manufacturing technologies
Raw materials: production processes and characterization
Design optimization
Process optimization and control
Simulation and modeling
Development and optimization of software
finishing processes
Applications (household, industrial, bio, medical, decorative)
Business models, economic and social aspects
Experiences, case studies, and industrial reports
Directions: National library exit, After Modarres Highway Intersection, West to East path, Haqqani Highway, Vanak square, Tehran, Iran