IN3DUSTRY 2018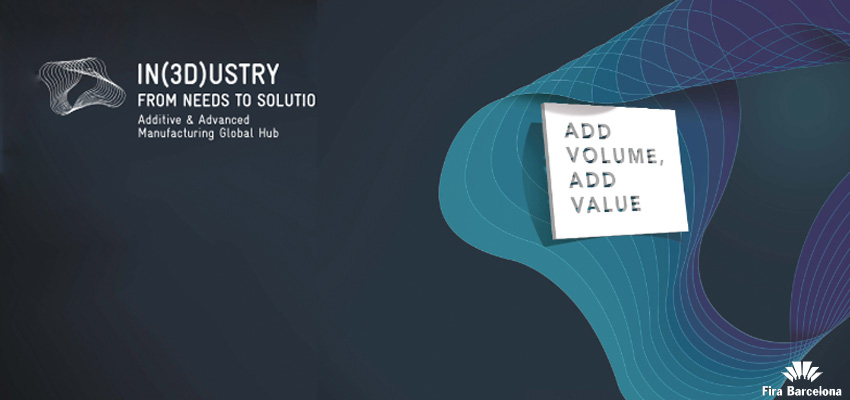 The next edition of IN3DUSTRY 2018 from Needs to Solutions will be held from October 16 to 18 , organised by Fira Barcelona. Its main objective is to encourage the use of additive manufacturing technologies in the industry, and for this reason it has incorporated new sectors as potential future users.
IN3DUSTRY 2018 is part of the Barcelona Industry Week to be held at Palacio 8 del recinto de Montjuïc. It will cover five main topics to approach additive manufacturing technologies. IN3DUSTRY will focus on these issues: Advanced manufacturing, Molds and Dies, New materials, Plastics and 3D Printing.
IN3DUSTRY 2018 and its new industrial sectors
Different spaces will be used, in which 3D printing will be enhanced in each of the sectors. The advanced manufacturing industry will add robotics to the industrial sector. In the space of molds and matrices, the utility of 3D printing will be identified to reduce costs. Finally, in the area of ​​new materials the possibilities of the new plastic and metallic components will be addressed.
The IN3DUSTRY Arena will be the central point where the fair will take place, in this area of ​​innovation that will be a stage, the main representatives of companies that are currently working with additive manufacturing technologies will meet and present their experiences within different sectors such as the aeronautical, sanitary or industrial.
There will also be an exhibition area where different pieces manufactured with additive manufacturing technologies will be shown, as well as the presence of manufacturers that will exhibit the latest technologies in 3D printers. It's the event that brings together the actors of 3D printing.
For more information about IN3DUSTRY 2018 visit their  official site.
Do you like the world of 3D printing and want to know more? Follow us on Facebook and Twitter  or sign up for our free Newsletter, to get the news straight to your inbox!