EASTEC 2019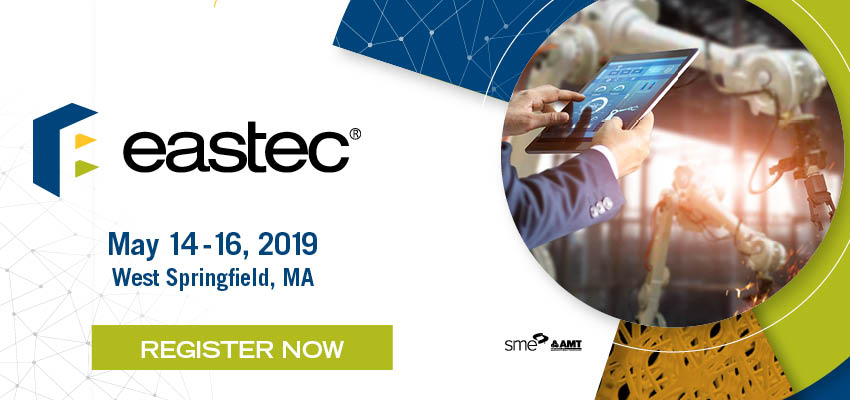 EASTEC 2019 is the leading Northeast manufacturing tradeshow in the United States of America. EASTEC 2019 is a location where advanced manufacturing technology intersects with longstanding tradition. The event will take place between the 14th of May and the 16th in West Springfield, Massachusetts.
This will be the 35th year of the event, the EASTEC 2019 will continue to celebrate the historical importance of Northeast manufacturing all while showcasing its future in leading-edge industries such as the aerospace sector, medical devices, automotive, industrial equipment and defence amongst some.
It's all here at EASTEC 2019! Everything from long-established foundational manufacturing to the advanced technology that makes smart manufacturing possible and are leading us into the Fourth Industrial Revolution. Technology runs the gamut from high-end manufacturing equipment to smart technologies such as additive manufacturing and automation. the EASTEC event provides you with the ideal opportunity to make and renew business connections, while exploring the latest technology, learn from industry experts and shape the future of your business and its manufacturing.
Why attend EASTEC 2019?
As EASTEC has been the leading northeast manufacturing trade show for years, it has also been providing solutions to manufacturing challenges as they have appeared for more than 35 years. This year will be no different. EASTEC 2019 is three days of exploring innovative manufacturing technologies. You will get to discover hundreds of suppliers, while learning from industry experts, and networking with other professionals.
It is an event that allow for attendees to discover new technologies. You can find suppliers and solutions, explore equipment and processes. All while generally expand you knowledge and gain inspiration amongst industry professionals. And the Exhibitors at EASTEC 2019 will gain visibility to promote your company. With access to key decision makers across industries your company can strengthen you sales pipeline. All bringing two sides of industry professionals together for future partnerships to evolve.